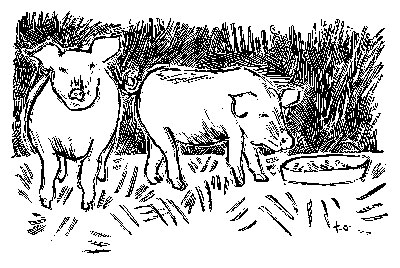 Toki Oshima illustration

By Roberta Bailey
Maine and Vermont have two of the fastest growing local food movements in the country. That is apparent in the number of new farms and people trying to figure out how to get onto a piece of land; through the health of the seed industry; in local farmers' markets; in the availability of local community supported agriculture farms; and on the plates of local restaurants.
Meat, fish, cheeses and dairy, local grains and produce are available year round. High tunnels are making our winters greener and more vibrant, adding ginger and turmeric to our local fare. This year I hope to grow sesame seed and quinoa in our high tunnel and to overwinter some rare collards for a seed crop. Locally grown organic food has so much more life, vibrancy and real flavor than any other options.
Even as navigating supermarket aisles gets increasingly challenging if you want to avoid foods made with genetically engineered (GE) ingredients, states are demanding labeling. And when corporate money tips the labeling ballot box its way, some companies are taking the initiative and labeling their products as GE-free.
Fuel prices are increasing the cost of transporting food across and into the country. Severe drought in the West is reducing crop yields and increasing prices in the supermarket. Local, organically grown food is becoming more competitive.
We are all a part of the change. Support your local, organic farmers and merchants as much as you can. For economy, buy directly from the farm or buy in bulk. The added flavor and health benefits are priceless.
Here are some recipes that feature ingredients with protein. Look for local, organic ingredients as much as possible. They are increasingly available.

Carne Asada Tacos (adapted from Allrecipes.com)
Makes 16
3 lbs. flank steak
1/3 c. cider or white vinegar
1/2 c. soy sauce
– – –
4 cloves garlic, minced
2 limes, juiced
1/2 c. olive oil
– – –
1 tsp. salt
1 tsp. ground black pepper
1 tsp. ground white pepper
1 tsp. garlic powder
1 tsp. chili powder
1 tsp. dried oregano
1 tsp. ground cumin
1 tsp. paprika
– – –
1 white onion, chopped
1/2 c. chopped fresh cilantro
1 lime, juiced
– – –
2 lg. tomatoes, chopped
2 jalapeno peppers, chopped
1 white onion, quartered
4 cloves garlic, peeled
4 dried chili pods
1 pinch salt and pepper to taste
Organic corn tortillas
2 c. grated cotija or Monterey Jack cheese
2 limes, cut into wedges
Lay the flank steak in a large glass baking dish. In a medium bowl, whisk together the vinegar, soy sauce, 4 cloves of garlic, juice of two limes, and olive oil. Season with salt, black pepper, white pepper, garlic powder, chili powder, oregano, cumin and paprika. Whisk until well blended, then pour over steak in the dish. Turn over once to coat both sides. Cover with plastic wrap and marinate for 1 to 8 hours.
In a small bowl, stir together 1 chopped white onion, cilantro and the juice of 1 lime. Set aside to use as a relish for the tacos.
Heat a skillet over medium-high heat. Toast chili pods in the skillet for a few minutes, then remove to a bowl of water to soak for about 30 minutes. Preheat the oven to 450 F.
Place tomatoes, 1 onion, jalapenos and 4 cloves of garlic on a baking sheet. Roast in the oven for about 20 minutes, until toasted but not burned. Place the roasted vegetables and soaked chili pods in a blender or food processor, along with salt and pepper. Puree until smooth.
Heat vegetable oil in a large skillet over medium-high heat. Cut the marinated steak into cubes or strips. Cook, stirring constantly, until the meat is cooked through and most of the liquid has evaporated.
Warm the tortillas in a skillet for about a minute on each side to make them pliable. Arrange two or three tortillas on a plate and lay a generous amount of beef over them. Top with onion relish, pureed salsa and cheese. Garnish with lime wedges.
Lemon Chicken
Serves 4
1/4 c. olive oil
3 Tbsp. minced garlic (9 cloves)
1/3 c. dry white wine
1 Tbsp. grated lemon zest (2 lemons)
2 Tbsp. freshly squeezed lemon juice
1-1/2 tsp. dried oregano
1 tsp. minced fresh thyme leaves
Salt and freshly ground black pepper
4 boneless chicken breasts, skin on (6 to 8 ounces each)
1 lemon
Preheat the oven to 400 F.
Warm the olive oil in a small saucepan over medium-low heat, add garlic and cook for 1 minute but don't allow the garlic to brown. Turn off the heat, add the white wine, lemon zest, lemon juice, oregano, thyme and 1 tsp. salt and pour into a 9- by 12-inch baking dish.
Pat the chicken breasts dry and place them skin-side-up over the sauce. Brush the chicken breasts with olive oil and sprinkle them liberally with salt and pepper. Cut the lemon in 8 wedges and tuck it among the pieces of chicken.
Bake for 30 to 40 minutes, depending on the size of the chicken breasts, until the chicken is done and the skin is lightly browned. If the chicken isn't browned enough, put it under the broiler for 2 minutes. Remove from oven, cover the pan tightly with aluminum foil and allow to rest for 10 minute. Sprinkle with salt as desired and serve with hot pan juices.
Fresh Berry and Goat Cheese Salad
Serves 4
1 med. red onion, halved and thinly sliced
1 Tbsp. organic canola oil
8 c. (about 12 oz.) spring lettuce mix
1/4 c. walnuts, roughly chopped
1/2 c. grape tomatoes, halved
1 c. mixed seasonal berries, such as strawberries, blackberries, raspberries and blueberries
4 oz. goat cheese, crumbled
Vinaigrette
2 Tbsp. fruity or sherry vinegar
1/4 tsp. lemon juice
1-1/2 tsp. sugar
Salt and pepper
1/4 c. organic canola oil
Preheat oven to 350 F. Toss onion with oil and a pinch of salt and pepper and place on a rimmed baking sheet. Roast until onion is soft and lightly browned, 15 to 20 minutes. Set aside to cool.
Toss lettuce, walnuts, tomatoes, berries and goat cheese in a large serving bowl. For vinaigrette, whisk together vinegar, lemon juice, sugar, salt and pepper. Drizzle in the oil while continuing to whisk, until vinaigrette thickens slightly. Taste and adjust seasoning. Drizzle dressing over salad, add red onion and toss to combine. Serve immediately.
Masala Omelet
Serves 2
4 eggs, whisked
4 shallots, thinly sliced
1 finely minced green chili or sweet pepper
2 Tbsp. milk or water
4 Tbsp. finely grated carrot
salt to taste
1/4 tsp. black pepper
1/4 tsp. turmeric
1/4 tsp. garam masala
4 to 6 Tbsp. cilantro, chopped
2 Tbsp. oil or butter for cooking
Beat the eggs until frothy. Add the remaining ingredients except oil or butter. Drizzle oil or butter in a pan. Once oil is hot, reduce flame, add half the egg mixture and swirl it around the pan. Cook on low to medium flame until the sides are cooked and the underside is slightly browned. The center will appear uncooked and liquid. Slowly flip and cook the other side for about 10 to 12 seconds.
Ginger Baked Scallops
1 lb. scallops
2 to 3 Tbsp. melted butter
1 tsp. lemon zest
1 clove garlic, minced (optional)
1 Tbsp. finely grated ginger
Place scallops in a buttered baking pan. Add lemon zest, garlic and ginger to warm butter. Brush scallops with the butter mixture. Bake at 400 F for 5 minutes or until just firm. Serves 4.
Yogurt Herb Bread
2 c. spelt, kamut or whole wheat flour
1 c. unbleached white flour
2 c. plain yogurt
1/2 c. water
3 lg. eggs
1 tsp. sea salt
2 tsp. baking soda
2 Tbsp. melted butter
1/3 c. maple syrup
1/2 tsp. dill, oregano, thyme, basil and/ or tarragon (or your favorite combination)
Mix flour, yogurt and water. Cover and let sit at room temperature for 12 to 24 hours. Fully knead the dough by hand or in a mixer or food processor. Mix in remaining ingredients. Pour into a well greased bread pan. Bake at 350 F for 1-1/2 hours or until a toothpick comes out clean.
About the author: Roberta is The MOF&G's long-time recipe columnist. She lives and farms in Vassalboro.