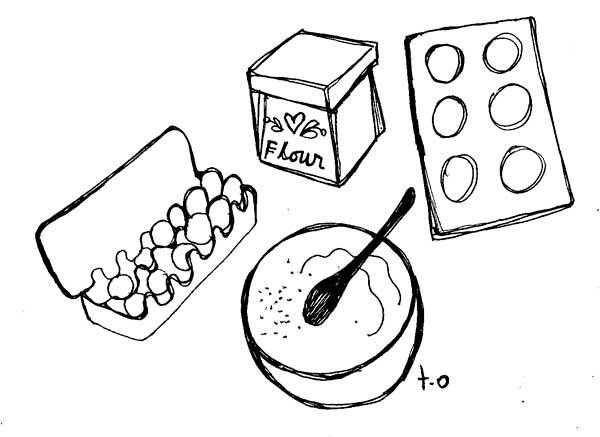 Toki Oshima drawing
By Roberta Bailey
How strange not to be gathering for a celebration of Common Ground. For so many of us, the Fair has been a place to catch up with friends from afar, to listen to talks and learn how to do it all better, to eat great food, to sell or buy goods and crafts. For many, the Fair is a significant part of their yearly income. We are all missing it in so many ways. We are all adapting. Perhaps the key to success is not to try to hold onto everything being the same, but to embrace the shifts. So many are coming up with creative solutions. The online Common Ground Country Fair is one such solution.
Many of us have been spending a lot more time with children. It reminds me of cooking with my kids when they were young. I would sit one on either side of the mixing bowl on the counter and we would cook together. If the recipe called for only one egg, it got two.
They did everything with me, from shelling peas to chopping vegetables to filling freezer bags. I remember my son chopping broccoli at 4 years old. He cut his finger. I watched his face and saw that he felt he had let me down; that he knew I was trusting him with a knife. We threw an adhesive strip on the cut and I handed him back the knife, so grateful that I had caught what flashed across his face.
When they were young, for a few years we did a Country Kitchen demo together called Kids in the Kitchen. We made bumps on a log and scrambled eggs and tiger candy – sweetened peanut butter balls with dried fruit and coconut, all rolled in carob powder.
When they were a bit older we had a booth in the farmers' market called the Kids and Moms booth. We shared it with another mom and their two friends. The moms sold fiber art and the kids sold gourds, clothespin dolls, corn necklaces, cutting boards and a score of odd inspirations.
I think the Youth Enterprise Zone is my favorite part of the Fair and the one I will miss the most this year.
Or maybe the Exhibition Hall. There is so much to amaze and inspire. But then, the entire Fair does that for us all. Shift and adapt. Breathe. Exhale.
Crunchy Snack Bars
(based on a recipe for lactation bars, but for everyone)
1/2 c. sugar, coconut, maple sugar or other
1 Tbsp. brewer's yeast (optional for extra nutrition)
1 Tbsp. ground golden flax seed meal (or substitute sunflower seed)
1/2 tsp. baking soda
2 Tbsp. coconut oil, vegetable shortening or butter
1 egg
1/2 c. nut butter or tahini
1 1/2 c. rolled oats (not instant)
1/2 c. chopped dried fruit, such as dates, apricots, cherries, raisins, cranberries
1/2 c. walnuts or other nuts, chopped
1 Tbsp. hemp seed
1/4 c. chocolate chips (optional)
Preheat the oven to 350 F.
Combine the sugar, brewer's yeast, flax seed meal and baking soda in a large bowl and mix well. (Flax seed can be bought as whole seed, which stays fresh the longest, or as a ground meal. Refrigerate both to preserve their oils. Grind whole flax seed or sunflower seed in a coffee grinder.)
Add the nut butter, coconut oil and egg to the bowl. Beat until creamy. Fold in the oats, walnuts, dried fruit, hemp seed and chocolate chips, if using.
Pour batter onto a parchment lined baking sheet. Press to quarter-inch thickness. Bake for 20 minutes. Allow to cool, then slice to serve.
Wheat Crackers
1 c. whole wheat flour
3 c. white flour
1 tsp. baking soda
½ tsp. salt
3/4 c. butter or margarine/shortening
1 egg
5/6 c. milk or water
Sesame seeds (optional)
Salt
Combine dry ingredients in a bowl and mix together. Cut in the butter/shortening. Pour the egg into a 1 cup measure and add enough milk/water to make 1 cup full. Add to flour mixture and stir until well mixed – about 20 strokes.
Divide dough into 4 parts. Roll out thinly on parchment paper or a well-floured cutting board. Sprinkle with sesame seeds and/or salt if using, then give a quick roll to embed them in the dough.
Place on baking sheets (greased if not using parchment). Use a knife or pizza cutter to cut to desired cracker size. Prick dough all over with a fork.
Bake for 7 to 10 minutes at 425 F or until lightly browned. Cool and store in an airtight container.
Bumps on a Log
Celery stalks
Peanut butter or cream cheese
Raisins
Wash and cut celery stalks to the desired size. Fill with peanut butter or cream cheese. Add raisins (bumps) to the top of the filling.
Fruit Salsa
2 ripe nectarines, pitted and diced, or substitute peeled peaches, mango, melon, watermelon
1 ripe avocado, pitted and diced
2 Tbsp. minced red onion or chives or scallion
Juice of 1 lime
Salt
1 to 2 Tbsp. chopped cilantro or parsley
For adults or adventurous kids: Add 1 to 2 tsp. minced jalapeno pepper
Mix all ingredients together. Taste and adjust salt.
Serve with chips. Can be added to burritos, or as a side to baked fish, or fish tacos.
Jammy Doodles
In a food processor, whiz to a flour consistency:
1 c. raw almonds
1 c. rolled oats
Place in a mixing bowl and stir in:
1 c. whole wheat pastry flour or 1/2 c. each white and whole wheat flour
¼ tsp. cinnamon
Pinch of salt
Mix together:
1/2 c. maple syrup
1/2 c. vegetable oil
Stir into the dry mixture.
Spoon onto a greased cookie sheet. Shape each cookie into a flat round with a well in the center. Add a teaspoon of jam to each well. Bake at 350 F for 15 minutes.
This article was originally published in the Fall 2020 issue of The Maine Organic Farmer & Gardener.
Looking for more seasonal recipes? Sign up for MOFGA's Local and Organic Kitchen Newsletter.