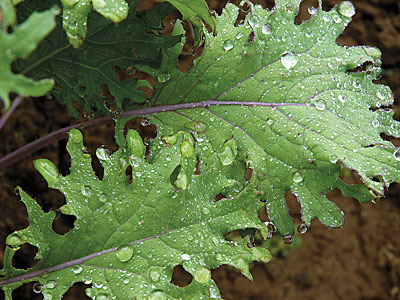 'Red Russian' kale. English photo.
By Roberta Bailey
Kale is all the rage! It is rocking the health studies with its cancer fighting properties and the nutritional scene with its high levels of beta-carotene and other carotenoids, vitamin K, vitamin C, lutein and calcium. The red kales have invited the popular buzzword "anthocyanin" to their party. Kale is mingling with the rich and famous at every trendy local foods restaurant. It has even broken into the organic snack food market, all crisped up and extremely over-dressed in colorful plastic.
I am happy for it. It deserves all the attention. At the roots of its popularity is the trend toward eating food that hasn't traveled thousands of miles to reach our tables. And it is so delicious. I keep wondering if the trend toward locally grown seasonal foods will fade. Will the restaurants go on to the next fad and will local fresh food remain the foundational basis for it? I am sure kale is here to stay on Maine farms and in farmers' markets.
Kale is the poster plant for winter hardiness. Spinach, arugula, cilantro and mache are right there growing next to it, but kale is in the spotlight. It glistens in the winter high tunnel. It is the last plant standing even in the most untended fall garden plot.
Kale is the green cornerstone of the Maine fall and winter diet. It has fed gardeners for generations. It helped fill the "hunger gap." (A variety of kale called 'Hunger Gap' is even available from Adaptive Seeds in Home, Oregon – as is a gorgeous variety called 'Russian Frills' and a widely diverse gene pool mixture called 'Extremist Agreements'.) When I go out on a frosty winter morning and carefully pick frozen kale leaves and carefully lay them in a basket so as not to shatter them, I am one human being and one plant species, standing on the rich hard ground. It is basic. It humbles. It nourishes. There is no dress code.
Eat your kale. It's good for you. Here are some recipes to help change up the winter fare.
Non-Dairy Cream of Kale Soup
3 Tbsp. butter
1-1/2 c. diced onion
2 to 4 cloves garlic, chopped
1 bay leaf
1 tsp. salt, more if desired
1 sweet bell pepper, diced
4 c. kale, coarsely chopped, stems included
4 to 5 c. vegetable or chicken broth
1/2 c. grated potato
1/2 c. oat flour
1/4 tsp. allspice
1/2 tsp. dried basil
black pepper to taste
Melt butter in a heavy bottomed kettle or pot. Add the onion, bay leaf and salt; sauté until almost translucent. Add the garlic and continue to sauté until onions are translucent. Add the green pepper, broth, grated potato and kale. Bring to a simmering boil, cover and cook for 10 minutes, until all is tender. Remove the bay leaf and add the oat flour, whisking it in to avoid lumps. (You can make oat flour by blending rolled oats in a food processor.) Cook for five minutes. Puree the soup with an immersion blender or remove it and blend in a food processor or blender. Add the remaining seasonings while blending. Correct the salt and pepper. Makes 4 to 6 servings.
Kale and Potato Cakes
1-1/2 lb. potatoes
1 large bunch kale, stems removed and leaves chopped
black pepper
salt to taste
1 to 2 cloves garlic, minced
1 c. grated cheese, such as cheddar provolone or mozzarella (can be smoked)
Olive oil for cooking
1/2 c. minced onion
10 mushrooms, chopped small
red pepper flakes (optional)
1 tsp. smoked salt or smoked paprika
Cube the potatoes and steam until soft. Add the kale and cook for a few minutes until tender. Place in a bowl and coarsely mash. Add salt and pepper to taste. Pour enough oil into a frying pan to lightly coat the bottom. Add the onion and mushrooms and sauté until soft. Add to the kale mash. Stir in the garlic, cheese and pepper flakes. Salt to taste or add paprika. Form small cakes with about 1/2 c. mash per cake. Warm a skillet over medium heat. Coat the bottom with more olive oil. Add the mash and flatten. Brown each side, about 4 minutes. Serve hot. Makes about 12 cakes.
Pasta with Kale, Carmelized Onions and Parsnips
2 Tbsp. olive oil
3 c. parsnips, sliced as diagonal rings or julienned
1 large onion, sliced
1 Tbsp. chopped fresh thyme
4 cloves garlic, minced
1/2 c. dry white wine
8 c. trimmed chopped kale (about 3 bunches)
1/2 c. organic vegetable broth
8 oz. uncooked penne pasta
1/2 c. (2 oz.) grated Parmesan
1/2 tsp. salt
1/2 tsp. freshly grated pepper
Heat 1 tablespoon oil in a large skillet over medium heat. Add parsnips to the pan; cook for 12 minutes or until tender and browned, stirring occasionally. Place in a large bowl; keep warm. Heat remaining 1 tablespoon of oil in a pan over medium-low heat. Add the onion and cook for 20 minutes or until tender and golden brown, stirring occasionally. Stir in thyme and garlic; cook for 2 minutes, stirring occasionally. Add wine; cook for 3 minutes or until liquid almost evaporates. Stir in kale and broth; cook, covered, for 5 minutes or until kale is tender. Uncover; cook for 4 more minutes, stirring occasionally.
Cook pasta according to package directions, omitting salt and fat. Drain pasta in a sieve over a bowl, reserving 3/4 cup cooking liquid. Add drained pasta to kale mixture. Stir in parsnips, 1/2 cup reserved cooking liquid, 1/4 cup cheese, 1/2 teaspoon salt and 1/2 teaspoon black pepper; cook for 1 minute or until thoroughly heated. Add remaining 1/4 cup cooking liquid if needed to moisten. Top with remaining 1/4 cup cheese. Serves 6.
Baked Kale Chips
1 bunch kale, curly or 'Lacinato'
1 Tbsp. olive or sesame oil
2 tsp. tamari
1 Tbsp. sesame seeds (optional)
Remove center stems from kale, wash and dry the kale thoroughly. Heat the oven to 350 F. Tear the kale into bite-sized pieces. Toss it with the oil, tamari and sesame seeds if desired, until just glistening. Taste and adjust seasonings. Spread the kale on two baking sheets (with or without parchment paper) and bake for 7 to 12 minutes, until almost completely crisp BUT with a little softness remaining in the middle. Watch and experiment with the timing in your oven. Cool and eat.
Blueberry Kale Smoothie
So healthy and so delicious!
1/2 c. sunflower seeds or raw cashews
2 c. frozen blueberries
1 to 2 c. water, rice or soy milk, milk or juice
1/4 tsp. vanilla extract
2 to 6 Tbsp. maple syrup
4 to 6 leaves kale
In a blender, blend the sunflower seeds until they are fine. Add a bit of water to help, if needed. Add liquid and kale leaves. Blend until smooth. Add vanilla and blueberries. Continue to blend. Add maple syrup to taste. Makes about 5 cups.
About the author: Roberta is our long-time recipe columnist. She lives and farms in Vassalboro.
This edition of the Harvest Kitchen was originally published in the Winter 2013 issue of The Maine Organic Farmer & Gardener.
Looking for more seasonal recipes? Sign up for MOFGA's Local and Organic Kitchen Newsletter.