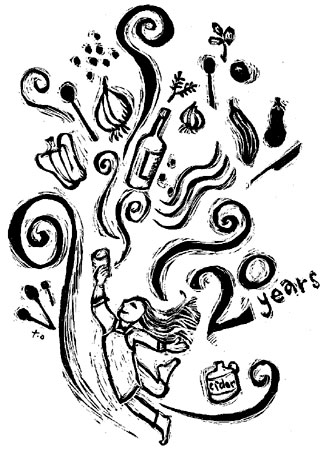 Drawing by Toki Oshima.
By Roberta Bailey
On his show "A Prairie Home Companion," Garrison Keillor once did a monologue about four people who went for a car ride in order to see the odometer turn to 200,000 miles. He took listeners through the town and out to the country, where our attention was turned to the crows in a cornfield, then the monologue traveled off with our minds meandering to other rich topics, only to have Garrison bring our attention abruptly back to the odometer, which then read 200,003 miles!
So often this seems to be the way with my life. I will start my celery, onion and leek seedlings in good time, thinking that I really need to wait until the greenhouse is warmer before starting the peppers. I'm well ahead of time reminding myself that I need to wait. Then suddenly three weeks have passed and I'm behind.
So it goes with planting in spring, mulching the garden, maintaining the orchard or any number of life's small or grander moments. And so it has gone with the 20th anniversary of my writing the Harvest Kitchen column.
Five or six years ago I started thinking I must be approaching the 20-year mark, only to be surprised by how far off it was. A few years passed and I checked again, getting it set in my head that the date was still years off. With the approach of the deadline for this column, a sneaking suspicion came over me that another chunk of time had passed. Sure enough, upon looking at life's odometer, I was in midsummer of 2004, and the anniversary had been in spring. The first column, one in anticipation of asparagus, ran in April 1984.
If I've learned one thing in life, it is how to walk into an event late and know that it's never too late to celebrate. Happy 20th anniversary, Harvest Kitchen! I raise a glass of Maine's best cider to all who bring the harvest to their kitchens. May you read these recipes and go on to create your own inspirations, as I often do.
I am not a great cook trained in the culinary tradition, but a good gardener who knows the sweet perfection of a freshly picked green bean, asparagus spear, shell pea, or an ear of corn. I have dared to experiment and to play. If you start in the garden, you can't lose. Fresh, organic food tastes incredible – and the closer the food is raised to our homes, the better. There is no comparison.
The recipes below are some of my favorites, the ones that I keep coming back to year after year.
Szechuan Noodles
This recipe is an approximate reduction of a larger volume recipe from Deb Soifer of South China, who wrote the Harvest Kitchen column before I did. In the early '90s, I helped her cook noodles for her Common Ground booth, called "Oodles of Noodles." This is one of the sauces she put on her noodles, which are delicious warm or cold and make a good potluck dish.
Cook one pound of noodles. Rinse and add sauce.
Sauce: Mix together the first six ingredients.
6 Tbsp. toasted sesame oil
3 Tbsp. Chinese black vinegar (Rice or cider vinegar is a so-so substitute.)
1 to 2 Tbsp. tamari or mushroom soy sauce
1/2 to 2 tsp. Sri racha (or 1/4 tsp. hot red pepper flakes, or use 2 tsp. hot sesame oil as part of the above oil)
2 to 3 tsp. grated fresh ginger root
1 to 2 Tbsp. minced garlic
Toss with pasta, mixing well. Adjust seasonings to taste.
Garnish with:
1/4 to 1/2 c. toasted sesame seeds (Heat in a skillet, stirring constantly until they are just browning and tasting toasty.)
Finely chopped scallion rings
Szechuan Green Beans
4 Tbsp. toasted sesame oil
2 lbs. fresh green beans, trimmed
8 cloves garlic, minced
1 Tbsp. tamari
Crushed red pepper to taste
Place a large wok or heavy deep skillet over high heat. Heat for one to three minutes, then add oil. Once the oil is very hot, add the green beans. Stir fry for four to five minutes, until the beans are well seared. Add the garlic and hot red pepper. Stir fry for a few more minutes, then remove the pan from the heat. Sprinkle the beans with tamari. Serve hot, warm or at room temperature. Serves six side dishes.
Fresh Tomato Sauce for Pasta
(A food processor can be used.)
10 to 12 paste tomatoes, diced
1 c. minced parsley
1/2 c. minced basil
1 onion, minced
1 to 2 green peppers, diced
1/2 tsp. fresh oregano, minced
1 to 3 large cloves of garlic, minced
1 can of black olives, diced, or 10 to 15 Greek or kalamata olives, diced
1/4 c. olive oil
Freshly ground black pepper to taste
Salt to taste
Grated parmesan or cubed, fresh mozzarella
Mix all ingredients, adjusting seasoning as desired. Serve over warm pasta. Sprinkle with cheese. Makes four to six servings.
Corn & Sweet Pepper Custard
2 Tbsp. diced green pepper
2 Tbsp. diced sweet red pepper
1 Tbsp. diced jalapeno pepper (optional)
1 Tbsp. olive oil
1 small onion, diced
11/2 c. corn kernels
2/3 c. grated cheddar cheese
1 paste tomato, sliced
3 eggs
2/3 c. milk (Soy works fine.)
1/3 c. corn milk (Blend 1/2 c. corn kernels to a puree.)
1 Tbsp. flour
1/8 tsp. freshly ground black pepper
1/4 tsp. salt
In a medium skillet, saute peppers and onion in oil until the onion is translucent. Add the corn and saute two minutes longer. Preheat the oven to 350 degrees F. Lightly oil an 8-inch casserole dish. Spoon half of the corn mixture into the casserole. Spread in half the cheese, then the remainder of the corn, then the rest of the cheese. Top with the tomato slices. In a medium bowl, beat the eggs, add the milk, corn milk, flour, pepper and salt and beat well. Pour into the casserole. Bake for 40 to 45 minutes or until a knife inserted in the center comes out clean. Let the custard cool for 10 minutes, then serve it, cut into wedges. Yields four to five servings.
Almond and Jam Torte Cookies
Grind/process into flour:
1 c. raw almonds
1 c. rolled oats
Mix in: 1 cup whole wheat or white pastry flour
1/4 tsp. cinnamon
Pinch of salt
Blend together:
1/2 c. maple syrup
1/2 c. canola, sunflower or vegetable oil
Stir into the dry ingredients. Let sit for five minutes.
Form round cookies on an ungreased cookie sheet. Make a deep depression in each cookie and add a teaspoon of jam to each center. Bake at 350 degrees F. for 15 minutes.
Roberta lives in Vassalboro and works for Fedco Seeds. We are grateful for reaping the benefit of her decades of experience in gardens and kitchens and with pen and computer – and we hope for many, many more. Thanks Roberta!