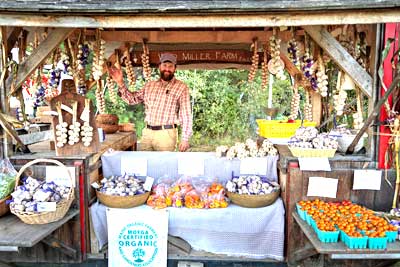 Stock up on ingredients for fall and winter recipes at the Common Ground Country Fair farmers' markets. John Williams photo
By Roberta Bailey
Here we are at another September, another Common Ground Country Fair. We have persevered through drought and heat, wild thunderstorms and unexpectedly chilly nights. We have reveled in a cool breeze, cooled off in deep clear lakes, listened to the tree swallows chortle, watched the alewives leaping up a fish ladder or a sturgeon rise, and recently, the geese turn south. We have celebrated the first zucchini and groaned over them when they piled up on the kitchen counter. We have watched and waited impatiently as the first tomatoes took on color and then ripened to sweet perfection. Now we wonder if anyone in the neighborhood can use more tomatoes. We have picked every berry, making jam, and wishing the weather would cool enough to bake a pie.

Here we are with the goldenrod blooming, the goldfinches picking seeds from the sunflower heads, and pumpkins, fat and orange, poking out of a frost-nipped patch. The winter squash matures, soon to be harvested and cured, just in time to feed our cravings.

Here we are with woodsheds and pantries full, ready for a break, ready for the shift of seasons. We pull out a sweater, kindle a fire, find some wool socks, plan a soup and some cornbread for supper. Surely it is time to bake a pie.

These recipes can use vegetables from your garden or from the Common Ground farmer's markets, located by both Fair gates.
---
Papa a la Huancaina
2 lbs. yellow-fleshed potatoes, cooked until just soft, drained and cooled
2 tsp. salt
2 slices wheat bread, crusts removed
1 c. half-and-half
1/4 c. vegetable oil
1 large red pepper, seeded and chopped
1 jalapeno pepper, minced, seeds left in
1 c. ricotta cheese
2 or 3 hard-boiled eggs, quartered
Peel and cut the potatoes into half-inch slices. Soak the bread in the half-and-half until soft. Set aside.
Heat the oil in a skillet and add the red and hot pepper. Sauté until soft. Transfer the oil and peppers to a food processor and blend until smooth. Add the soaked bread and ricotta to the peppers. Blend until smooth. Season to taste with salt. Pour over the potatoes and garnish with egg. Serves 4 to 5.
---
Maple Pear Pie
Pie crust for one 10-inch pie
6 medium pears, cored, peeled
2 Tbsp. all-purpose flour
1 Tbsp. fresh lemon juice
1/4 c. dark maple syrup
1 egg mixed with 2 tsp. water
Preheat the oven to 400 F. Slice the pears crosswise into quarter-inch slices. Line the pie pan with half the crust. Pile one-third of the pears in the pie pan. Sprinkle 2 tsp. flour on them. Repeat twice more. Stir the lemon juice and syrup together. Pour the mixture over the pears.
Place the top crust on the pie. Seal the edges and make vent holes. Brush the top with the egg mixture. Bake for 55 minutes.
---
Creamy Salsa
Preheat the oven to 400 F. Roast 10 large (or 15 small) paste tomatoes on a sheet pan. Cool and peel. Blend in a food processor or blender. Add 1 to 3 cloves of garlic and 1 tsp. salt. Blend until smooth. With blender running, in a slow drizzle, add 1 cup olive oil. Add chopped herbs as desired, or serve as is. Excellent with chips or crusty bread.
Roberta works for Fedco Seeds and farms and saves seeds at her home in Vassalboro. She has written her Harvest Kitchen column for The MOF&G for more than 25 years.