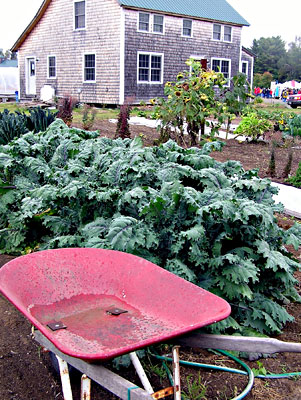 From spring spinach to fall kale, Maine's growing season offers ample opportunities for us to savor every moment. English photo.
By Roberta Bailey
We all pack a lot into our fleeting Maine summers. Lettuce, spinach and peas intertwine with weddings and graduations, green beans and raspberries bump up against summer camp, melons and blueberries go to the beach, sweet corn attends a barbeque, tomatoes are the life of the party, then the kale finds itself wondering where the woolly sweaters got stowed, and the carrots and potatoes actually need some warmer gloves for this task.
Once again, I continue my mission to slow the summer down, to taste every bite, to savor each moment. I have come to realize that the long days of childhood summers are gone for me, unless I am willing to commit to days without lists and to try to live completely in the moment with no thought to the next hour or that afternoon or the carrots that need thinning. What I can do is make chunks of time to read and watch the morning sun spread across the fields and gardens, time to write or weave a basket, time to help a friend weed her asparagus patch, and time to sip mint tea in the shade while listening to the birds. I can slow a few moments, and collectively, those moments make the summer seem long and full. They are my collection of mental snapshots, like an album of photographs; "My Summer Vacation," the visual essay.
Here are a few of the recipes I hope to share along the way.
Stir-Fried Greens and Snap Peas
1 tsp. grated fresh ginger root
2 Tbsp. minced green garlic tops
2 scallions or a large handful of chives
1/4 tsp. freshly ground black pepper
1 Tbsp. vegetable or peanut oil
1 to 1-1/2 lbs. fresh mustard greens or Asian greens, chopped into 2- to 3-inch pieces
1 lb. snap peas
1 Tbsp. tamari or soy sauce
1 Tbsp. rice vinegar or wine vinegar
1 Tbsp. toasted sesame oil
Heat oil in a large sauté pan. Quickly add the ginger, pepper, garlic greens and scallion or chives. After a few seconds, add the snap peas, and stir-fry for a minute or two, then add the greens. Stir-fry until the greens are wilted. Mix together the tamari/soy sauce, vinegar and sesame oil and pour over the peas and greens. Mix well. Serve hot or cold.
Serves 4-5.
Zippy Green Beans
1 lb. green beans, stems removed (about 4 c.)
3 Tbsp. olive oil
1/4 to 1/2 tsp. salt
1/4 tsp. freshly ground black pepper
1 to 2 Tbsp. chives, minced
2 Tbsp. parsley, minced
1 Tbsp. fresh mint, minced
3 Tbsp. freshly squeezed lemon juice
Steam green beans until just tender, 3-4 minutes. Drain and place in a serving bowl. Mix remaining ingredients separately and stir into the hot green beans. Serve hot or chilled. Serves 4.
Zucchini Cheese Squares
3 c. grated zucchini
2 tsp. salt
1 1/2 c. white flour
1 Tbsp. baking powder
1 onion diced
2 c. grated cheddar cheese
2 tsp. fresh basil or summer savory leaves
pepper to taste
1 Tbsp. minced chive
1/2 c. vegetable oil
3 large eggs, beaten
Combine the zucchini and salt in a colander and toss to mix. Set aside to drain for 30 to 40 minutes. Squeeze out excess moisture. Preheat oven to 350 F. Grease a 7- x 11-inch baking dish with butter. Mix together the flour and baking powder in a bowl. Add the onion, zucchini, cheese, herbs, pepper and oil. Mix with a fork, breaking up any clumps. Whisk the eggs separately and add to the zucchini mixture. Spread evenly in the baking dish. Bake for 35 minutes. Let cool for 10 minutes, then cut into squares. Serve warm or room temperature. Serves 6 to 8.
Sautéed Cherry Tomatoes
2 to 3 Tbsp. olive oil
4 c. cherry tomatoes, halved and de-stemmed
2 or 3 cloves garlic, minced
3 Tbsp. chopped fresh herbs (basil, cilantro, chives, mint, parsley, summer savory, tarragon, etc., in any combination or alone)
salt and pepper to taste
Optional fresh mozzarella or goat cheese, diced small
Heat the oil in a large skillet. Add the tomatoes and sauté until heated through, about 3 minutes. Add the garlic and sauté about 1 minute. Remove from the heat, season with the herbs and toss lightly. Top with cheese if desired.
Green Corn and Blueberry Pudding
3 c. fresh corn kernels
2 c. blueberries
3 Tbsp. cornstarch
1/2 c. sugar or 1/3 c. maple syrup
1/2 tsp. salt
1/8 tsp. nutmeg or allspice
4 eggs, separated
1 c. heavy cream (or rice milk, soy milk or even low-fat milk)
4 Tbsp. butter
In a bowl, toss the corn and blueberries with the salt, sugar, cornstarch and nutmeg or allspice. (If using maple syrup, add it in the next step.) Mix well. Beat the 4 egg yolks into the cream and add maple syrup if using it. Pour over the corn mixture. Stir in the butter. Beat the egg whites until stiff and fold them into the mixture. Pour into a buttered 2-qt. baking dish. Bake at 350 F for 30 to 45 minutes, or until firm in the middle. Serves 5.
Raspberry Ricotta Mousse
1 lb. ricotta cheese
1 pint fresh or frozen raspberries
2/3 c. natural fruit preserves
1 c. heavy cream
With an electric mixer or food processor, whip the ricotta for 2 to 3 minutes until smooth and slightly fluffy. Check berries for stems. Hold out some berries for garnish. Fold the berries and preserves into the ricotta.
This portion can be made ahead and chilled. Just before serving, whip the cream until it is very stiff and fold it into the ricotta.  This will keep in the refrigerator for about two days. Serve chilled and garnished with raspberries. Great in a melon half.
About the author: Roberta Bailey been writing her delicious Harvest Kitchen column for some 25 years. She lives in Vassalboro.