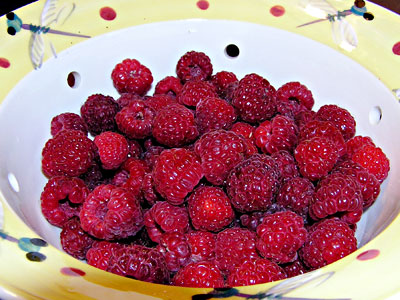 Raspberries are ready! And so is so much more – making an outing to farmers' markets and farm stands a weekly treat for the author. English photo.
By Cheryl Wixson
Starting in June, my friend Heather and I celebrate the seasonal bounty with weekly trips we call Farm Days. Every Thursday we leave Deer Isle, car packed with cooler, shopping tote and six-pack carrier, and enjoy a local foods treasure hunt. When we return home, we'll provision our kitchens with the best of the summer harvest and delicious, farm-fresh treats.
We start with the weekly CSA pick-up at King Hill Farm in Penobscot, which keeps us well stocked with diverse organic, succulent vegetables. We harvest you-pick herbs and flowers there, too. Fresh herbs are normally such a luxury; now I use them with abandon in my summer cooking. Fragrant dill butter on steamed baby carrots, salads made with rich red tomato slices and sweet basil, salsa spicy with cilantro. After checking the farm stand for new additions, such as organic four-grain pancake mix or savory summer lamb sausage, we head to Quill's End Farm, also in Penobscot. The thick, rich Jersey cream from Quill's End is my culinary weakness. I love it gently whipped and sweetened with maple syrup. Fragrant, sun-ripened strawberries, tangy rhubarb cobblers and blueberry pies are elevated to star status with this topping. Milk, yogurt, cheese – even duck eggs – go in the cooler, and after a quick visit with the goats, we're off.
Sometimes we visit Castine's farmers' market for Hackmatack Farm's exquisite vegetables and Bagaduce Farm's heirloom organic pig products. And for lard: Deborah Evans is reviving the culinary wonders of lard. Think melt-in-your-mouth caramels and flaky pie crusts wrapped around spicy sausage pies. Brilliant colored peppers from Blue-Zee Farm are summer sunshine at its best. The fourth generation of Birdsalls may be napping in the shade as we savor Horsepower Farm's sweet asparagus or tender green beans.
Back on the peninsula, the Blue Hill Coop supplies accouterments for preserving, such as lemon juice and pickling spices. Inspired by the bounty of produce from more than 30 local farms, we pick up a recipe or new idea.
Then to Mainescape in Blue Hill, for herbaceous perennials, seedlings, flowers and more local, organic produce. In Brooklin, Betsy' s Sunflower is a fun place to indulge in gardening supplies and cook's tools. The Cave always has a tasting: local artisan cheeses, spicy relishes and preserves, local breads, and refreshing glasses of iced coffee.
At the Brooklin Farmers' Market, each week offers a new and exciting find. We love Carding Brook Farm's sun-kissed raspberries, heirloom tomatoes, tender garlic scapes and feathery fennel. Five Star Nursery offers luscious peaches, and multiple varieties of apples pressed into a delightful cider. Stoneset Farm offers organic Maine wild blueberries. The mood is festive, the air filled with the aromas of freshly baked breads and cookies, while students from the Brooklin School garden and greenhouse sell flowers. When a bumper crop of produce is available, we order extra in advance to take home and preserve.
Heading home, we imagine our "Farm to Fork" weekly menus. Boiled new potatoes still in their jackets tossed with chopped parsley; grilled lamb with rosemary and garlic scape marinade; sugar snap pea, radish, basil and feta salad; creamy custard with duck eggs. Farm Days provide my weekly dose of vibrant agricultural community and inspiration to try new things and create recipes. Summer market ratatouille, peppers stuffed with King Hill ground beef, bread salad prepared with Grindstone Neck smoked blue cheese, light and refreshing summer soups, zesty salsas. Local, healthy, community-based, delicious. As a culinary conservationist, if you want to save it, you gotta eat it! Enjoy!
New Potato Garlic Scape Soup
2 Tbsp. butter
1 c. finely chopped garlic scapes (about 1/2 pound)
1 small onion diced, about 1/2 cup
2 c. new potatoes, scrubbed and cut into cubes
2 c. water
1/2 c. buttermilk or more to thin the soup
4 Tbsp. chopped fresh parsley
sea salt and fresh pepper
topping: yogurt or sour cream
In a heavy soup pot on medium heat, melt the butter. Stir in chopped onion and garlic scapes. Cook until they start to soften. Add cubed potatoes and stir until they heat. Add water and buttermilk and bring the mixture to a simmer. Cook until potatoes are soft. Mash the soup by hand, or for a finer texture, puree in a blender or with a blender stick. Stir in chopped fresh parsley and more buttermilk if needed for the desired consistency. Season to taste with sea salt and fresh pepper. Serve in heated soup plates. Garnish the top with a dollop of farm-fresh yogurt or sour cream. Makes 4 servings.
Nutritional analysis per serving: 158 calories, 4 g protein, 23 g carbohydrates, 7 g fat (0 g transfat), 91 mg sodium, 3 g fiber.
Cheryl Wixson is MOFGA's organic marketing consultant. She lives and eats in Stonington, Maine, and welcomes your questions and comments at [email protected]