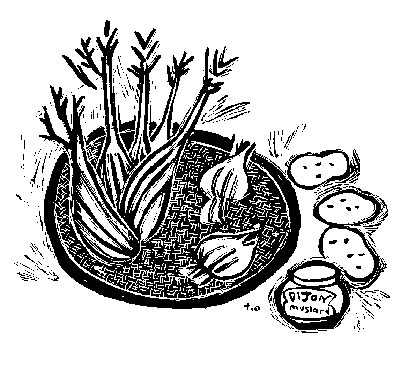 Toki Oshima drawing.

By Roberta Bailey
Have you been through the Exhibition Hall yet? Common Ground Fair's Exhibition Hall is a hall of marvels. You walk from the hustle and bustle of the fairgrounds into the cool quiet sanctum of mellowed wooden timbers and high ceilings. The outside world falls away. You focus on rows of tables crammed full of flowers and vegetables, then your focus narrows to each section of vegetables as you walk along the edge of table after table. Tomatoes, peppers, dry beans, grapes, apples, garlic, potatoes, winter squash. Will you look at the size of that watermelon! And what's this? Something you've never seen before. You are reaching for the tag, obscured by a neighboring plate of beets, when a familiar voice says, "It's skirret." You look up to see a gardening friend. "I don't know what you do with it, but someone brings it every year. I think I'm going to finally find out some more about it. I'm thinking of growing it next year." The two of you walk along admiring the fruits of so many labors, exchanging tidbits of what you know about Golden Delicious winter squash or what you did to keep slugs out of your cabbage patch. Looking at the red cabbage, you think to yourself that you should have brought yours, they were just as big, maybe bigger. "Next year," you think as you say good-bye to your friend and walk back into the sunshine, somehow rejuvenated, somehow ready for winter, and looking forward to next year's garden. Here are some recipes that celebrate the common and and not-so-common Exhibition Hall fare.

Thai-style Kabocha and Tempeh Curry
Serves 5
oil for frying
8 oz. raw tempeh, cut into small triangles
3 Tbsp. peanut oil
2 large onions, cut into wedges
1/2 bunch fresh cilantro stems, minced
1 lb. kabocha squash, cut into 1-inch chunks
2 tsp. green curry paste, or to taste
2 Tbsp. tamarind paste
1-3/4 c. (12 fluid ounces) coconut milk
1-3/4 c. vegetable stock
2 tsp. maple syrup or palm sugar
1/2 lb. bok choy stems with a little leaf on it OR green beans OR snap peas
1 bunch cilantro leaves, coarsely chopped
2 lemons cut into wedges
Heat the oil for frying and fry the tempeh until golden. Set aside. Heat a large heavy pot, add 3 t. peanut oil and sauté the onions until lightly browned. Add the kabocha chunks and cilantro stems, coating them with the oil and onion mixture. Gently stir in the tempeh. Add the curry paste, tamarind paste, coconut milk, stock and maple syrup, stirring until mixed. Bring to a simmer and cook, uncovered, until the kabocha is almost tender. Add the bok choy. Simmer to thicken, reducing the liquid by close to half. Serve on rice noodles or rice with plenty of raw cilantro on top. Serve lemon wedge to squeeze over the curry before eating.

Fennel, Potato and Mustard Casserole
Serves 5-6
1 large fennel bulb
1 lb. waxy type potatoes, washed, skins left on
5 cloves garlic, chopped
2 Tbsp. olive oil
1/2 tsp. sea salt
2 Tbsp. Dijon mustard
1/2 cup stock
1 tsp. lemon juice
1/4 tsp. black pepper
1 cup navy beans or other small dry beans, soaked and cooked until tender
fresh fennel leaves
Soak and cook navy beans until tender, but not mushy. Cut fennel and potatoes in half, then into wedges. Place in a baking dish. Add the garlic, oil, and salt, mix well, thoroughly coating the vegetables. Mix together the mustard, stock, lemon juice and pepper. Add to the vegetables and mix well. Bake at 350 degrees F. for about 35 minutes or until the vegetables are golden brown and collapsing. Turn one or two times during cooking. Add the navy beans and cook another 15 minutes. Serve with sprigs of fresh fennel.

Belgian Endive, Orange and Kale Salad
Serves 5-6
1/2 lb. curly kale, washed and drained
1 red and 1 white head Belgian endive (Witloof), about 3/4 lb., washed and well drained
segments of 1 orange, membrane removed and cut in thirds
zest of 1 orange
pinch salt
Cut kale into bite-sized pieces and blanch quickly in salt water. Cool in cold water. Cut endive into long thin slices. Mix with orange slices and kale. Add zest and salt. Serve with dressing below.

Green Herb Dressing
5 tsp. Dijon mustard
2 Tbsp. white wine or white balsamic vinegar
1 Tbsp. each chopped chives and fresh basil leaves
1/2 cup chopped parsley
1 clove garlic, chopped
1 Tbsp. maple syrup
4 Tbsp. olive oil
Blend in a blender or food processor in the order given, but drizzle the olive oil in slowly to create an emulsion.

Tomatillo Hot Sauce or Smooth Salsa
Steam 2-1/2 pounds washed tomatillas until tender, about 10 minutes. Purée or put through a sieve. If using a blender or food processor, add the following ingredients and purée. Otherwise finely chop them:
3 medium onions
3 to 4 cloves garlic
4 to 10 hot peppers, to taste
2 to 3 Tbsp. fresh cilantro, optional
juice of 3 limes
salt to taste
Refrigerate or freeze or can in sterile, hot 1/2-pint jars and pressure can at 10 lbs. pressure for 10 minutes.