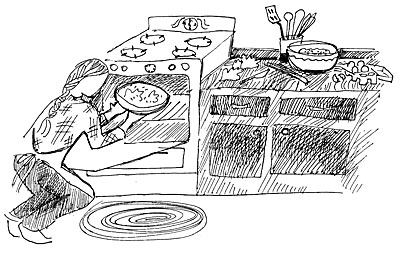 Toki Oshima drawing
By Roberta Bailey
Once again we have come around to that time of year when our winter diets give way to spring cravings and, hopefully, lots of spring greens. First come the delicate little sprigs pinched into the palm, harbingers of hope and full salad bowls, the first fruits of those winter seed catalog perusals. The young sprouts from cold frames and hoop houses start to brighten the winter cabbage slaw; new shoots from the overwintered kale add vivid green to the stir fry; and cilantro and scallions zip up the jarred salsa.
As the snow recedes, I sprinkle a seed mix of hardy greens onto the wet cold ground and cover it with fine compost. I am sowing patience. I know they will take quite awhile to grow, but the act of getting out there and putting seed to the earth cultivates patience.
My appetite for spring growth is growing far faster than the best efforts of these little seeds. I find my mind spinning through the rotation of our usual winter meals, excited by none of them.
Pulling out a cookbook or two can spark new ideas, or at least inspire a new twist on the same old root cellar and freezer fare.
This spring's new twist is tarts, both sweet and savory. They make leeks and carrots strut their stuff anew. Spinach gets all dressed up with feta. Broccoli dances with celeriac in a potato crust.
The beet and cabbage salad suggests a little candle light, maybe some music. The strawberry tart says to turn it up a notch. And the greens out there in the chilly ground hear the music and step up their growth.
Savory Tart Dough
Makes a 9-inch crust in a pie pan or tart pan
1 cup unbleached white flour (or 1/4 cup whole wheat and 3/4 cup white)
5-1/2 Tbsp. chilled butter, cut into small cubes
3 to 5 Tbsp. cold water
Work the butter into the flour by hand or with two knives or a pastry cutter. Add 3 Tbsp. water or more to form a loose ball. Cover and chill for 30 minutes. Use your fingers to press the dough into a pie or tart pan. Chill the dough in the freezer for 15 minutes while heating the oven to 425 F. Bake for 10 minutes, then remove and fill with ingredients to further bake.
Sweet Dough
1 cup white flour
1 to 2 Tbsp. sugar or evaporated cane juice
1/4 tsp. grated orange or lemon peel (optional)
4 Tbsp. butter, room temperature
3 to 4 Tbsp. water
1/2 tsp. vanilla extract
Combine flour, sugar, and citrus peel. Work in butter. Add vanilla to water and add to crust. Process as for savory crust, above.
Sorrel or Spinach Onion Tart
1 large onion, thinly sliced
4 Tbsp. butter
1/4 tsp. salt
4 to 8 ounces spinach or sorrel leaves
2 large eggs
1 cup milk or cream or soy milk
3 ounces Gruyere cheese, grated
nutmeg
Prepare the tart dough, partially pre-bake it, then set it aside.
Melt 3 Tbsp. butter in a large frying pan. Add the onions and salt. Stew slowly, covered, for 10 minutes, stirring occasionally. Cut the stems from the spinach or sorrel and chop coarsely.
Melt the remaining butter in another pan. Add the greens and cover. Cook for a few minutes until wilted.
In a bowl, whisk the eggs with the milk, then stir in the onions, greens and half the cheese. Add a sprinkle of nutmeg and salt to taste.
Preheat the oven to 375 F. Sprinkle the remaining cheese over the crust, then add the egg mixture. Bake in the center of the oven until the egg is set, about 35 to 40 minutes. Serve hot.
Double Mustard Leek Tart
1 recipe savory tart dough
4 to 5 cups leeks (about 1 lb.) cut into thin rings
2 cups mustard greens, chopped fine
4 Tbsp. butter
1/2 cup water or white wine
1/2 tsp. salt
ground pepper
2 eggs
1 cup yogurt or cream
2 to 3 Tbsp. coarsely ground prepared mustard
4 ounces crumbled Asiago or goat cheese
3 Tbsp. minced scallions or chives
Prepare and partially bake a tart dough. Slice and sauté leeks in butter, stirring frequently. Add water or wine and salt. Cover and simmer for 10 to 15 minutes, adding more liquid as needed. Add the mustard greens in the last few minutes to wilt. Season with pepper.
Beat the eggs and stir in the yogurt or cream, leeks, mustard greens and prepared ground mustard. Crumble half the
cheese into the custard.
Preheat the oven to 375 F. Pour the custard into the crust, sprinkle the scallions or chives on top and add the remainder of the cheese. Bake the pie until it's firm and browned, 30 to 40 minutes. Let it cool for 5 minutes and serve.
Winter Squash Kale Tart
1-1/4 lb. winter squash or pumpkin, baked and mashed
olive oil
salt and ground pepper
1 recipe tart dough
2 cups leeks, sliced into thin rounds
2 cups chopped kale
2 to 3 Tbsp. butter
1/4 cup water
2 eggs
3/4 cup milk or soy milk
3 ounces Gruyere cheese, grated
1/4 Tbsp. thyme
2 Tbsp. parsley
nutmeg
Prepare and partially bake the crust. Melt the butter in a skillet, sauté leeks until tender, add the kale and 1/4 cup water and cook the mixture for a few more minutes.
Beat the eggs and milk, then add the squash. Stir in the leeks, kale, cheese and herbs. A sprinkle of nutmeg is optional.
Preheat the oven to 375 F. Pour the filling into the crust and bake until firm and golden, about 45 to 55 minutes. Cool for 5 minutes and serve.
Freezer Berry Tart
1 recipe sweet tart dough
8 ounces cream cheese
1/2 cup sour cream
grated peel of 1 small lemon
1/4 cup maple syrup or honey
3 cups berries
2 Tbsp. fine tapioca granules
1/4 cup honey or sugar
Prepare and fully bake the crust for 15 minutes. Set it aside to cool.
Beat together the cream cheese, sour cream and lemon peel. Sweeten to taste with honey or maple syrup. Spread evenly over the tart crust.
Heat half the berries in a saucepan with the honey or sugar, bringing the mixture to a boil. Add 2 Tbsp. ground tapioca. Cook until thickened. Blend until smooth. Add the remainder of the berries and stir together. Spread the fruit over the cream cheese mixture. Chill for 30 minutes. Serve.
This article was originally published in the spring 2010 issue of The Maine Organic Farmer & Gardener.
Looking for more seasonal recipes? Sign up for MOFGA's Local and Organic Kitchen Newsletter.