By Holli Cederholm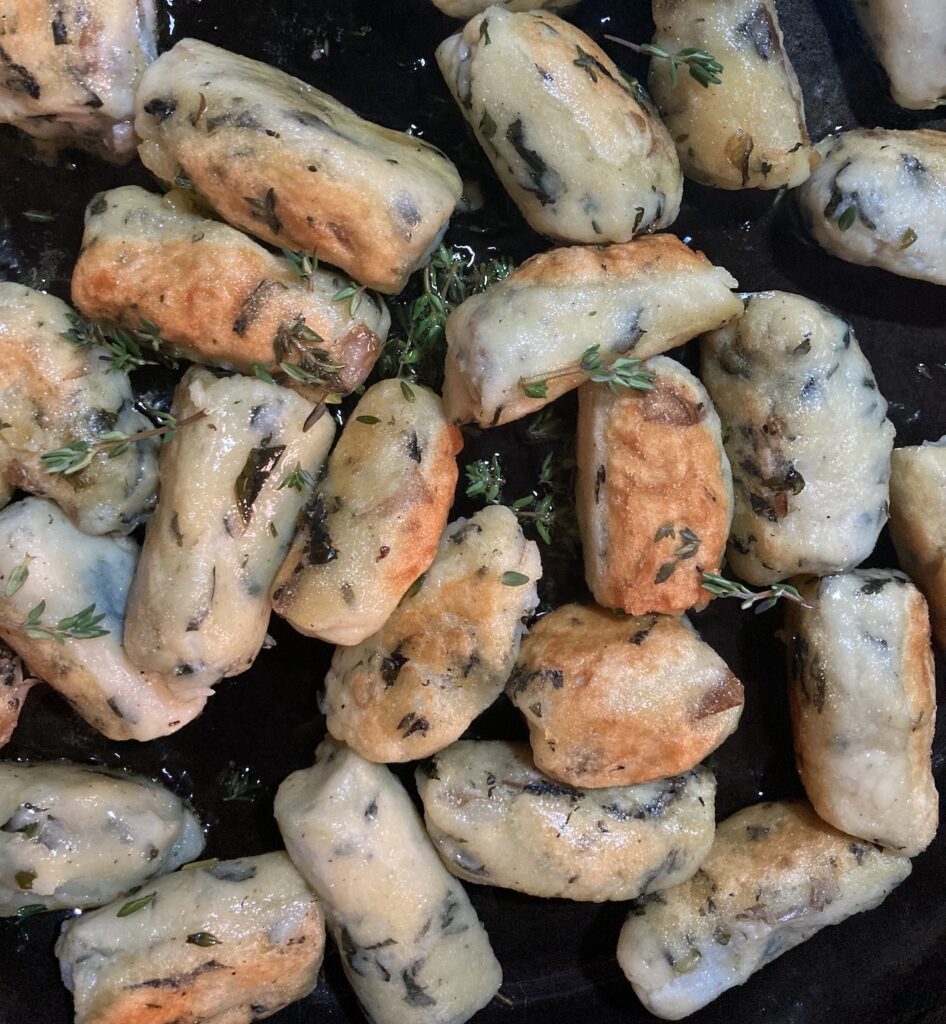 Gnocchi is one of my favorite celebratory meals. I usually only make this potato-based pasta a few times a year, but it's always for a special occasion: the arrival of an ingredient that I haven't cooked with since the last time it was in season. In the fall, I mix up a dough with the thick, sweet orange flesh of Marina di Chioggia squash, and serve the gnocchi glistening with sage-infused butter. In the spring, I incorporate seasonal greens — typically nettles or dandelions — into the more familiar potato base.
My recipe is anything but traditional: I cook by feel rather than measure, but I have provided approximations for a spring batch of dandelion gnocchi. It makes quite a few gnocchi, 60 to 70 depending on size, but they keep well once boiled. You can either portion them into containers and freeze for later, or stash in the fridge to be consumed that week.
The dandelion gnocchi are perfectly delicious boiled and served warm with good-quality olive oil, or a drizzle of melted butter. Top with herbs to taste; thyme, sage, parsley or whatever you have at hand. My favorite way to enjoy gnocchi, however, is pan-fried until golden.
Dandelion-Potato Gnocchi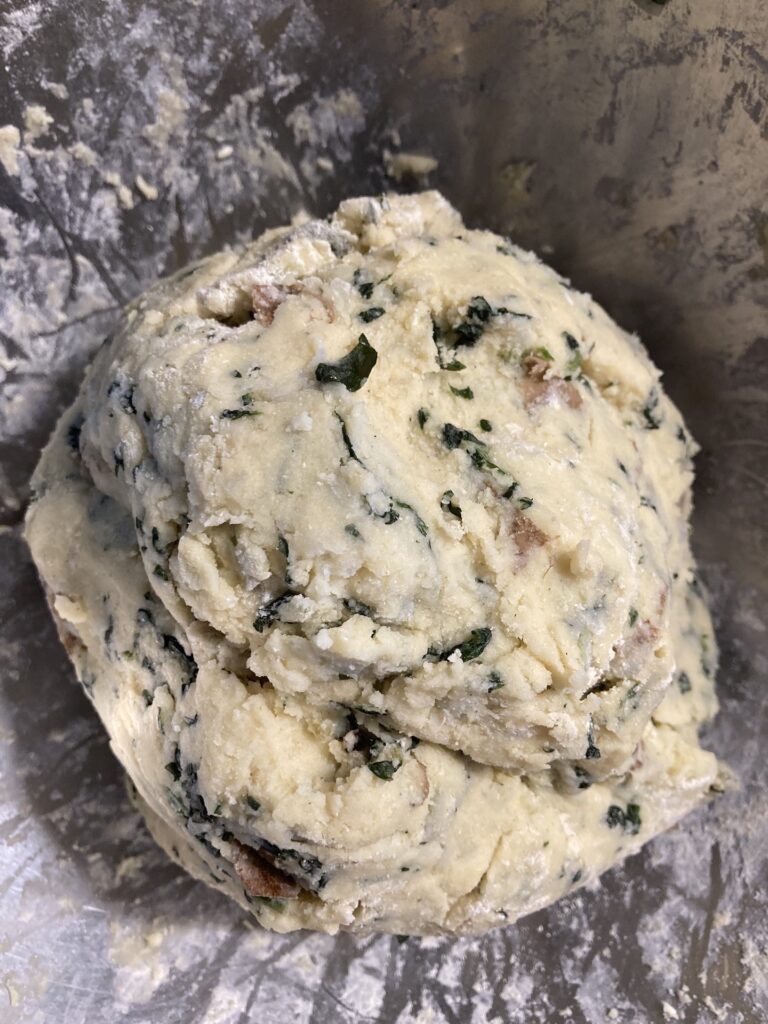 Makes 60-70.
Ingredients:
6-8 small to medium-sized Russets (or other dry-textured potato); peeling optional
1 c. (or more) steamed dandelion greens, squeezed of excess moisture and minced
2 eggs, whisked
1-2 c. flour (I used a gluten-free chickpea flour blend; could use all-purpose)
1 tsp. salt
For serving:
Olive oil (or butter/ghee), fresh herbs (such as thyme, sage and/or parsley), and grated Parmesan cheese
To make: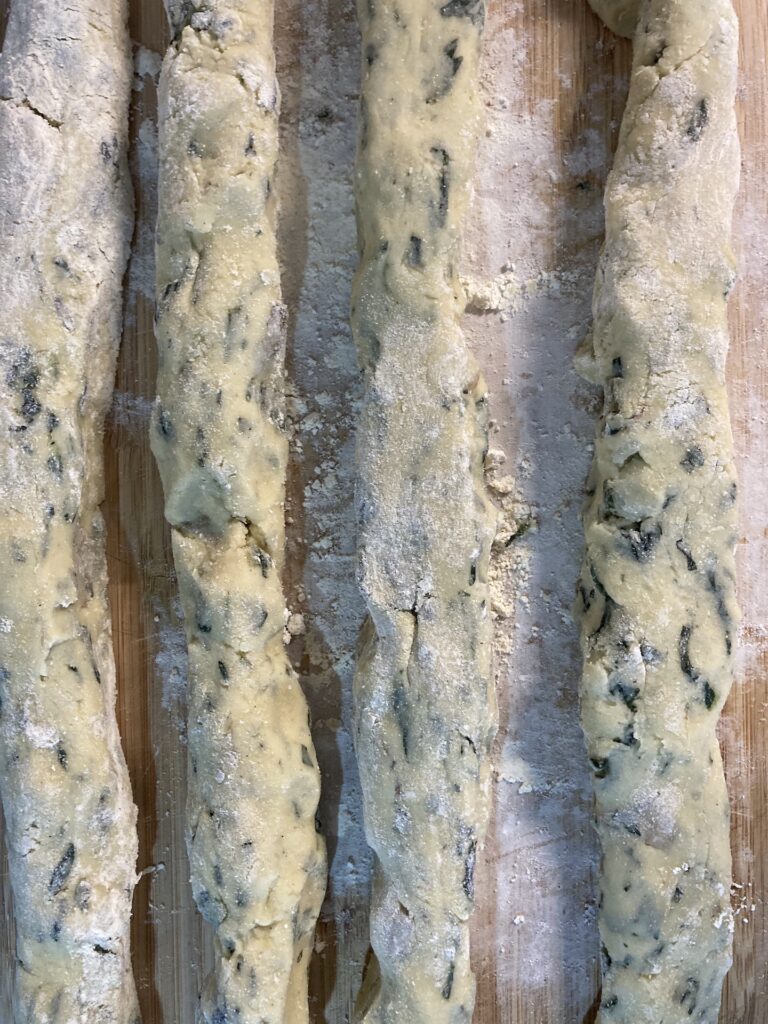 Boil potatoes until fork-tender. Drain; mash with a fork in a large bowl.
Incorporate dandelion greens (nettles could also be used). Add salt. Mix. Make a well in the center; stir in whisked eggs. Stir to combine.
Add 1 c. flour. Mix with a spoon, adding more flour as needed to create a firm, yet tacky, dough. As the dough gets stiffer, gently hand knead, but do not overwork.
Shape the dough into a ball and quarter it. Roll each quarter into a long log on a lightly floured cutting board. Cut the dough logs into 1-in. pieces. Shape each gnocchi with your fingers or a fork, adding flour as needed to avoid sticking.
Meanwhile, bring a large pot of salted water to a rolling boil.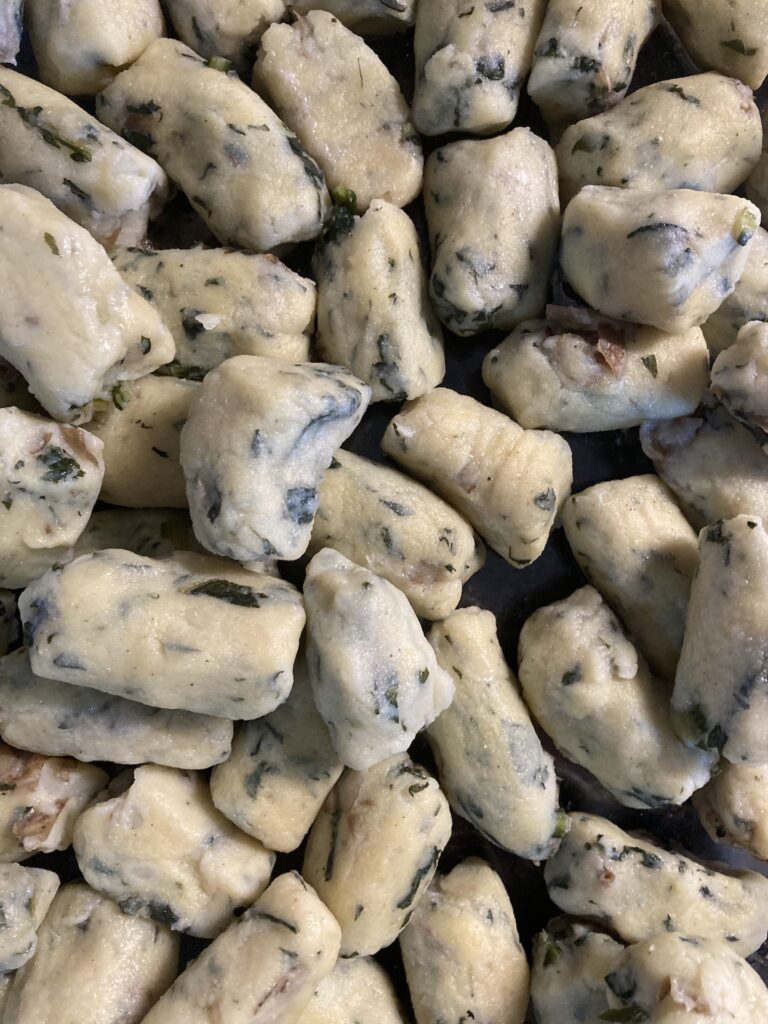 Working in batches, add gnocchi to pot; boil 2-3 minutes, until they rise.
Using a slotted spoon, transfer the boiled gnocchi to a dish.
At this point, top with olive oil, fresh herbs and grated cheese and serve warm; or fry until golden in a large buttered cast-iron skillet. If doing the latter, place gnocchi in the pan in a single layer and cook 4-5 minutes on each side — cook until crispy. Optional: add sage/thyme. Serve sprinkled with cheese.
Can be frozen after boiling.
Looking for more dandelion recipes? Check out "Wild Spring" recipes, featured in the spring 2022 issue of The Maine Organic Farmer & Gardener.
Sign up for MOFGA's monthly Local and Organic Kitchen Newsletter for seasonal recipes delivered to your inbox.