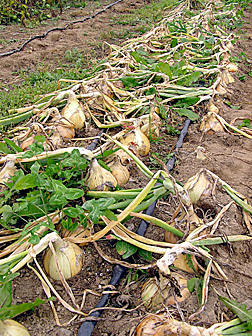 Onions at MOFGA's Common Ground Education Center, ready for harvest in September. English photo.
by Roberta Bailey
After living most of my adult life without running water, hoses are an absolute marvel of technology and a blessing to me. I never cease to find joy in the ease of running a hose to the garden or the hoop house or the chicken coop. I even have a system of hoses stored in my basement for resurfacing my hockey pond, but that is another article in itself – though both watering the garden and skating give me great pleasure.
This was an easy gardening year for me, although until fall I was wondering if it truly was a good gardening year. Perhaps the lack of microbursts and of standing water in the garden for most of the season just made it seem like an easy year. July was dry; I did have to water, but that was far easier than digging drainage ditches and yelling to the heavens for mercy.
With the fall harvest, I declared the season a great success. The garlic, leeks and onions were watered three times in July. As a result I had a bumper crop of alliums. I could actually use a few small onions – you know, when you need just a little onion, a few tablespoons, minced finely. With softball-sized onions you have to put half of it in the fridge, then remember that it's there. At last count there were three partial onions in my fridge; but who can really complain about onions that are too big? We should all have such problems. And if you do, here are some recipes that use at least one large onion or lots of garlic or a leek or two. And onion soup after a long skate is the best of both worlds.
Cabbage, Onion and Carrot Delight

6 Tbsp. sesame seeds
1/4 tsp. salt
4 Tbsp. toasted sesame oil
1 large or 2 medium onions
2 medium carrots, thinly sliced
6 c. cabbage, coarsely chopped
Combine the sesame seeds and salt in a blender and blend to a coarse meal. Set aside. Heat a wok or deep skillet. Add the sesame oil and onions. Stir fry for several minutes. Add 1 Tbsp. of the ground sesame salt. Stir fry for a few more minutes and then add the carrots and cabbage. Stir in the remaining sesame and salt mixture. Keep stir frying until tender (about 10 minutes). Serves 4-5.
Onion Soup
3 Tbsp. vegetable or olive oil
3 or 4 large onions, thinly sliced
1/2 tsp. dry mustard
dash of thyme, sage, rosemary or all three
5 c. stock, vegetable, beef or chicken, OR water
3 Tbsp. tamari/soy sauce
3 Tbsp. dry white wine (optional)
2 Tbsp. miso
white pepper to taste
thin slices of Swiss or your favorite cheese
croutons
Heat the oil in a heavy soup pot. Add the onions and brown them until well cooked. Add the mustard and herbs. Cook slowly for 30 minutes, adding stock only if needed. Add the stock, wine and white pepper. Simmer for 10 minutes and then shut off the heat. Mix the miso into some broth in a small bowl, stirring it until well dissolved, then stir it into the soup. Serve with cheese and croutons as desired.
Chicken and Garlic Soup

6 c. chicken stock
10 garlic cloves
juice of 2 lemons or limes
Mince the garlic finely and simmer it in stock for 10 minutes. Strain (optional) and add the lemon juice—but no seeds, as they can add bitterness. Serve at once.
Garlic Toast/Crostini
Toast thick slices of artisan style or French baguettes. Peel a clove or two of garlic and rub them on the hot toast as soon as it comes from the toaster. Serve with soup or salad. Melt cheese on the bread for an open-faced sandwich.
Greek Pasta with Leeks and Garlic
12 ounces uncooked spinach pasta (penne or fusilli)
3 Tbsp. olive oil
5 to 8 cloves garlic
2/3 lb. Kalamata olives, chopped
24 to 32 ounces whole stewed tomatoes
2 tsp. fresh oregano or 1/2 tsp. dried
1/2 tsp. salt
1 Tbsp. red wine vinegar
3 to 4 ounces feta cheese
ground black pepper to taste
Cook pasta until just tender. Drain and rinse.  Heat the olive oil in a large skillet over medium heat.
Add the leeks and sauté until almost tender, then add the garlic and sauté until it is tender. Stir in the tomatoes, olives, oregano and salt; simmer uncovered, until very little liquid remains, about 20 minutes. Stir in the red wine vinegar. Remove from heat. Crumble in the feta cheese and add the pepper to taste. Toss. Serves 4.
Baked Leeks
Slice into rounds as many leeks as you want to serve. Place in a well greased casserole dish. Add 1 inch of water or stock. Salt lightly. Cover and bake at 400 degrees F. until tender. Sprinkle liberally with Parmesan cheese. Serve hot.
Roman Garlic Sauce

1 pound capellini or spaghettini
salt
1/2 c. extra virgin olive oil
5 to 8 cloves garlic, chopped very fine
3 Tbsp. parsley
grated Parmesan cheese
Cook the pasta with salt until tender. Drain well. In a heavy pan, heat the olive oil and garlic. Sauté until just tender but not browned. Toss with the pasta. Serve with parsley and Parmesan. Simple and delicious. Serves 4.