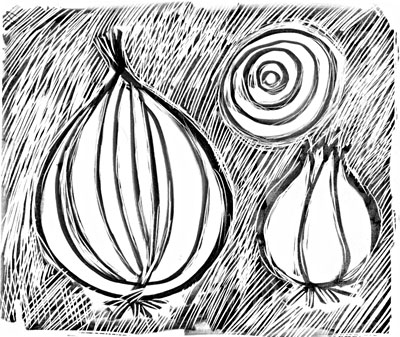 Toki Oshima drawing
By Roberta Bailey
"Garlic," says the French writer Raymond Dumay, "is peasant, rustic; the onion is urban. The onion brings to the kitchens of the cities a little of the countryside. The onion offers always, and especially in winter, a little of the springtime of the soil, preserved in its bulb."
Rustic or urban, the onion and some of its 400 relatives are omnipresent in all cultures and their foods. Aside from the modern day soup, salad and stir-fry, we find pickles, alcoholic concoctions, preserves, medicines and herbal remedies. Originating in southwest or central Asia, Alliums have spread to every corner of the globe. Many species thrive in the United States – one or two per each of the 48 contiguous states. Wild onions were so prevalent around the southern tip of Lake Michigan that we commemorate them: Chicago is a Native American word for the odor of onion. Despite the presence of a wide variety of native onions, nearly all the onions eaten in the United States today are descendants of the Asian ancestors of Allium cepa, our commonly used bulb onion.
A great many of my culinary efforts start with Alliums in some form. Shallots, potato onions, and bulb onions of all shapes, color and intensity are the main fare. The leeks, bunching onions, chives, and scallions vary and extend the season, bringing more of the springtime of the soil into every day.

Roberta's Onion Soup
In a large heavy soup pot, melt or heat:
2 Tbsp. butter
3 Tbsp. extra-virgin olive oil
Chop and add to pot, cooking until lightly browned:
3 c. yellow onions
1 c. bunching onions or scallions
3 large leeks, with few of the greens included
4 to 7 cloves garlic
Add:
6 c. stock or water, or stock with 1/4 c. miso added or to taste.
(About soup stock: Stock can be made by simmering the peels of onion, garlic, carrot, herbs such as parsley and fennel, and almost any vegetable scraps along with a chicken carcass or beef scraps. Mushrooms make excellent additions to stock or stand as a stock of their own. Simmer approx. 1 hour)

Onion and Pesto Pie
2 c. thinly sliced onions
3 Tbsp. olive oil
2 c. low-fat cottage cheese
1 c. Ricotta cheese
1/4 c. walnuts
3 cloves garlic, chopped
2 Tbsp. minced fresh parsley
3 Tbsp. fresh basil or 1 tsp. dried basil
2 Tbsp. lemon juice
3 large eggs
1/4 c. Sapsago or Parmesan cheese
1/4 tsp. nutmeg
1/8 tsp. black pepper
1/4 tsp. salt
Sauté the onions in one tablespoon of the oil until soft. Cool. In a food processor, blend the cottage and ricotta cheeses, walnuts, garlic, parsley and basil until well combined. Continue to blend, adding the lemon juice, eggs, and remaining oil, salt, pepper, nutmeg and cheese. Mix in the onions by hand. Pour into a 9-inch greased springform pan. Bake at 350 degrees for 45 to 60 minutes, or until a knife inserted into the center comes out clean. Cool on a wire rack for 20 minutes before removing the sides of the pan. Serves 5.
Corn and Green Onion Pudding
1-1/2 c. milk or soymilk (use anything from skim to light cream, soy to rice milk)
4 eggs
1/4 tsp. chili powder
1/4 Tbsp. hot pepper sauce
1/4 Tbsp. salt
1 c. corn kernels
1 c. minced scallions, chives or bunching onions
In a large bowl, whisk together the milk, eggs, chili powder and hot pepper sauce. Stir in the onions and corn. Pour the mixture into a greased 11/2-qt. baking dish. Bake at 350 degrees for 45 to 60 minutes or until set. Serves 4.

Red Onion Salsa
Great with chili
2 c. chopped red onion
1/2 c. minced cilantro (packed)
2 c. chopped fresh ripe tomatoes
1/2 t. salt
3/4 c. minced parsley
1/2 c. chopped black olives (optional)
Combine all ingredients and mix well.

Roasted Green Beans with Garlic and Shallots
3 to 4 Tbsp. olive oil
1 lb. fresh green beans, trimmed, washed, and patted dry
3 to 4 shallots, thinly sliced
8 medium cloves garlic, cut in half lengthwise
1/2 tsp. salt
2 tsp. balsamic, fruity, or red wine vinegar
freshly ground pepper
Preheat the oven to 400 degrees. Brush a large baking pan with 2 Tbsp. olive oil. Spread the beans, shallots and garlic on the tray. Salt lightly and drizzle with the remaining oil. Bake for 20 to 30 minutes, stirring a few times, or until done to your liking. Remove from oven and transfer to a bowl. Drizzle with vinegar and pepper. Serve hot, at room temperature, or cold. Serves 4.