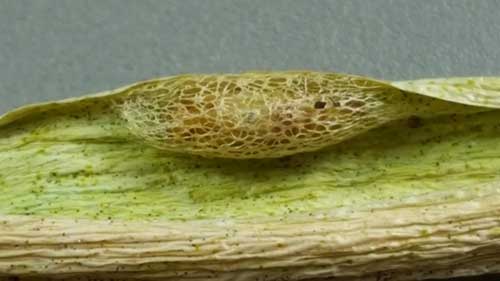 Leek moth cocoon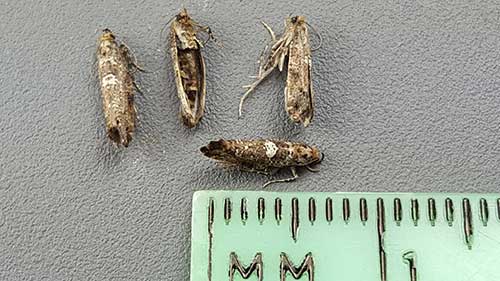 Adult leek moths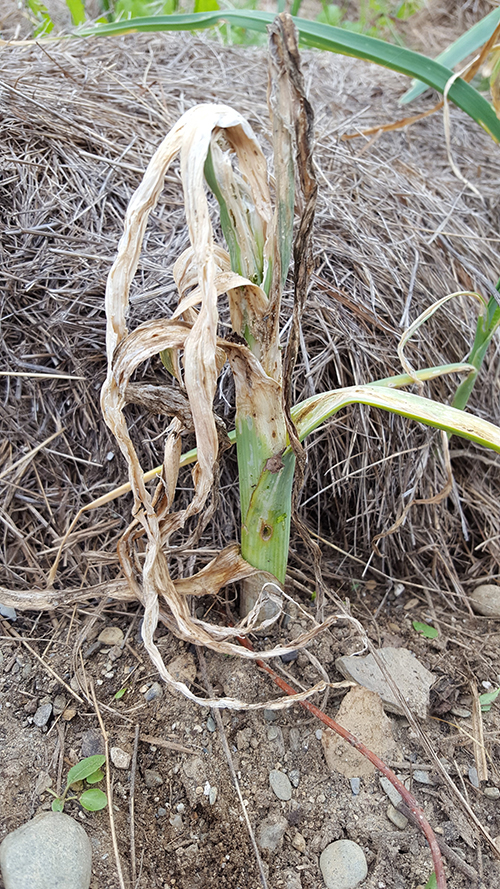 A leek plant destroyed by leek moth larvae.
By David Fuller
Photos by the author
Leek moth was identified in 2017 by Cooperative Extension in Jackman. Those populations have subsequently migrated south to Long Pond Township, a distance of about 10 miles.
Now leek moth has also been found in Rangeley Plantation. A home gardener contacted the University of Maine Cooperative Extension office in Farmington in September about crop damage to his alliums that was consistent with known damage caused by leek moth. An adult leek moth was reared and positively identified from an affected onion sample that the gardener submitted for observation.
Leek moth larvae cause significant damage to all members of the allium family. Particularly affected are leeks, leading to total crop loss. Larvae cause garlic scapes to collapse and can move into bulbs. Larvae also feed heavily upon onion foliage and can also migrate into bulbs.
Growers are asked to keep an eye out for leek moth damage in their farms and gardens. Telltale signs of leek moth are feeding activity on the foliage of leeks and onions and collapsed scapes on garlic. Cocoons, which are often laid on onion foliage, are about three-eighths inch long with a cargo net appearance. Moths are also about three-eighths inch long, light brown or gray with a light mark about halfway down the back of the wings. Cornell has excellent information on leek moth and its management.
About the author: David Fuller is the agriculture and non-timber forest products professional with the University of Maine Cooperative Extension in Farmington. You can reach him at [email protected].