By Jean English
Many years ago, Ellis Percy tried to convince Common Ground Country Fair food vendors to offer a hot drink in addition to the cider already at the Fair. After repeating the suggestion to no avail for about four years, he decided to come up with a drink himself.
Sixteen years ago, he started researching coffee alternatives (the Fair did not allow coffee sales at that time), looking especially for something that could include Maine-grown ingredients. He came upon a mix of barley, rye and chicory, and started playing with different ratios. Mixing equal amounts of all three "was not very good," but eventually he got a flavorful blend. That recipe remains a secret, as Beyond Coffee (https://beyondcoffee.biz/) is now a growing business for Percy's Spruce Bush Farm in Jefferson.
He took the brew to the Fair to sell by the cup, and people liked it so much they wanted to take some home. So on the Friday night of Beyond Coffee's first year at the Fair, Percy borrowed a scale and some bags from Jay Robinson, weighed out the product, and labeled the bags by hand.
| | |
| --- | --- |
| | |
| Ellis Percy makes his beverage, Beyond Coffee, from organic barley, rye and chicory. English photo. | Beyond Coffee sells in 1-pound bags throughout New England and beyond. English photo. |
By the following year he had a bona fide label and was selling Beyond Coffee by the cup and by the 1-pound bag at the Fair. When the Fair moved to Unity, however, and The Coffee Man set up a stand just outside MOFGA's grounds, Percy's sales went down. Now, with coffee sales being allowed even within the Fair, Percy won't bother selling it there – although he has offered to let other vendors sell it, and he donates a big bag to the Common Kitchen, which often keeps the hot drink available for Fair volunteers at mealtimes.
Instead of having a booth at the Fair, Percy works on the MOFGA staff as the Fair logistics coordinator.
Marketing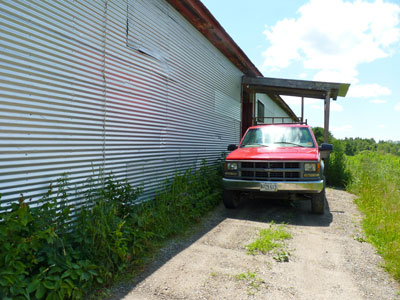 An old chicken barn in Jefferson houses the equipment for roasting, grinding, mixing and bagging Beyond Coffee. English photo.
Even without the Fair market, Percy sells almost 2 tons of Beyond Coffee – to 44 coops and natural foods stores. That number is growing – slowly in the current economy, but he hopes it will pick up. "If I could sell 25 cases a week, I would be in heaven." A case holds 12 1-pound bags.
Ellis and his son went to the Natural Products Show at Expo East one winter to promote Beyond Coffee. They spent a few thousand dollars to travel, rent a booth and stay in a hotel – and got "not one account" from the effort. But three midwinter sales trips around New England did the trick. Ellis called stores first and then stopped in to let them sample his brew. Many became regular customers.
Friends who move to other places also spread the word about Beyond Coffee, introducing even more natural food stores to the product.
Within Maine, the Crown O' Maine Organic Cooperative delivers Beyond Coffee (as well as Spruce Bush Farm's dilly beans and pickled fiddleheads). "Crown O' Maine has been a wonderful outlet," says Percy. "They're good people to work with."
Beyond Coffee is also featured at most MOFGA events, and Percy compliments Cheryl Wixson, MOFGA's organic marketing consultant, for her efforts with those events. "She really thinks about what's local," he says.
Outside of Maine, Percy ships by FedEx, which he finds less expensive than UPS or USPS. His product goes to Vermont, New Hampshire, Massachusetts and Florida.
Customers describe the certified organic Beyond Coffee as "smooth," says Percy. "Coffee has an edge. If you leave it out for 20 minutes or more, it gets even more of an edge." Beyond Coffee, on the other hand, has no oil to go rancid, so you can brew it, store it in the refrigerator, and it will be good even the next day.
Percy likes to add half and half to his drink, but says sweetener isn't needed. "Chicory lends some sweetness to the drink, so you need little or no sugar."
The brew can be good for those trying to avoid caffeine or the oily nature of coffee. Percy's father, for example, was told by his doctor to stop drinking coffee, because its oil was wreaking havoc on his digestive system. Beyond Coffee would be good for such a person.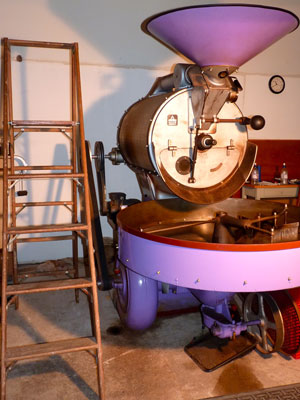 Percy roasts dehulled grain in an old Probat coffee roaster, made in Germany and shipped to Maine from Switzerland. English photo.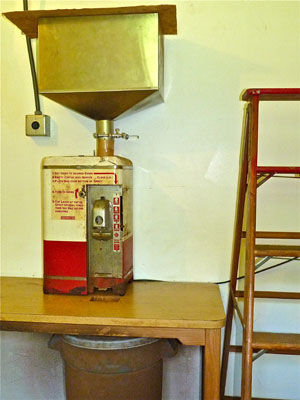 Roasted grains then go through an old supermarket coffee grinder. English photo.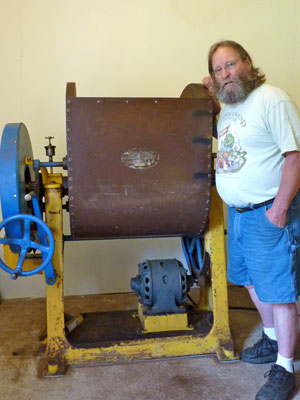 Finally, Percy mixes grains in a refurbished Triumph mixer, and bags them. English photo.
Sourcing Ingredients
Currently Percy gets barley and rye by the ton from Champlain Valley Milling in New York. His son and daughter-in-law, Rufus and Alice Percy of Treble Ridge Farm in Whitefield, Maine, recently bought a combine and are growing wheat and barley, so Percy looks forward to sourcing grains locally. That, combined with "the whole thing going on in Skowhegan" (the Somerset Grist Mill) means that "I can take it (grain) to Skowhegan and have them dehull it. My goal is to be able to source from Maine."
The chicory (Cichorium intybus) comes from France, because no one in the United States has the infrastructure to process it for a drink. About 10,000 acres of chicory grow in France and Belgium. After harvest, the root must be dehydrated within two weeks for best flavor, so the French slice the harvested roots right away, as thin as potato chips, then roast and granulate the slices.
Two areas in the United States grow chicory root, said Percy: Michigan, which puts it into Purina pet foods as a kidney and liver cleanser; and Nebraska, where sugar beet growers us it as a rotation crop, growing chicory root as a source of inulin. Neither of these markets processes chicory properly for beverages. The crop could grow in Maine; Percy's trials have proven that it grows well here.
Processing and Packaging
Before Percy got his own roaster, mixer and grinder, he rented ovens at Jim Amaral's Borealis Breads in Waldoboro. Then he got his own convection oven, then the roaster.
"I tried not to go into debt," he says of his measured procurement of machines – and of the repurposed chicken barn in Jefferson where the machines now live.
First Percy roasts dehulled grain in a Probat coffee roaster that was made in Germany in the '40s and then used in Switzerland for 60 years before Percy had it shipped to Maine and refurbished. Probat, said Percy, is the oldest manufacturer of commercial coffee roasting equipment in the world.
Then the roasted grains go through an old supermarket coffee grinder – and Percy would like to find one or two more of these, for "cheap insurance" in case the first one breaks down.
The ground grains and chicory are next put in a Triumph mixer – made in Cincinnati; also bought used; and repaired with help from Steve Daniels of Daniels Machine Shop in Augusta. Once the ingredients are uniformly blended, they're weighed into 1-pound bags and sealed.
Percy buys shipping boxes that hold 12 bags of Beyond Coffee from Volk Packaging Corporation in Biddeford (www.volkboxes.com) – another company he enjoys working with because of its excellent service. He reinvested his profits so that he buys grains, bags, boxes and labels in bulk to cut costs; so even though the cost of raw ingredients has increased, the overall cost of his product for the customer has stayed the same for four years.
Percy could roast products for other entrepreneurs but has two conditions: The products must be 100 percent organic; and he can only roast grain berries, not whole grains (berries with hulls), because hulls would set the roaster on fire. So he could, for example, roast barley or spelt berries for tea.
Beyond Coffee uses only about one-tenth of the space in the old chicken barn. In another area, Percy makes nesting boxes for laying hens in the winter and sells them directly to customers as well as through local grain stores. Elsewhere, he stores goods that he buys and resells – most recently the contents of a commercial kitchen that closed. Still more space is available for people who may want to rent it for their own purposes.
Value Added Is Key
Percy says, "I really believe in value added products." He praises Marada and Leah Cook of Crown O' Maine Organic Cooperative, who are starting a new business, Northern Girl, to process fresh organic vegetables into cut vegetables, frozen broccoli and baby carrots. (See "Natural Foodie: Dealing with desire for locally sourced staples," by Avery Yale Kamila, Portland Press Herald, June 1, 2011.)
He believes in his own product, too: "I like it. I drink it every day."
For those considering starting a value-added business, he advises, "Keep believing in yourself and keep reinvesting in your dream."