By C.J. Walke
This season was the first in my 10 years of working with fruit tree growers that I heard numerous reports of apples and peaches vanishing from trees in just a few days or even overnight. In early August, emails starting popping up in my inbox with subject lines reading "Vanishing apples" and "Missing peaches." People were writing, as well as telling me on the street, that fruit was disappearing from trees and not a single drop could be found on the ground. Where did they all go?
At first it seemed odd, and one gardener even questioned his own sanity, saying, "I swear it had peaches on it just the other day!" But as reports rolled in from across the state and from Southern New Hampshire with the same story, it became clear that people were losing fruit, and some garden veggies, to something that could carry them away quickly.
Some of the first questions came from neighbors on Mount Desert Island, so I immediately thought it was a deer problem, based on the fact that deer are numerous on MDI, but also on personal experience. In July of 2017, the Reliance peach right off the back of the farmhouse at College of the Atlantic had a nice crop of peaches that disappeared practically overnight. We were having the roof replaced, so I quietly blamed the roofers (sorry guys!) for roughing up the tree with ladders, staging, etc.
This past July, the same tree had a nice crop of peaches, beautifully thinned I must say, and early one morning I spotted a deer at the tree eating every rock-hard peach it could reach. All that remained were the peaches at the top of the tree. But what didn't make sense was that people were losing all of the fruit on a tree, not just the lower fruit, so the answer was squirrels.
Gray squirrels and red squirrels are not a very common orchard pest and rarely draw much concern, although some commercial orchards have to deal with them on a regular basis. So once the culprits were named, the question became, why is this such a problem in this particular year?
I first thought of the drought. Recent growing seasons have been increasingly drier, and by the first week of August, USDA Drought Monitor maps had most of the Maine coast in moderate drought conditions. (As I write this in early October, most of the Maine islands and far Down East are still in moderate drought.) So I assumed regular freshwater sources were low, squirrels and deer were thirsty, and young apples and peaches were a good source of water.
By mid-August I started noticing more and more dead squirrels on the roads, and mid-September seemed to bring an alarming amount of roadkill squirrels everywhere. At this year's Common Ground Country Fair, I saw an ecologically-minded biologist friend who told me that the past two years have been exceptional mast crop years (acorns, beechnuts, etc.), which are a major food source for squirrels. Combined with favorable breeding conditions, squirrel populations exploded this year, and that seemed to explain it all.
In late September the Maine Tree Fruit Newsletter from the University of Maine Cooperative Extension Pest Management Office wrote about the squirrel problem in Maine orchards this season. It included reports from state officials about the sheer number of killed squirrels along roads and the interstate, as well as information for growers with crop insurance on how to best account for and report the damage from this unusual orchard pest.
Growers don't seem to have many control options. Squirrels are excellent tree climbers, as we all know, and they can jump high enough to get into most of the lower scaffold branches of most pruned trees. So creating barriers such as tin flashing around tree trunks would not be enough and, depending on your scale, could be impractical.
For now, I think we chalk it up to another random anomaly that makes organic farming and gardening perennially new and exciting, and occasionally challenging and frustrating. Wildlife officials do not expect next year's squirrel populations to be as abundant as this year's.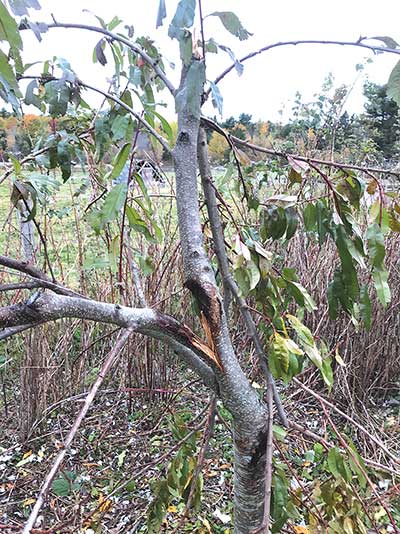 Fruit weight and strong winds snapped most of what remained of this peach tree. It has been replaced with a young Red Haven tree. Photo by C.J. Walke
A Peach Update
In the spring 2018 edition of The MOF&G, I wrote about growing peaches in Maine and ended the piece with the description of a poorly pruned and trained tree (before my time!) here on the farm that had succumbed to storm damage. This season, that shattered tree produced a strong crop of peaches on its remaining limbs, but the fruit weight and strong winds eventually snapped most of what remained on that tree and it is now destined for the wood chip pile.
On a positive note, I planted a young Red Haven peach this spring with great hopes for the future. Good training of young trees and proper pruning as they age are essential for success with organic fruit trees, especially with softer-wooded peaches and other stone fruit. You can learn these techniques at MOFGA's Organic Orcharding workshops that start in late February and March, so stay tuned and check the "MOFGA Events" tab on www.mofga.org.
C.J. Walke is MOFGA's organic orchard educator and farm manager at College of the Atlantic. You can contact him at [email protected].