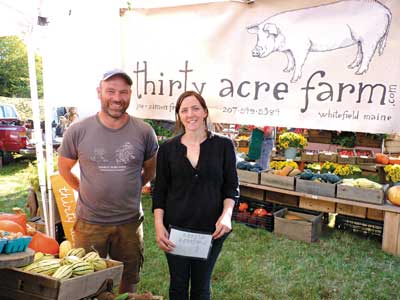 Simon and Jane Frost of Thirty Acre Farm. English photo
At MOFGA's 2017 Farmer to Farmer Conference, participants learned about expanding their markets through online sales from Simon Frost of Thirty Acre Farm in Whitefield, Jim Gerritsen of Wood Prairie Family Farm in Bridgewater and Theresa Gaffney of Highland Blueberry Farm and Highland Organics in Stockton Springs.
Thirty Acre – Selling Glass Jars of Fermented Veggies
Thirty Acre Farm raises mixed vegetables that Jane and Simon Frost ferment into sauerkraut, kimchi and other products. They put up their first website about seven years ago without anticipating using it for sales, as they were selling primarily at farmers' markets and stores. A few years later someone suggested that they have an online store.
They changed from an informational web platform to Squarespace to make that work, and web sales, with no Google advertising, grew to $11,000 in eight months last year. (They shut down the store each summer.) They are now looking at the web more carefully as a sales tool.
Squarespace, Frost said, was easy to set up, enables online sales and credit card processing, and is great for a service-oriented business; but it's hard to track where sales come from and how people are getting to your website. They are now moving to Shopify as a marketing tool to get people to their website and, once there, getting people to buy their products.
Shopify is built for e-commerce, said Frost, with built-in metrics showing how people get to your website, and built-in promotion codes (e.g., free shipping for first-time buyers, or discounts on oversupplied items). It's not made for blogging. It has a built-in credit card system, and if someone abandons his or her cart, Shopify immediately notifies you, and you can give that customer a discount code and encourage purchases.
"We want to make it easy for our customers to find us, so if we make a connection at the farmers' market, they don't just forget about us when they go back to Boston," said Frost. "It's about building momentum on all these facets and then adding the convenience of the web."
He is now looking at how to use Google advertising and plans to try to use hooks on the new website that attract customers.
Shipping is very expensive, Frost noted. Thirty Acre Farm products are in glass jars, since no alternatives to glass worked well. On Tuesdays they take jars to Mail It 4 U (in Bath and Damariscotta), which packs and ships them via priority mail, with safe delivery guaranteed. The average value of an order is about $65, including shipping.
(Nicolas Lindholm, attending the session, said he ships in Green Cell foam, an eco-friendly, biodegradable, corn-based, non-GMO, American-made, rigid foam sold by KTM Industries [https://www.greencellfoam.com/], passing the cost on to customers. His Blue Hill Berry Company's summer customers order from its website in winter.)
Frost got a value-added producer grant and is working on labels with Portland-based Pulp + Wire – a fast, thorough, knowledgeable company that specializes in food products, said Frost.
Wood Prairie: Mail Order and Web Sales
Wood Prairie Family Farm has 56 acres in MOFGA-certified organic field production, with 40 acres in a four-year rotation: 10 in potatoes, 10 in grain, 10 in sod and 10 in cover crop. With the average farm in Aroostook County being 500 acres, "the thought of a 10-acre potato farm selling in Aroostook County is a laughable thing," said Gerritsen.
Wood Prairie got into mail order because the quality of some of the seed coming from Aroostook County was questionable. "We thought if we, in the center of Aroostook County, can't find excellent, conventionally grown potatoes, maybe there's a niche for quality, organic seed potatoes. We advertised in Organic Gardening magazine. We were the only game in town then. We could name our prices based on the real cost of production. People were anxious to get organic potatoes." The family farm also grows wet-seeded vegetable crops (tomatoes, peppers, squash, etc.).
So Jim and Megan Gerritsen created their first mail-order catalog 30 years ago, when 80 percent of their orders came through the U.S. mail with a check for payment, and about 20 percent were phone calls. "We had an 800 number before LL Bean had an 800 number," said Gerritsen.
"There's still an important place for catalogs," said Gerritsen, since some gardeners are less computer savvy and more traditional than the general population. But about 15 years ago they saw the need for a web presence in order to survive.
They started with an unstable, off-the-shelf mail-order manager company, which allowed up to 1,000 customers before charging more. "It was not a good company," said Gerritsen – nor were the computer experts hired next to create a custom web store for Wood Prairie.
Because web sales require use of credit cards, Paypal or Square, Gerritsen advised setting up something very secure.
"Our computers were hacked when OSGATA [the Organic Seed Growers and Trade Association] sued Monsanto," he said. "To protect our business, we have a high level of security. Employees can't use our computers for their own email, and I'm now isolated from the network."
Wood Prairie's website is PCI compliant: The Payment Card Industry Data Security Standard, explained Gerritsen, is an information security standard for organizations that handle major credit cards. Off-the-shelf platform creators have worked with the banks to set up this security, said Gerritsen. "Before becoming fully PCI compliant, we would get letters from credit card processors threatening to shut down our ability to accept credit card payment during peak season."
Wood Prairie belongs to the Direct Gardening Association (DGA), a trade group for retailers selling green goods and hard goods directly to customers, and a good way to meet vendors offering services that a mail order company needs. Through DGA, Gerritsen learned about the web platform CommerceV3 and set that up about 12 years ago.
Gerritsen said readers would be hard pressed in most instances to know what seed catalog or gardening magazine they were looking at if the front page were removed, because they all look alike. "One of the rules in marketing," he noted, "is that if you failed to differentiate yourself from your competition, then you were bound by the terms established by your competition. So we have worked to create a down-to-earth, homey, family farm catalog, with about 100 testimonials in each issue. The font matches the flavor of the catalog. That's what we tried to extend to our web presence. We brag up our Maine location throughout the catalog. We want people to think of us as 'Maine' when they go back from vacation to their jobs in New Jersey."
A website should make ordering easy, said Gerritsen, adding that Amazon sets the high standard. Also, "If as a customer you don't see a secure-transaction symbol on the website, go somewhere else."
For $6,000 annually, Gerritsen signed up with Trust Pilot, which verifies purchases by people who offer reviews and ratings on Wood Prairie's website. "We plaster our [five-star] rating all over our website," he said.
Now 75 percent of Wood Prairie's orders come by internet; 20 by phone, 1 by fax and 4 percent by mail. The catalog, printed by DGA member Schmidt Printing in Minnesota, drives customers to the website. The catalog costs 10 cents to print and 29 cents to bulk mail. The farm's average order is about $93.
The USDA organic label appears five times on the home page of the Wood Prairie website, and the words "certified organic" are repeated often.
"We only sell certified organic seed and food," said Gerritsen. "That's part of our branding. [Customers] don't have to search for what's organic because it's all organic and has been for 30 years."
Potato postcards with label art reminiscent of that on fruit crates from the '20s and '30s appear in the catalog and online for each seed potato variety. "The challenge we faced 30 years ago was turning a plain Jane potato into something people would be willing to pay for in the mail," said Gerritsen.
He advised having a simple, clean checkout process. "Anything that confuses or delays customers is a reason for them to jump to another site."
FedEx and the post office ship their products.
Social media also attracts customers, said Gerritsen. On Wood Prairie's Facebook page he advocates for organic and criticizes Monsanto, trying to get out the message "that when it comes to organic, we're the Maine family farm offering good seed … this is our life, we're committed to it, you can trust us."
Alisa Meggison of Green Sky Development in Sidney, Maine, does Wood Prairie's pay per click campaign for $6,000 per year. "This is one area we've decided it pays to have a specialist," said Gerritsen. "They track how much we're paying on each word, which are the valuable words, and ROI [return on investment]."
Gerritsen also emails customers a newsletter every other week, usually with one article on potatoes, one on organic, one addressing issues (e.g., with Monsanto) and with a section answering customers' questions.
The Gerritsens also joined a cooperative database called Wiland Direct in Colorado, which has 120 million addresses and tracks the shopping patterns of people based on their purchases. "We contribute our mailing list along with our transactions," said Gerritsen. "We get back 10,000 names per year, and from these we mail catalogs to new prospects."
The farm's web sales are about $300,000 to $325,000; miscellaneous sales are another $125,000. "We used to spend $20,000 a year on space ads before the internet days," said Gerritsen.
Highland Organics Online
Theresa Gaffney was unable to attend this Farmer to Farmer session but provided her notes.
To assess her market, Gaffney typed search words into Google for her product(s), including "tea," "organic," "blueberry," "wild blueberry," "blueberry tea," "blueberry powder," "dried blueberries," etc., and then critiqued potential competitors' sites in order to grow her online look.
She advised knowing your monthly and yearly costs for a site designer, host, shipping and credit card fees. "It isn't just about spending dollars, it is also about spending time," noted Gaffney – time setting up and promoting your site.
Gaffney hired Deborah Newman of Petite Taway Inc. (207-991-1451; https://www.petitetaway.com) to design her website using the Wix platform. Gaffney notes that Wix adheres to Google's latest requirements; integrates marketing tools such as a blog, which, when published, is sent to newsletter subscribers; and has an integrated email signup, newsletter functionality and social media feeds. Its integrated shopping cart allows multiple payment options. Forum and Event widgets enable your community to interact with you. It also offers site analytics.
Petite Taway, according to Gaffney, has competitive pricing, knows the issues facing the Maine business environment, is always available to answer questions, responds quickly, is highly rated by clients, has extensive knowledge of marketing techniques and social media strategizing, and will train people remotely to use the Wix platform.
Once your site is up, visit it often and act like a customer. Know that mistakes will happen as you start, and remember that a satisfied customer is a returning customer.
"For me," said Gaffney, "customers come first. Make a great and lasting impression online because there is no face-to-face interaction."
Highland Organic customers can pay by credit card through Square or with a PayPal account. Gaffney uses Square at farmers' markets to track sales and items. She tracks her wholesale invoicing through PayPal – the only shopping cart option available when she started. Offering credit card sales through Square increased her online sales significantly, but many people rely on PayPal's buyer protection, she noted. "If I did not offer that option, I believe that 30 to 40 percent of my online sales would not be shopping with me."

She ships through the PayPal tool, as it is the best option right now for USPS shipping. (Wix is just beginning to offer shipping but is not quite there yet.)
To grow her online presence, she now uses Facebook, Instagram and Twitter (and SnapChat, with results to be determined).
"The key is to be on the first page in a customer's search criteria or keywords," she noted. She learned about meta tags through Deb Newman. "Search words or keywords are words that Google and others would recognize in your website content that will link your site with a potential customer," Gaffney explained. When she Googles the word "blueberries," her business comes up as number seven on search engines; "blueberry tea" brings Highland to number three; and "organic blueberry tea" is number one.
The right web address "is everything," said Gaffney. Hers are www.organicblueberrytea.com and .net,
which morphed into www.organicblueberryproducts.com and .net as she added new products, and now
www.AtasteofwildMaine.com and .net since she offers more than blueberry products and tea. She still maintains organicblueberrytea.com and .net because this is where it all began, and she would lose her ratings if she dropped it – which is why she suggests choosing your web address wisely. "Otherwise you have to learn your lesson like I did and maintain several web addresses."
Regarding videos and pictures, Gaffney thinks that people increasingly are not taking the time to read through content when they click online, "so use pictures to say what you want to write a book about or use quick videos (under 30 seconds) to get a point across." However, "do not neglect the customer who does take the time to read information on your site or wants more details. Do make it available somewhere on your site and easy to access, or under tabs."
Gaffney ships through USPS because her products are light and go around the world. USPS offers several options, including first class or priority mail (with tracking), domestic and international, and it offers free shipping boxes and some other materials. She has a business Click & Ship rate. She also uses USPS because it is very convenient through her PayPal account, and she has a working relationship with her postal carrier, who will come to the farm every day packages need to be picked up. She suggested talking to different carriers and other businesses shipping products to see what might work best for your business.
Finally, listen to your customers, said Gaffney. One reason she uses Wix.com is that it simplifies getting information to customers and getting customers' feedback to you.
"Your customers can help guide you to making the best online shopping experience possible, but you need to ask for feedback and listen to what they are saying rather than taking their feedback as a personal rejection of you and your product. Reward those who give feedback or are first time shoppers; Wix.com can help you do that automatically. When a customer places their first order online, Wix will automatically generate your prepared email to them after you designate a set time. Our prepared email states, 'Special Offer! Thank you for your recent purchase and We do hope you enjoyed your taste of wild Maine! Just in case you did … We would like to offer you a discount on your next online purchase! You are invited to reply to this email and when you do, we will send you a coupon that you can use towards your next purchase with us. We look forward to hearing from you!'" Remember, said Gaffney, everyone loves a gift!