By Lauren Cormier
Over the last five years, another pome fruit has been making its way into the Maine Heritage Orchard: the European pear. So far there have been 20 pear trees planted, each a different variety historically grown in Maine. Many of the trees were propagated with scions obtained from the United States Department of Agriculture-Agricultural Research Service (USDA-ARS) National Clonal Germplasm Repository in Corvallis, Oregon. The USDA maintains one of the largest collections of pears, known botanically as Pyrus, in the world. The orchard crew is excited to finally be eating some of the very first fruits.
In addition, a dedicated team of fruit explorers have been looking around the state for the oldest pear trees still alive in effort to preserve valuable genetic diversity of Pyrus before its lost forever. Pears are one of the longest lived of all fruit trees and are known to exceed 350 years old. This past spring, we planted three pear trees that were propagated with scions from old Maine trees. One of the varieties, Sheldon, came from the Whiting family's multi-generation farm in Auburn. The original tree has nearly died since the scionwood was collected a few years ago. Sheldon was one of the more common pear varieties sold in old fruit catalogs and is almost as common as varieties like Kieffer, Bartlett and Clapp's Favorite. The proper identification and preservation of old Maine pears has been a collaborative effort between fruit explorers, landowners, the Maine Heritage Orchard, North Branch Farm in Monroe, Super Chilly Farm in Palermo, and USDA-ARS in Corvallis.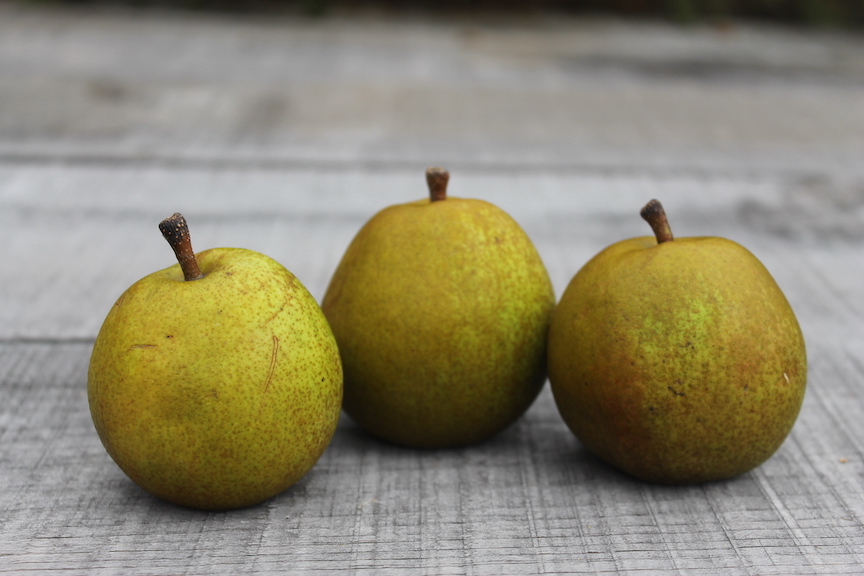 There are no wild pears native to the North American continent. The genus Pyrus consists of approximately 36 different pear species native to Europe, North Africa and Asia. The first pear seeds likely made their way onto Wabanaki land with the arrival of European settlers in the 16th or 17th century. U.P. Hedrick's "Pears of New York" quotes a report from the Maine Pomological Society in 1873 that stated: "the pear was introduced to Maine at a very early date, probably by the French. In an orchard on the east bank of the Sheepscot, below Wiscasset Bay, a venerable pear-tree stood until early in the 19th century of such girt and height that it was supposed to be more than 200 years old." Some of the very large seedling trees found around Maine might be old rootstocks, but it's unlikely many were grafted by humans to propagate their desired fruit.
The first selections of wild pears may have been made by the Greeks or Romans. Asian pears (Pyrus pyrifolia) were being cultivated in the Yangtze River Valley of China as early as 1000 B.C. Many species of Pyrus grow small fruit in comparison to the larger pears we're accustomed to eating today. Lots of the early seedling pears were hard, astringent and could be stored all winter long without rotting. They weren't intended for fresh eating but rather for baking, cooking into meals, pickling and pressing to ferment into perry (pear cider). It wasn't until the 18th and 19th centuries that the culinary world was forever changed when thousands of improved pear cultivars were introduced by European fruit breeders. Common pears like Beurre Bosc came from this era. Many varieties had "Beurre" in front of the name, indicating the flesh was soft, sweet and melting like its namesake butter. Others, like the self-pollinating Kieffer, were planted on just about every farm despite having a maligned reputation for poor fruit quality. Kieffer gained popularity for canning and because it produces many bushels of fruit each year that can be stored through winter. It provided people with sustenance during the colder months when the food supply was limited.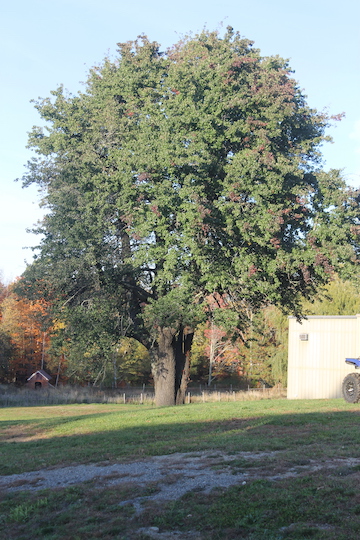 European cultivars began making appearances in U.S. fruit tree catalogs in the early 1800s. Many of the varieties were well suited to the growing conditions in New England. It's difficult to know with certainty, but over 25 different European pear cultivars were being grown in Maine orchards during the 19th century and well over 100 different varieties were trialed at different locations throughout the state. While there have always been fewer pear trees than apples, there are quite a few old trees still around, abundantly fruiting after hundreds of years. Maine fruit explorer, Dan Newman, has provided valuable research into which varieties showed up at county fairs and Maine Pomological Society meetings each year. Thanks to Newman's dive into historical archives, we have a list of 70 different varieties known to be planted in Maine and the frequency at which they were being exhibited. The list serves as a starting place when trying to identify an old grafted tree rather than guessing from hundreds of varieties in "Pears of New York." Looking through old fruit catalogs like Green's Nursery Company out of Rochester, New York, is also valuable for indicating which varieties were being distributed throughout the Northeast. Some of the most common orchard varieties were Anjou, Buffum, Duchesse d'Angouleme and Flemish Beauty. There were also seedling varieties that originated in Maine from the European cultivars that were passed around locally. Examples of local Maine pear varieties that we have yet to find are Fulton from Topsham, Goodale from Saco and McLaughlin from the Scarborough area.
When we find an old pear, we first determine whether it's a seedling or a grafted cultivar, just like when identifying apples to be planted in the Maine Heritage Orchard. Sometimes there is a visible graft line on the trunk and at other times the only clues might be the flavor and visible characteristics of the fruit. The seedling trees tend to grow larger and wider, and can mature to be the size of oak trees. A lot of cultivars might have a visible central leader, though others, like the Kieffer, have a wild form. Each variety has a unique branching structure. If the tree appears to be a cultivated variety, we attempt to identify it and determine whether it should be preserved. In winter, we visit the trees we want to graft and gather scions. This can be challenging on some of the giant pears where there is little growth due to not being pruned regularly. The lowest branches are sometimes 20 feet high, making it difficult to reach — even with an extended pole pruner.
The resiliency of the pear is evident in its longevity and ability to survive with little to no care. We are only beginning to grasp the diversity of heirloom pears that continue to survive today and hope to rescue more trees from dense mats of vines while learning what varieties are still hidden. In our mission to preserve old pears, we can't ignore the colonial history of stolen land that non-native people and plants continue to occupy. We have a responsibility to account for the true legacy of erasure of native people, plants and food traditions by Europeans when sharing stories about these beloved fruit trees. Inclusion of the history of Wabanaki land and the continued presence of Wabanaki people is the only path forward in creating vibrant local food systems in Maine and beyond. Old fruit varieties lend themselves to being an integral part of our local food system because they aren't trademarked, patented or restricted by exclusive licensing requirements like new club varieties, which is one of the reasons we work to preserve them. Free pear scions for grafting can be found at MOFGA's annual Seed Swap & Scion Exchange on Sunday, March 26, 2023.
Lauren Cormier is an orchard assistant at the Maine Heritage Orchard. She lives in Palermo, Maine, where she grows heirloom fruit and nursery stock.
This article was originally published in the winter 2022-23 issue of The Maine Organic Farmer & Gardener.