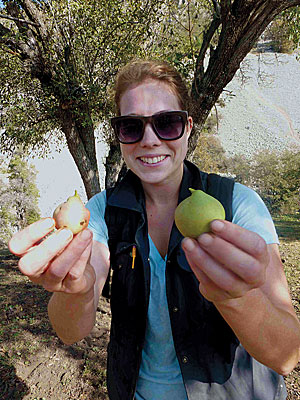 Eliza Greenman with wild pears in Kyrgyzstan. Photos courtesy of Eliza Greenman.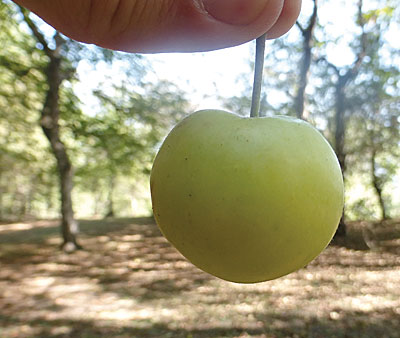 An apple from Kyrgyzstan.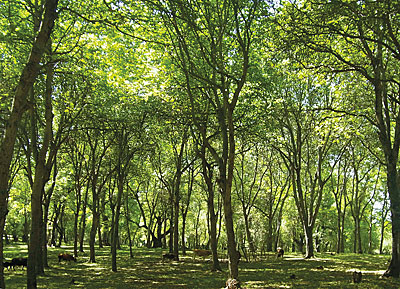 Livestock in an apple-walnut forest.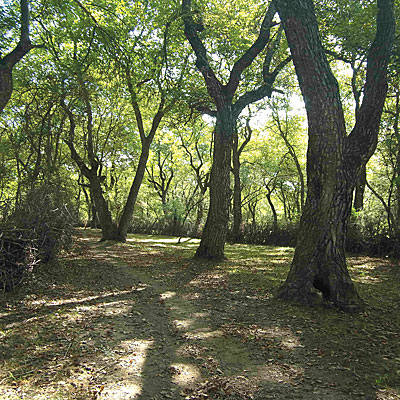 Walnut trees growing within a landowner's plot (delineated by hawthorn branch fencing).

By Eliza Greenman
In early September of this year, I traveled to Kyrgyzstan to go fruit and nut exploring in their ancient wild fruit forests. Kyrgyzstan has some of the oldest apple genetics in the world, and as a budding apple orchardist and student of permaculture, I wanted to see how these apples grew in the wild. I had heard that in this faraway land (including Kazakhstan), apples grew without any management strategy and are insect- and disease-free. This turned out to be mostly true, and with my permit to import seed, I set out to collect as much knowledge (and seed) as I could from these forests.
My trip started in the village of Arslanbob, Kyrgyzstan, home to the largest walnut forests in the world (1.6 million acres). I brought a machete to these Kyrgyz forests in anticipation of hacking through the wild, jungle-like apple ecosystem. My roots in permaculture had me dreaming of an environment below these apple trees that was full of the beneficial plants needed to create healthy and disease- and insect-free apples. In actuality, the overstory was dominated primarily by walnuts (Juglans regia), with apples (Malus sieversii) and hawthorns (Crataegus spp.) irregularly sharing the canopy. The understory featured a forest floor of closely trimmed grass and cow and sheep patties. I couldn't have used a machete if I had tried.
To be honest, the lack of a "wild" feeling was a bit of a letdown at first. I was supposed to be in this jungle-like fruit forest where natural chaos abounds. In this apple forest scenario, I had forgotten about the people connected to these forests. The Kyrgyz people are pastoral (some nomadic) with diets heavy in meat and dairy. Almost everyone has livestock, and the history of grazing their animals in these walnut-apple forests goes back more than 400 years. This is a long time period, and cultural relationships have developed within these forests to create a system where everyone and everything seems to benefit.
Here's an example: Walnut leaves produce a smell that repels insects and keeps them from bothering the animals and the apples. Blemished apples containing these pests usually drop to the ground and are eaten by the grazing livestock. The grass eaten by livestock in the forest is believed to be anti-parasitic* and provides for a large part of their diet during the growing season. In exchange for health and nourishment, these animals fertilize the soil and create perfect conditions for walnut harvesting by keeping the grass low. Most people in Arslanbob derive the majority of their income from the walnut harvests, and walnuts are even a form of currency during certain times of the year. The blemish/disease/insect-free apples are harvested by the townspeople for their own consumption, because all domestic fruits go to market. We also must not forget the organic meat and dairy received from this relationship as well.
Suddenly, I realized that this place is not just a walnut-apple forest, but an integration of people and animals with food- and income-producing trees. It is a wild orchard, planted by no one and cultivated by everyone over hundreds of years. Shame on me for being let down when I didn't see a jungle-like fruit forest. Humans are an inextricable part of nature whether we like it or not, and the instinctual behavior exhibited from the Kyrgyz people for more than 400 years is as much a part of polyculture as a plant guild.
This realization has impacted the way I view orcharding. My horizons are a little wider, and I can't wait to experiment with integrating my life into an orchard system. I have an idea of where to start, but as a beginning orchardist, I've got a lifetime of relationships to make.
*I say the grass is anti-parasitic only because my guide told me so. After some thought and research, I think the animals may be ingesting some juglone, a natural chemical produced by walnuts that is known to be anti-parasitic and also somewhat toxic to some other plants, from the soil, walnut leaves, husks and/or roots.
About the author: Eliza Greenman is a former MOFGA apprentice at Super Chilly Farm and a former MOFGA journeyperson at Sandy River Apples. When she wrote this article, she was the property manager for the Three Streams Collective in Montville, where she designed and implemented fruit and nut orcharding systems. Now she is the orchardist for Foggy Ridge Cider in Southwestern Virginia and is starting her own orchards on neighboring land there.