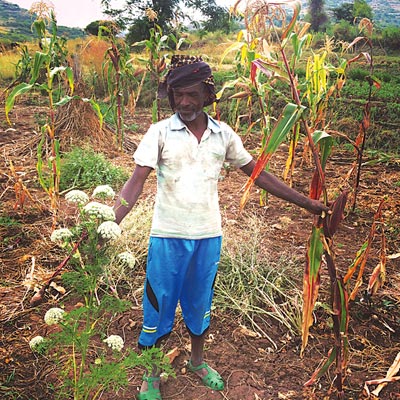 A farmer shows his seed-saving garden.
By John Bliss
Photos by the author
Last November, as the farming season in Maine was winding down, I had the opportunity to travel to Ethiopia. Our harvest at MOFGA-certified organic Broadturn Farm was tucked away in our storage coolers, and the crew was preparing for winter. Tractors and implements were in the barns, and a large stack of firewood awaited a cold winter to come. In Ethiopia I found myself back in the middle of a harvest season, where a dry season rather than cold weather ends a growing season.
The short flight from the capital city of Addis Ababa to the highland region of Kalu felt a little like time travel. Farmers in rural Ethiopia till their fields with oxen, and modern tools like tractors or even long-handled hoes are rare. While 2 percent of the U.S. population farms, 85 percent of Ethiopians are farmers practicing subsistence agriculture.
I was there as a volunteer with Catholic Relief Services (CRS), as part of a program funded through the U.S. Agency for International Development (AID). The program, called Farmer to Farmer, recruits U.S. agricultural professionals (engineers, marketing experts, agronomists and, of course, farmers) and sends them to developing nations worldwide to offer assistance when technical advice is needed. The bureaucratic application process took several weeks, but even the first day in Ethiopia was worth the effort.
The plane bumped down onto a gravel airstrip surrounded by high hills terraced with small plots of sorghum, wheat and teff – an indigenous grain rarely grown outside of the country. The air was dry and clean, and I could tell I was at elevation from my breathlessness as I found my way through the one-room airport. Before this year I had rarely given Ethiopia much thought; now I realized how narrow our perspective can become in the patterns of our lives.
As a child in suburban Boston, my earliest recollection of Ethiopia, and indeed some of my earliest memories of anything in the international realm, was the 1980s famine. As a 7-year-old, I saw on television pictures of starving children with distended bellies and bowls outstretched. It was a famine unlike any other in history – not in its severity necessarily, but in the international response to it. Coming out of a confluence of environmental and political crisis, the famine had been allowed to build unnoticed until millions were starving to death. But in 1980, the news caught fire thanks largely to a BBC reporter and photographs of children, no older than myself.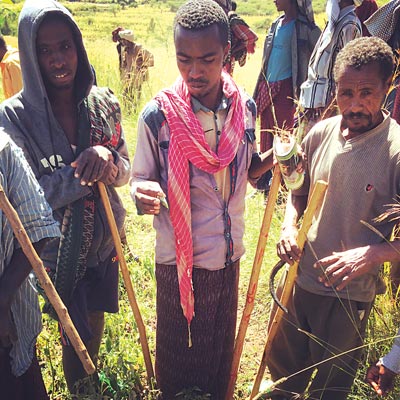 Farmers discuss their toughest challenges.
The Ethiopian famine jumpstarted the establishment of a host of global nonprofits whose first response of food aid fed millions. Shipments of grain from the American Midwest were not the only form of aid. The Halloween Unicef boxes my friends and I filled during that time were directed to famine relief. For my 10th birthday I got the "We Are the World" album with its all-star cast of musicians surreally united in famine relief. As an average middle class American kid, I was mostly oblivious to the cause of food insecurity for Africans, or for anyone for that matter. It took many years for me to develop a sense of the profundity of providing food for one's self and others, but eventually it was central to my becoming a farmer in my mid-twenties.
In contrast, rural Ethiopia struck me suddenly; or perhaps I suddenly felt, viscerally, the relevance of food security. Looking around the small but busy town of Kombolcha, where I had landed, I could not help but think of the personal impact food aid had made with this particular community. Now I was here, among people for whom hunger is a raw reality, with the purpose of promoting sustainable agriculture. Certainly, hunger exists in Maine, but famine is not a term used to describe it. In Ethiopia, famine happens when the crops fail. The directness of such a fact was itself shocking, and in light of recent climate change, I felt an urgency to offer what I could. Luckily I was too busy during the next three weeks to become overwhelmed with the immensity of the challenges. In this small corner of the world, I explored tiny farming hamlets, worked with subsistence farmers on irrigation practices, and was invited to share meals as a guest.
In the Ethiopian Highlands, the climate is mild year-round, but rain punctuates the year with surprising regularity. Farmers can usually count on a small spring rain, just enough to germinate seeds. In July and August, a longer rainy period arrives to turn the hillsides bright green. By November and December, the dry season is underway and the harvest is stored or sold. Most farmers have no irrigation. Most have no long-term crop storage facilities. The lack of these safeguards perhaps indicates how stable the climate has been over the last hundreds of years. However, these annual rhythms on which millions of farmers depend have become unreliable in recent decades. Agricultural development has therefore focused on techniques to build resilience, now that climate change is imminent.
Climate change is the big picture problem, but in the field, I found farmers griping about the same things I do back in Maine: insects, diseases and weeds. The pressure of these problems was definitely significant, but as many organic farmers have learned, they are mostly indicator problems. In other words, although it is important to address the problem head-on, more imperative is analyzing the whole system from an ecological perspective. What underlying stressors allow the pest to thrive? On our farm, I know the value of having another farmer visit. The outside perspective often reveals something fairly obvious. If nothing else, I am sure my visit was very much an "outside perspective," having come halfway around the world for a farm tour.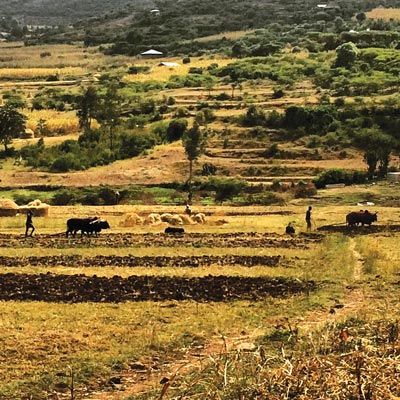 The working landscape of the Ethiopian Highlands.
As tempting as it is to assume that these subsistence farmers were a snapshot of the distant past with their oxen and their archaic techniques, that is far from accurate. The 1980s famine itself was a major break from tradition, introducing the country to many foreign products. Wars and ecological shift had induced mass migration – always a strong agent of change in societies. In the 1990s Africa's green revolution visited even the most remote villages with fertilizers, pesticides and new crops.
As one of my hosts explained, the government's Ministry of Agriculture gave out free bags of "blanket application" fertilizer throughout the 1990s. Urea (chemical nitrogen) and DAP (diammonium phosphate) became household words as the campaign to modernize farming took hold. Many farmers took the burlap sacks with gratitude. Some took the bags to the river, dumped the contents, and were grateful for 101 uses of the bags over the next many years, unconcerned about whatever material had come in them. This anecdote was brimming with irony and insight on the intersection of tradition and the new chemical age. One would laugh if it were not so tragic. In fact, recently a large shipment of organically grown coffee was rejected at port, not because of noncompliant growing practices, but because the sacks the farmers had shipped the beans in had been chemical fertilizer bags.
During my tour I developed short workshops accompanied by large drawings I had made beforehand. With the help of a translator, I talked with farmers about soil fertility. Plenty of farmers (usually the elders in the group) had never given up the use of livestock manure as a primary fertilizer, and I tried to highlight their practices. I also focused on irrigation water from a recently built canal. The irrigation water allows farmers tremendous flexibility in growing food, and most farmers who lived along the canal were growing high-value produce for local markets. I also talked with the farmers about rotating their vegetable crops. Many knew the technique, but I found no consensus among the farmers as to the scientific explanation of pathogenic conditions. The canal was, to me, an obvious source of contamination, depending on the disease and the crop.
Time and again, I found that problems originated in some recent innovation. In Maine innovative techniques (grafting tomatoes) or crops (Maine-grown ginger) are accompanied by plenty of educational opportunities. In Maine no one drops off a bag of fertilizer without clear instructions. Traditional grain crops grow adequately by scattering seeds, but I was surprised to see the same scattering technique with the more recently adopted crops of lettuce and other produce crops. I made diagrams comparing bed culture with row culture, as we in Maine grow our produce in beds or at least in defined rows.
Although education around innovation was weak, I was continually amazed at the depth of traditional knowledge in Ethiopia compared with that of my American community. Most farmers I met saved seeds. In fact many people did not know how a seed company would stay in business! The farmers who were thriving were those with very good seed saving practices, who allowed fungal and bacterial contamination in their breeding plots and selected for individuals with strong resistance.
Diversity of crops in the field seemed to be the default. All work besides plowing was done by hand, so planting five or six crops in the same field presented no real inefficiencies. Several farmers interplanted with herbs, drawing in beneficial insects. Certain trees were allowed to remain in the middle of a field of grain, providing a multitude of "ecological services" as many permaculture gardeners know.
I was very interested in learning about teff, the grain used to make injera, the central feature of any Ethiopian meal. Injera is like a sourdough pancake, and teff is a grass with very small seeds. Since it has such a low yield, partially because of its size, but also because of harvesting technique, Ethiopian farmers and agronomists are negative about the crop. More than once I saw a pained look on a person's face as he or she strained to explain that no, teff is not a good crop, but "we must grow it because we love injera." I heard that compared with wheat or corn, teff is nearly worthless. This sad refrain is the sound of the disappearance of crop diversity.
Ten minutes of research revealed to me that teff is in fact the next quinoa: a super-food whose time has arrived. Loaded with nutrients and agronomic qualities, I learned (from the English language resources I found on the internet) that teff should not be a reason Ethiopians feel inferior on the international stage. Comparisons to corn are truly comparing apples to oranges.
Farmers were very receptive to what little education was available to them. I told them about some hand tools we use on our farm. To form a bed, it helps to have a rake. A long-handled hoe can make a long day in the field less arduous. I resolved to work with Johnny's Selected Seeds, our Maine-based small-farm supply company, to bring a set of tools with me on my next tour in Ethiopia so that local blacksmiths have an example to copy.
In my short time in Ethiopia, the insurmountable challenges of climate change, famine and mass migration were offered up as very tangible problems. Being able to act on any small part of the problem in a way that builds solidarity across cultures is a gift to any volunteer with the Farmer to Farmer program. In exchange, I would not guess how my visit benefited my hosts. Perhaps just being able to offer the encouragement, "You should grow teff, because the world needs injera," is just as helpful as anything as practical as farming. I tend to think that bearing witness to the broad sweep of social change is in itself the singular purpose of a service trip. Although I may have traveled from one small corner of the world to another, such "outside perspective" does not as easily happen at home.
About the author: John Bliss works at Broadturn Farm in Scarborough. USAID sponsors the Farmer to Farmer program through CRS in East Africa. Other NGOs operate Farmer to Farmer programs throughout the world. https://www.usaid.gov/what-we-do/agriculture-and-food-security/supporting-agricultural-capacity-development/john-ogonowski