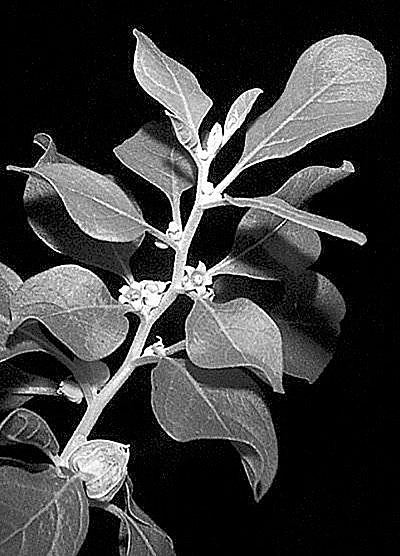 Withania somnifera,
aka ashwagandha. Photo courtesy of Cal Lemke, Dept. of Botany and Microbiology, Oklahoma University.
By Deb Soule
Ashwagandha (Withania somnifera) is a member of the nightshade family and can be grown as an annual in northern New England. In its native habitat in India (including 6000 feet high in the Himalayas), northern Africa and the Middle East, this herb grows as a semihardy evergreen shrub. Ashwagandha, also known as winter cherry, has green-yellow flowers that bloom in midsummer in Maine. The flowers can be missed easily, as they are tiny and blend with the rest of the plant. In autumn the bright red berries can be collected and the seeds saved for next year's planting. At Avena, after the seeds have been harvested in October, we dig the roots and dry them for tea or to make fresh tincture.
Ashwagandha is one of the most important restorative herbs in Ayurvedic medicine. In Sanskrit, the name ashwagandha means "vitality of the horse," which refers to this plant's ability to restore physical and mental strength and vitality. Withania somnifera is easy to start from seed. Being from a temperate climate, the seeds need warm soil for good germination. After several years of experimenting, I have found that placing the seed trays on a heat mat and watering them with warm water encourages germination. Ashwagandha seedlings will not germinate well nor grow vigorously unless they are warm enough. Transplant them into a sunny and protected part of the garden in June, once the last frosts have passed.
Traditionally, ashwagandha has been used to ease anxiety, insomnia and mild depression, and is a calming and rejuvenative tonic for people who feel exhausted, ungrounded, have difficulty concentrating and complain of poor memory. Ashwagandha builds muscle tone and is commonly used to help people regain physical strength after an illness or for general health promoting purposes. A mixture of 1/4 to 1 tsp. of the root powder mixed with warm milk (cow, goat, almond, oat, rice) with a touch of honey, taken once or twice daily, is deeply rebuilding for anyone who feels debilitated, chronically tired or anemic. A root tea or tincture can be used for those who prefer to not use milk.
Warm milk with ashwagandha, honey, a pinch of cardamom powder and a touch of rose water is delicious and is one of my favorite evening rituals for calming and quieting my nervous system, mind and spirit. Many women experiencing stress, depression, insomnia and/or hot flashes associated with menopause may benefit from daily use of this warm milk combination, especially before bed. Women who feel premenstrual stress and agitation during their menstruating years will also benefit from regular use of ashwagandha.
This herb is also considered an aphrodisiac, helping to improve the health of the reproductive tissues and to awaken and enhance sexual energy.
Ashwagandha can be used daily by men and women who are having difficulty conceiving. In India, ashwagandha root is often used by pregnant women to give them strength and to stabilize their growing baby. Large amounts are contraindicated in pregnancy, so not more than 1/2 to1 tsp. of the powder should be taken daily. I recommend that a pregnant woman consult with her midwife or another health care provider who is experienced in using herbs with pregnant women to help her create her own herbal mixtures.
Ashwagandha is an important restorative herb for postpartum support. It stimulates milk production, eases stress and rebuilds physical strength and vitality.
Studies have shown ashwagandha has anti-inflammatory and immune-protecting properties and antioxidant activity, reducing damage from free radicals in the body. The root is classified as an adaptogenic herb, helping the body adapt to various stressors.
Ashwagandha is being used to help reduce the side effects of radiation and chemotherapy and for people with inflammatory conditions, such as multiple sclerosis, asthma, systemic lupus erythematosus, stress-induced ulcers, osteoarthritis and rheumatoid arthritis.
Tonic herbs such as ashwagandha offer many health benefits and support during stressful times. Ongoing stress, both personal, political and environmental, is wearing to the body, mind and spirit. Nourishing and revitalizing tonic herbs, alongside healthy diet and lifestyle choices, offer a simple and essential way to prevent illnesses and promote physical strength, a joyful spirit and peaceful mind.
About the author: Deb is the founder of Avena Botanicals and the Avena Institute in West Rockport, Maine, and author of A Woman's Book of Herbs. You can visit her Web site at www.avenaherbs.com. This article is for information only; please consult a health care practitioner if you have a serious medical problem.