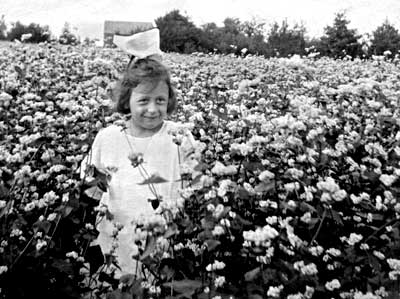 The author's mother in a field of buckwheat at the author's grandfather's farm in Canaan in the early 1900s. Photo courtesy of Joyce White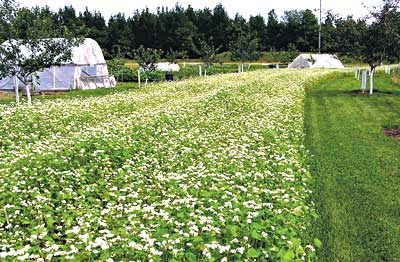 Buckwheat grown as an alley crop in a young orchard at MOFGA's Common Ground Education Center. English photo
By Joyce White
When a neighbor extolled the health benefits of buckwheat, I began to wonder why its seed is not more important in present-day diets – especially given its long history of use.
The wild ancestor of buckwheat came from the Yunnan Province of China. It was domesticated there and cultivated in inland Southeast Asia, possibly around 6,000 BCE. It then spread across Asia, the Middle East and Europe, reached Finland in 5,300 BCE, and was one of the first crops brought by Europeans to North America.
An old photo of my mother as a little girl wearing a big bow on top of her head, early 1900s, with only head and shoulders showing above a field of buckwheat blooms, suggests that buckwheat was a common agricultural product a century ago. I know of nobody alive from that era who could tell me about the extent of buckwheat production in central Maine at that time, but USDA estimates show that 20,000 to 25,000 acres were planted annually in all of Maine from 1866 to 1904. Acreage dropped to 18,000 in 1905 and continued to decline steadily after that, with only 2 to 3 acres grown here annually in the early 1950s when commercial nitrogen fertilizer, which increased cereal grain yields, came into common use. Buckwheat produces relatively less than those grains, and its yield decreases in more fertile soils, so wheat and oats displaced it. Acreage planted to buckwheat in the United States dropped from over 1 million in 1918 to 50,000 in 1964, and some 60,000 to 70,000 acres are planted annually now.
The recent interest in "ancient grains" may lead to a resurgence in acreage of this plant, which can be used in a variety of nutritional foods and for its medicinal properties. I have learned that buckwheat appears to be a good substitute for many of our grains – buckwheat porridge instead of oatmeal for winter breakfasts, for example.
Medicinal, Nutritional and Other Qualities
"Peterson Field Guide to Medicinal Plants and Herbs" describes buckwheat, Fagopyrum esculentum, as an annual plant with 1- to 4-foot stems, broad triangular leaves and white or pink flowers that bloom from May through summer, producing triangular fruits in late summer/early fall. (Given that the frost-sensitive plant takes about six weeks to go from seed to flower, it would not bloom in May in Maine.) Related to rhubarb and sorrel, buckwheat is not a grain. Its fruit is an achene; like a sunflower, it has a single seed in a hard outer shell. The seed is gluten-free.
In describing its medicinal value, Peterson states that a tea made from buckwheat leaves has been used to treat erysipelas, a skin condition. Buckwheat leaves, seeds and sprouts are high in rutin, a flavonoid glycoside that has been used to treat problems with veins and capillaries, as it increases the tone of blood vessels and helps prevent hardening of the arteries. One study indicated that it reduced edema, improved blood flow through femoral veins and enhanced capillary resistance. Buckwheat is being studied for its potential to reduce cholesterol, plasma fat and gallstones, and to help manage diabetes. Rutin can be extracted from the leaves in tea or tincture and be used to reduce fluid retention, thereby helping reduce hypertension.
Note, however, that Plants for a Future says, "This plant has caused photosensitivity in some people, only the dehusked grain is considered to be safe." And Benković and Kreftsay say, "Buckwheat also contains fluorescent phototoxic fagopyrins. A systematic review of fagopyrins and the phototoxicity of buckwheat found that reliable quantitative data on fagopyrin toxicity are not yet available. Generally, buckwheat seeds, flour, and teas are safe in normal amounts. Diets extensively composed of buckwheat sprouts, herbs, and particularly flowers or of fagopyrin-rich buckwheat extracts may cause fagopyrism [photosensitized skin]."
Sprouting buckwheat groats (the hulled seeds) increases the availability of compounds in the seeds. Sheryl Walters says that they create an alkaline environment in the body, thereby preventing or reducing inflammation, the root cause of many chronic ailments.
Containing the eight essential amino acids needed in the human diet, buckwheat groats provide a complete protein.
The sprouts are high in lecithin, an important building block for brain cells –and who among us couldn't use a little extra help in that area?! Boron and calcium contained in the seeds contribute to bone health, and the co-enzyme Q-10 in seeds is important for all cells and especially for heart cells. The powerful little seeds contain all of the B vitamins, along with bioflavonoids, to help support our nervous systems.
Buckwheat is good for digestion, as it strengthens and cleans intestines and tends to improve appetite, and it is useful in treating chronic diarrhea.
It is generally free of synthetic chemicals because it grows so quickly in poor soils that it doesn't usually require pesticides.
Buckwheat hulls – seed coats removed during groat production – are widely used in pillows and meditation mats for people with allergies to feathers, dust and pollen.
Cover Crop and Feed Crop
Buckwheat Blossom Farm in Wiscasset grows buckwheat only as a cover crop, the farmers told me. A 2001 MOF&G article by Jean English extolls buckwheat for use as a quick-growing green manure, tilled back into soil before plants flower. This non-leguminous plant is frost-sensitive, good for green manuring in summer on Maine farms and gardens. It is unusually good at extracting and accumulating phosphorous from sources otherwise quite insoluble, such as rock phosphate. It aerates and improves soil, promotes microbial growth and helps retain moisture. More tolerant of acid soil than grains, buckwheat blooms over a period of time rather than all at once. Those growing it as a cover crop are advised to till it in when it begins to bloom; otherwise, if it goes to seed, it can become a weed in the garden.
John O'Meara of O'Meara Farms in New Sweden said he's not growing buckwheat at present but had grown it as hay and then experimented with mixing it with oats and grasses as hay for cattle feed. He found that it is slow to dry as hay but is OK as feed. He plans to grow it again.
Honeybees are attracted to its flowers, and buckwheat honey has a dark color and unique flavor that most people find delicious.
Cooking with Buckwheat
Will Bonsall grows and mills his own buckwheat at Khadighar Farm in Industry, Maine. In the winter 2014-2015 issue of The MOF&G, he describes two species of buckwheat, F.esculentum and F. tartaricum. The hulls of F. tartaricum, he says, are very bitter, so if a bit of the hulls gets into flour, an unpleasant taste can result. On this family homestead, he grows F. esculentum and mills it for family use with a roller system rather than grinding. He says that small flecks of hulls may remain in the flour. They don't harm the flavor, and he suggests that it is easy to make flour at home from homegrown buckwheat seeds using a hand-cranked grain mill such as the Corona. This kind of milling leaves the germ and bran intact, providing more nutrition but making the flour quite perishable, so he suggests making small batches.
When I began exploring buckwheat last year, Eric Sideman, MOFGA's organic crop specialist, told me that buckwheat used to be grown widely in Aroostook County. Now a dozen producers of MOFGA-certified organic buckwheat products are listed at https://www.mofgacertification.org/?page_id=1492.
Sideman put me in touch with MOFGA's Aroostook County agricultural specialist, John Chartier, who in turn cited the website for Bouchard Family Farms in Fort Kent, Maine.
Bouchard had 300 acres in buckwheat production last year and 400 acres in 2017, Janice Bouchard told me. She explained that their family-owned and operated farm is now in its sixth generation with the addition of their son to the operation. Its website states that Bouchard Family Farms has for generations been milling a unique, light buckwheat flour, which it markets in bags and in a variety of mixes. Originally, though, the particular flour was created to make Bouchard's unique ployes based on a recipe created by French Canadian exiles who settled in Northern Maine. Ployes, it states, are as elegant as fine crepes, as hearty as breakfast pancakes and as versatile as any bread.
I began learning to use buckwheat, a warming, yang food that is especially good for eating in cold winter months, with the ployes mix from Bouchard Family Farms and with the buckwheat pancake mix from Hodgson Mills and from Bob's Red Mill. To make your own ployes from scratch, see the sidebar.
I've also experimented with groats, the hulled seeds, in breakfast porridge and sprouted in bread. The porridge was OK; the sprouts in sourdough bread rather a failure.
Unlike the process I use for other kinds of sprouts, the recipe I have for sprouting groats suggests using a bowl rather than a jar. Put 2/3 cup of groats in a bowl and cover with room-temperature water. Let the groats soak for about an hour, making sure no seeds are floating. Drain in a strainer and rinse three times a day with cool water to remove starch. Time varies but they will probably sprout in three to four days and occasionally in only one day. Store sprouts in the fridge. On the Natural News website, Sheryl Walters has recipes featuring buckwheat sprouts.
Note: Parts of this article were printed in the Summer 2017 issue of Herb Quarterly. This article is for informational purposes only. Please check with a health care practitioner before using any plant as a medicine.
---
Ployes
Adapted from https://www.geniuskitchen.com/recipe/ploye-151019
2 c. buckwheat flour (farine de sarrasin in French)
1 c. white flour
3 tsp. baking powder
1 tsp. salt
2 c. cold water
1 c. boiling water
Mix dry ingredients. Add 2 cups cold water to the dry ingredients and mix well. Let stand for 5 minutes. Add 1 cup boiling water and mix vigorously. If batter looks too thick, add a little cold water.
Pour batter as you would for a pancake in a cast iron skillet. As the ploye cooks, little holes will develop; the more holes, the better the ploye. When the mixture looks like it contains no more liquid, the ploye is ready. Cook on only one side. Mix batter between making each ploye.
Sources
Benković, Eva Tavčar, and Samo Kreft, "Fagopyrins and Protofagopyrins: Detection, Analysis, and Potential Phototoxicity in Buckwheat," J. Agricultural and Food Chemistry, May 29, 2015; https://pubs.acs.org/doi/full/10.1021/acs.jafc.5b01163
Bouchard Family Farms; https://www.ployes.com/
Foster, Steven, and James Duke, "Peterson Field Guide to Medicinal Plants and Herbs," Houghton Mifflin Harcourt, 2014
Plants for a Future: Fagopyrum esculentum; https://pfaf.org/user/Plant.aspx?LatinName=Fagopyrum+esculentum
Tai, Emily, "Buckwheat Profile," Agricultural Marketing Research Center, May 2017; https://www.agmrc.org/commodities-products/specialty-crops/buckwheat-profile/
USDA Agricultural Marketing Service, "Rice, Popcorn and Buckwheat By States," 1866-1953, Statistical Bulletin No. 238, Oct. 1958; https://usda.mannlib.cornell.edu/usda/nass/fldcrpest//1950s/1958/fldcrpest_Rice,-Popcorn,-and-Buckwheat—By-States,-1866-1953.pdf
Walters, Sheryl, "Sprouted Buckwheat is Simple and Delicious," Natural News, June 30, 2009; https://www.naturalnews.com/026521_buckwheat_food_water.html#
About the author: Joyce White gardens in Stoneham, Maine, and is a frequent contributor to The MOF&G.