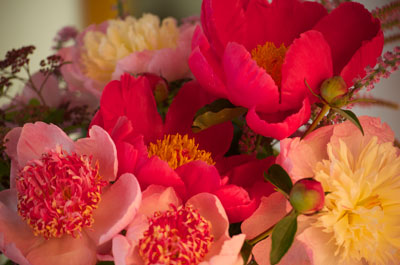 A bouquet of peonies, grown and arranged by the author. Photo by Jude Lamb.
By Karen Volckhausen
Welcome to the first column in a series about the slow flower movement in the United States and Maine. It is time to start highlighting the great flower growing that is going on here and elsewhere. Like the slow food movement and with similar goals, the U.S. slow flower movement is taking off. Sustainable, local, small scale, seasonal is what it is all about.
Eighty percent of the flowers sold in the United States come from outside our borders, but that is changing. The Association of Specialty Cut Flower Growers, the California Cut Flower Commission and many others are collaborating to promote U.S.-grown through education and lobbying. A tremendous recent victory was the first all-USA flowers ever at a White House state dinner in February. Delegations of flower farmers from the West and South had previously been to Washington, D.C., to meet with their representatives and Kathleen Merrigan, then deputy secretary of USDA and a strong advocate for U.S.-grown flowers and the farmers who grow them. Now a bipartisan Congressional Cut Flower Caucus promotes the interests of U.S. flower growers in Congress.
What about Maine? Many of us grow flowers here, but we rarely see each other. Due to the initiative of Stacy Brenner of Broadturn Farm, a dozen or so growers met in February in Brunswick. They included new flower farmers, those who have been at it for decades, large- and small-scale operations. The energy was high and the discussion lively as we became acquainted with each other and focused on mutual support, education and keeping in touch. One outcome was to start a Facebook group for Maine flower farmers/florists. Interested folks are invited to join at https://www.facebook.com/groups/613648248705562/.
Good reading for the summer or any time: Slow Flowers by Debra Prinzing, is a photographic four-season display of bouquets created by the author, all from locally grown flowers; and The 50 Mile Bouquet, Seasonal, Local and Sustainable Flowers, also by Prinzing, profiles flower growers and designers across the country.
Happy planting and cutting to all the flower growers out there. Our season has arrived!
About the author: Karen Volckhausen grows MOFGA certified organic flowers on Happy Town Farm in Orland, Maine.