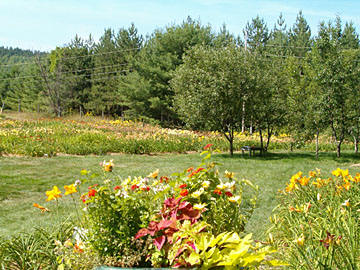 A small representation of some 300 daylily varieties grown at Deerwood. Photo courtesy of Brian Hendricks.
by Joyce White
Beverly and Brian Hendricks bought their small farm in western Maine's Waterford in 2001.  They had always wanted to own an old farm, and Bev smiles in acknowledgement that their early dream "to feed the world with organic veggies" was an ideal a bit beyond their present reality.
The business is essentially Beverly's. She does most of the work with the gardens herself and employs one part-time helper in the summer. Brian has a full-time, off-farm job but is still very involved, helping with overall planning and heavy lifting. He uses his creativity and carpentry skills to build beautiful trellises, birdhouses and bentwood birch chairs.
Beverly brought the organic tradition with which she began her gardening life in the 1970s to Deerwood Farm and Gardens. They adopted the name when they bought the daylily stock of the original Deerwood Gardens when retiring owners Dana and Edith Bartlett asked if she was interested in buying the business.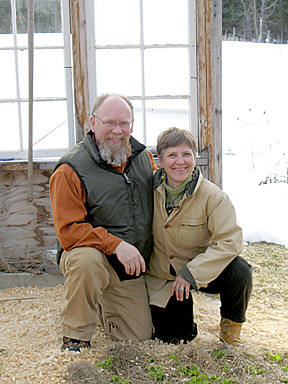 Brian and Beverly Hendricks inside their big greenhouse on April 15, 2007 – with snow still on the ground. The Hendrickses raise daylilies, fruits and vegetables, hens and flowers at their Deerwood Farm and Gardens in Waterford, Maine. Photo courtesy of Brian Hendricks.
Preparing Soil and Planting
So for six frantically busy weeks in the fall of 2001, they transplanted 6000 daylilies from Deerwood Gardens in Harrison to their new location. With help from people at Bev's workplace – Perennial Point of View in Bridgton where she worked at landscaping – they got the last ones planted just as the ground was beginning to freeze. Beverly says the land had been well maintained, and soil tests indicated that no soil amendments were necessary, not even lime. They did spread manure before having the plot tilled.
Before planting directly into the newly tilled soil, Bev used landscape paper to mark 4-foot-wide beds and created 3-foot wide aisles between the beds with landscape cloth. Her 3 acres of tillable land are in the open, with trees only at the edges of the field. She determined that a north/south row orientation would give her plants the best access to all-day sun, so she planted the daylily roots into four north-to-south oriented furrows in each plot.
The plants were still green in September when most of them were planted, so she snipped the tops to 5 inches above the root to encourage the plants' energy to migrate back to the roots. Daylilies should be planted at the same depth as they were previously growing. It's harder to tell that,  says Bev, with bare-root stock from larger companies, but if you look carefully, you can see where the root and the crown meet. Plants should be set so that the crowns are lightly covered with soil. After planting, Bev mulched all the plots with a 3- to 4-inch layer of hay.
Daylilies – Hemerocallis – are, for the most part, very hardy, though some don't proliferate as quickly as others, she notes. They can be planted in shade but need at least six hours of dappled sunlight to thrive. "They are such forgiving plants."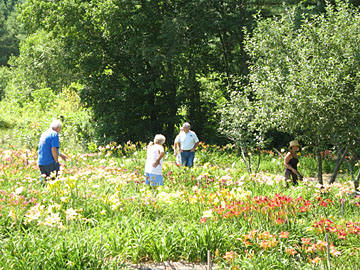 Customers select their favorite daylilies. Plants are carried off in recycled plastic bags or in boxes. Photo courtesy of Brian Hendricks.
Bev uses plastic, wood or metal markers and wooden stakes, and she and Brian mark plants twice a year. They also maintain a map of the plantings, which they update every fall to incorporate information about new additions and sales during the past season.
Bev uses no specific color plan in the field, but in the display gardens she tries to plan so that the period of heavy blooms will overlap to provide a continuous display of color. Daylilies usually begin blooming in late June, then the heaviest period of blooms comes from mid-July to late August. In the front gardens are the softer pastels; the gardens in back hold brighter, darker colors, all lovely with names like 'Hot Town' (brick red with black eye), 'Paprika Velvet' (burnt orange, long blooming) and 'Ed Murray' (velvety red/black with yellow midribs).
Learning and Watching
Understanding daylilies is an ongoing, ever-changing process, says Beverly. The same plant sometimes behaves differently in a new spot – soil differences and the amount of sun and moisture, for example, can account for changes in the depth of color.
Daylilies are notoriously disease-free. What a treat for the gardener! Thrips can be problematic once in a while, Bev explains, but are easily suffocated with insecticidal soap.  Daylily rust has come to Maine, Bev warns, so people need to watch for the indicators – small pustules on leaves.  Growers hope that the rust will not overwinter here as readily as in southern states, and Bev has had no problem so far. Deerwood Gardens is inspected every year, she explains, and she was gratified last year when the inspector said her daylily plantings had no disease problems and were one of the least weedy he had inspected.  Bev attributes good weed control to the heavy mulch she applies every fall.
Deer haven't been a problem yet, but last winter she did see tracks in the field gardens, making her a bit uneasy, since deer reputedly snack on daylilies. She's hoping the Sea Mix fish and seaweed amendment she applies every year before blooming will discourage their nibbling.
Transplant Any Time
Daylilies are one of the easiest perennials to grow, Beverly says.  They can be transplanted any time of year, even when in full bloom. "They hardly even blink. They're pretty amazing plants, and we're having fun with them."
Last summer, her fourth, the flowers were spectacular. The plants start with two fans (a fan is one plant on a root system). Every year, the fans multiply by at least two, and often more, depending on the variety. "Now there's a gazillion," she adds.  Despite several rainy weekends, last summer was great for sales. "July 24th was one of the rainiest Saturdays. We got absolutely soaked.  It was fun, though.  People were coming all day, shopping with umbrellas."
Sales come from advertising, from word of mouth, and through the beautiful and informative brochures Bev created and distributes.  Programs she presents for various organizations bring more recognition, and she belongs to two Chambers of Commerce. This adds up to many repeat customers.
They use recycled plastic bags that people drop off and some boxes for customers' purchases. Occasionally she sells lots of 200 to 400 to landscapers or highway departments; they often plant steep slopes and other hard-to-mow places with daylilies, Bev says, because they grow quickly, require little care and help prevent erosion.
There are about 60,000 varieties of Hemerocallis, and Beverly says she has between 275 and 300 varieties among her 7,000 plants. She tries to add five or six new varieties every year.
Daylily Vinegars, Seasonings, Wine

The blooms aren't only ornamental, she continues.  "Asians have been cooking with daylilies forever."  Her family has tried several culinary uses. They put fresh buds and blooms in salads, and they make flavored vinegars with dried blooms. They make a dried mix of chopped daylily blooms, chives and parsley to sprinkle on winter salads and soups.
At the end of each day, Bev and Brian gather spent blooms—each bloom lasts for only a day, thus their name – to make wine, using a process similar to making dandelion wine. They add oranges in one batch, grapes in another and lemons in a third, all small amounts for their own use and for gifts.
Overwintering
The beds are blanketed each fall with 3 or 4 inches of hay and shredded leaves.  Bev uses at least three large, round bales of hay a year. "We never leave anything bare," she emphasizes, "and the worms are phenomenal."
Instead of cutting back dead stalks in the fall, Bev waits until spring, when they're easily pulled, and she just lays them alongside plants in the mulch.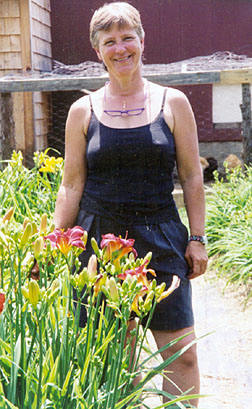 Beverly Hendricks among her daylilies and in front of her chicken coop at Deerwood Farm and Gardens. Photo by Joyce White.
A Diversified Farm
Although the daylily business is their main source of farm income, as with many small farmers committed to the ideal of a sustainable lifestyle, they also grow vegetables, herbs, grapes and berries, other perennial and annual flowers, as well as chickens for eggs and meat.
They've also been experimenting "like mad scientists," says Bev, creating organic soaps, salves and ointments – lip balm, for example, and a salve that is very healing for those splits in fingers that come with gardening work and/or cold weather. They sell from their garden shop, and the herbal sore muscle rub, healing salve, bug balm and gardeners' soap are sold in eight local stores. The birdhouses, bentwood birch chairs and garden trellises that Brian creates are also for sale. Everything they use is reusable, recyclable or compostable. They use cellulose bags rather than plastic for the greens and other veggies they sell.
The No-Till Method
Except for the tilling, which they hired someone to do before they  planted the original 6,000 daylilies, Beverly uses a no-till method of gardening, based in part on Ruth Stout and Lee Reich's methods. She doesn't plow, harrow or till the gardens.  Instead, she creates gardens on top of the soil.
She first marks the area she wants to plant, then covers the entire area with layers of wet newspaper or cardboard and tops that with a layer of compost and/or manure. Next comes a layer of hay or other organic material – leaves, grass clippings, more manure or compost. The decomposing organic matter releases nitrogen and other plant nutrients. You can plant right into the mulch on top of the soil, says Bev. "I just open the mulch and plunk in the seedlings or plants." She keeps layers of mulch on everything she grows.
Adding hay and manure is an ongoing process. It's never necessary to till the soil, but it is necessary to add more mulch whenever weeds or grass begin to grow through the mulch. The mulch protects the soil from erosion, and any weeds that do show through are easy to pull from the soft, organic soil.  Bev said she weeded only once in her vegetable garden last summer.  Also, earthworms love the mulch and the no-till method, Bev adds.
Beverly and Brian have two greenhouses, one built onto the kitchen side of the old farmhouse, and a freestanding hoop house. Lettuce and herbs were still growing in the house greenhouse into December. They start sowing seeds again in January. In the freestanding greenhouse, she grows salad greens early in the season, then weed-whacks what's left, leaving it in the beds. She then covers those beds with layers of wet newspapers and hay before transplanting tomato sets into holes to which she has added composted manure. The crop residue was gone within a week, she says, and "there were worm castings like you wouldn't believe. And there were no weeds."
There was no need to water the field gardens last summer, but Bev does water the greenhouse plants, using drip irrigation around tomato plants.  Bev had no problems with disease in her tomatoes (as many gardeners did the past two years), but she did have a surprise invasion of tomato hornworm. The first indication that she might have a problem was seeing a lovely sphinx moth in the greenhouse. Then, as she began looking closely, she found both worms and eggs "everywhere."  She finally got the infestation under control with Bt.
Located on Route 118 in Waterford, this environmentally friendly farm is open from mid-May through Labor Day. Bev and Brian Hendricks can be contacted at 207/ 583-2412 or deerwoodgarden.com.