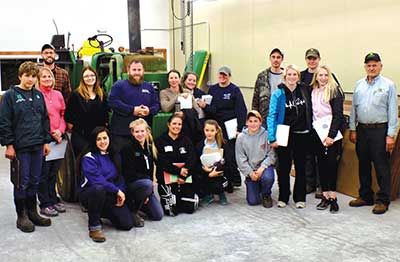 2017 tractor safety course students at Hall's Implement Co. in Windham with instructors Jason Lilley (UMaine Cooperative Extension, Cumberland County) and George Hall. Photo courtesy of Jason Lilley
By Ellen S. Gibson, Farm Education Specialist, Maine AgrAbility
How did you learn to drive a tractor? As a woman who began farming in her 40s, I know that training for women is often sketchy or nonexistent. Women who come into farming may have had little exposure to working with tractors and need the opportunity to learn.
Have you been responsible for teaching a son or granddaughter how to drive? What age is appropriate to introduce youth to driving tractors? State law requires teenagers from 14 to 16 years of age to have training that results in a tractor safety certificate if they are employed on a farm outside of the family. This training is not required for teens working on their families' farm. Should it be? That's a decision for every parent to make, but evidence shows that teens have a higher rate of accidents in general because their brain is developing. Teenagers lack experience and are just beginning to develop sound judgment and impulse control. Distracted driving is also an issue; cell phones and tractor operation do not mix.
Whatever your age or background, are you confident that you operate your tractor safely? If not, the University of Maine Cooperative Extension offers tractor safety training at many of its county offices. Jason Lilley, sustainable agricultural professional who teaches the course in Cumberland County, told me the tractor safety course offered by the University of Maine Cooperative Extension is 20 hours of training and results in a certificate. The curriculum is developed by the National Safe Tractor and Machinery Operation Program. The class is intended for teens, who need the certificate, but is also open to adults. It includes classroom work and driving practice. Core content includes applicable laws about what youth can and cannot do on the farm, personal protection equipment, identifying tractor parts, and tractor hazards. It also covers hand signals, general farm safety and performing pre-op checks.
For the older driver, a training brush-up can correct lax habits. For example, my neighbor is in his early 70s and has been farming all his life, so he's been driving tractors a long time. He never wears his seat belt. He was mowing in early June when long grass was covering deep ruts. When the tractor hit the uneven terrain, it jounced my neighbor out of his seat and he landed wedged between the seat and the controls. He couldn't extract himself, steer effectively or stop the tractor, which was headed for a stone wall. He barely managed to stop it in time, avoiding a major accident. As it is, he ended up bruised and sore with three broken ribs.
Check out the tractor safety classes here: https://extension.umaine.edu/agriculture/tractor-safety/. They are usually offered at the beginning of the season. You can schedule a three-hour, short version training for a group on your farm. Call your local Extension office for details.
While UMaine Extension classes stress the mechanics of safe operation, these AgrAbility guidelines help you stay in shape mentally and physically while operating your tractor:
Wear your seat belt and use a rollover protection structure (ROPS).
Age is a safety factor. Older farmers need to be mindful that aging brings a decline in balance and flexibility and slower reaction time. Parents need to understand that teenage brains are developing. Teenagers driving tractors need training, adult supervision and reminders.
Ninety percent of all hearing loss is preventable. Wear hearing protection when operating machinery.
Stretch at regular intervals when spending long hours in the tractor seat. Five minutes of stretching will alleviate mental and physical fatigue and reduce back pain from vehicular vibration.
Sitting for long periods has many detrimental health effects. Take breaks throughout the day to stop, get off the tractor and walk – ideally every hour.
Vehicular vibration is greatly reduced when the tractor seat is properly cushioned.
When dismounting, protect your knees. Step, don't jump, off the tractor.
When you're on your tractor, are children safely out of the way? They should never be on your lap or standing beside the driver while the tractor is in operation.
Maine AgrAbility wants you to work safely, prevent injuries and continue to be productive! Farmers, gardeners, fishermen and forest workers are urged to call us when dealing with pain, chronic illness, mental or physical stress. See https://extension.umaine.edu/agrability/ for information about our work. Maine AgrAbility is funded by the USDA and is a partnership with the University of Maine Cooperative Extension and Alpha One.
About the author: Ellen S. Gibson is the farm education specialist at Maine AgrAbility. She raises grass, goats and chickens on her farm in West Paris. You can reach her at 207-515-0467.