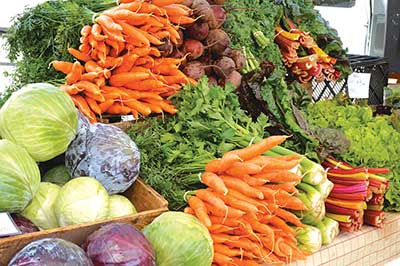 One way to deal with the challenges of farming and gardening is to plant a variety of crops. English photo
By Roberta Bailey
As farmers and gardeners, we are all well acquainted with impermanence and resilience. The well-weeded row quickly becomes ragged. The peas mature and go by. A petite zucchini quickly swells to the size of a fat baseball bat. The garlic patch gets harvested and then planted with spinach and strawberries. Change can create opportunity.
This past spring, so long and wet and cold, challenged many farmers. Fields were wet. Crops had to wait to be planted. Field rotations had to shift so that plants could get into the driest plot available. Animals had to be fed hay and extra grain until pastures dried. CSAs and farm stands started weeks late. We learn to breathe and wait. Solutions will come.
The vegetables you buy at markets this summer and fall come with extra sweat and toil as part of their production. Each head of lettuce or each tomato comes with a story. And when you look at the ingredients in a bag of frozen pot stickers from the supermarket, there are stories behind every ingredient. What weather events have they endured? What creative shifts did the farmers have to make to overcome downpours or hail or gale-force winds.
We can breed resilience into our plants and our farms to some degree. Once-predictable weather patterns no longer follow any pattern. We can count on erratic and extreme unpredictability.
The recipes below use vegetables available at your local farmers' market. Support your local farmers. Don't ever assume they will always be there with lettuce or winter squash for you. Acknowledge the toils of food from any part of the globe.
Two recipes are from Adam Tomash, who died this past spring … more impermanence. Adam was one of the best, most creative gardeners I have known. I always looked to him for guidance and inspiration. His creativity is reflected in his many articles, available in the archives of The Maine Organic Farmer & Gardener.
Adam Tomash's New York-Style Half Sour Pickles
Makes 1 gallon jar full
5 lb. freshly picked cucumbers, 2 to 4 inches in size
2 to 6 cloves garlic
1 large onion, chopped coarsely
4 to 12 fresh heads of dill
1/4 c. pickling salt
2 tsp. yellow mustard seed
2 tsp. brown mustard seed (or more yellow)
4 tsp. fresh pickling spice blend
1 small dried hot chili pepper (optional)
Wash cucumbers in cold water. Drain well. Place one-quarter of the onion and fresh dill in the bottom of a sterilized glass or plastic gallon jar (or 2 half-gallon jars). Do not use metal lids as they will corrode. Layer one-third of the cucumbers on top of the onion and dill. Repeat twice more. End with a layer of onion and dill. Fill the jar to the top with cold, quality water.
Mash or blend the salt and garlic together. Place in a large pot. Pour the water from the pickle jar into the pot and heat to just below a boil. Let cool to 170 degrees F.
Place the spices on top of the cucumbers in the jar. Shake to distribute them into the jar. Pour or ladle the hot salt-garlic water into the jar. Fill to the brim. Screw on the lid. Let stand at room temperature overnight. Next day, place in refrigerator. Begin to sample after two to three days. Cukes will remain crisp for two to three weeks but can be eaten for months.
Adam Tomash's Veggie Salt Blend
Choose veggies to dry from the list below. Quantities do not matter. Use what you have and in time customize your blend. Dry all vegetables and herbs in a dehydrator to brittle/crumble dry. Powder the dry veggies in a coffee grinder-style blender or a food processor. Celery and green beans take extra grinding.
Garden cress
Green and red sweet peppers
Garlic scapes or dried clove slices
Hot pepper (optional)
Celery (blanch with baking soda in water to keep green color longer)
Onions
Green beans
Scallions or leeks
Sea salt
Sift for small-size veggie pieces and grind larger pieces a second time. Mix the ground blend with 20 percent salt by volume, or to taste. Store in a glass jar in a dark cupboard.
Aguadito de Pollo Soup
1 Tbsp. olive oil
1 fresh poblano pepper
1 Tbsp. diced jalapeno pepper
1 onion, diced
5 cloves garlic, minced
6 c. chicken or vegetable stock
2 c. raw chicken, cubed
1/2 c. rice
1 lb. potatoes, diced
2 carrots, diced
Pinch of ground cumin
1/2 tsp. salt (or to taste)
1 bunch cilantro or parsley
Juice of 1 lime
1/2 to 1 c. corn kernels, diced sweet red pepper or peas (optional)
Garnish: fresh, chopped cilantro or parsley and scallion
Saute peppers and onion until soft, adding garlic in the last minute or so. Cool.
Place the stock, rice and chicken in a large soup pot. Simmer for 20 minutes, then add the potato, carrots and cumin. Simmer until soft.
In a food processor, blend the sauteed onion and pepper mixture with the cilantro and lime juice, pureeing until smooth. Mix into the chicken and stock. Adjust seasonings.
Add corn, red pepper or peas if desired. Garnish with fresh, chopped cilantro and scallion.
Moroccan Chermoula
(a condiment or side, excellent on fresh crusty bread)
2 large sweet red or green peppers (or add a hot one)
4 to 5 cloves garlic
1/4 tsp. sea salt
1/8 tsp. ground paprika
1 c. olive oil
1/4 c. vinegar, white wine or cider
1/4 tsp. ground coriander
Cut peppers, removing the seed and ribs, then cut into 6 to 10 strips per pepper. Place all ingredients in a nonreactive pot. Simmer slowly for 20 minutes. Spoon into clean jars and cool. Refrigerate. Keeps for three weeks. Can be frozen in wide-mouth pint canning jars.
Tri-County Tomato Soup
(Tri-county refers to the old tri-county MOFGA chapter of Washington, Aroostook and Penobscot counties. Three farms, one from each county, made this soup, tweaked it to our likings and canned it.)
50 medium tomatoes
2 to 3 green peppers
3 large onions
4 to 8 cloves garlic
10 to 15 leaves sweet basil
5 stalks celery
5 to 10 sprigs parsley
6 Tbsp. organic cornstarch
3 Tbsp. salt
1/4 to 1/2 c. honey
6 Tbsp. hot water
3 Tbsp. vinegar or lemon juice
Cook tomatoes, skin and puree them, or put them through a Victorio strainer. Add the vegetables and herbs and cook until soft. Puree all.
In a bowl, mix together the cornstarch and hot water, salt and honey. Add to the pureed soup. Adjust seasonings to taste.
Freeze or can. To can, sterilize quart canning jars. Heat soup to just below a boil. Fill jars, leaving 1-inch headspace. Pressure can for 30 minutes at 10 pounds pressure.
About the author: Roberta has been cooking up delicious columns and other articles for The Maine Organic Farmer & Gardener for 35 years.