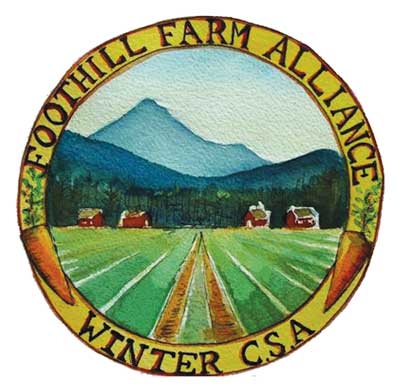 Five farms form the Foothill Farm Alliance, which offers a winter CSA share. Logo art by Natalie Beittel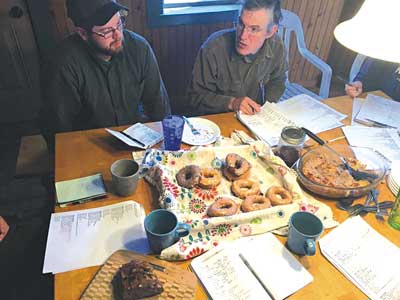 A winter meeting with Kyle Peckham (left) and Tom Earle. Photo by Gina Hancock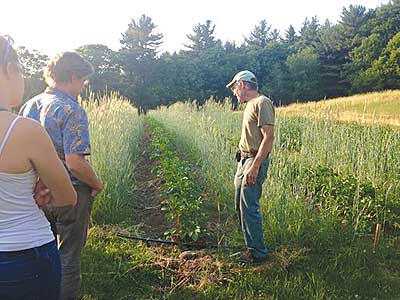 Tom Earle gives a tour of his companion planting for apprentices. Photo by Gina Hancock
By Stowell Watters
As I write this in July, a dozen organic brown eggs costs about $5 at the local grocery store, the tomatoes are green going pink, the pigs are on forage and the rain is fine to heavy. By the time this is published, the farm report will be wholly different, with new crops to tend and to price, new faces to meet and hands to shake, and new weather patterns to admonish or gripe over. This is the hubbub of the farm community: the language of a world so obfuscated by our modern consumer culture that it seems a relic of a simpler, older time.
But tractors and chickens and farmers with pockets full of seed still exist, and farms still grow food. Today many farms strive to reestablish the lost union between people and their food with the farm share or Community Supported Agriculture (CSA) model, which usually requires that customers pay farmers directly at the beginning of the growing season and take part in the flow of food throughout the year, often spending time on the farm as well. For decades this model has connected people with their local food and farm community all summer, and some CSA programs provide a harvest long into winter as well.
One such winter CSA has sprouted roots along the Maine-New Hampshire border in the small town of Center Conway, New Hampshire. A unique collaboration of five farms, the Foothill Farm Alliance takes off when most CSAs are tapering off, providing vegetables to customers all winter. But beyond the snowy deliveries, the kale under cover, the squash in storage and the complicated logistics of a five-farm collaborative CSA, the Foothill Farm Alliance focuses on reconnecting people and farms.
"It offers the opportunity to collaborate with other farmers in building a winter market. It also appeals to me, from a social perspective, as an opportunity to build community in the growers' network as well as with our friends and neighbors," says Tom Earle, who runs Earle Family Farm with his wife, Ruth, in Center Conway. They raise vegetables, chickens, sheep, pigs and cattle, and their farm functions as the headquarters for the group, where all of the farmers bring their food to distribute and divide into shares. The shares are either set out at the Earle farm stand to be picked up by Conway locals or driven to one of the four other farms, which have their own contributing customers and pickup times. In the five years the CSA has existed, its membership has grown to where it now feeds about 80 households between New Hampshire and Maine and runs from October to January.
In winter customers get a full box of vegetables and a chance to meet their farmers, shake their hands and ask them questions: How do you keep salad greens alive in subzero temperatures? How do you make the white part of the leek grow longer? What planet does kohlrabi come from? In summer each farm hosts educational tours where apprentices and farmers gather to learn about the many ways to operate a farm. These connections and interactions serve as the lifeblood of the Foothill Farm Alliance.
"Have we grown the community's relationship to local foods and local farms? Are friends and neighbors interested, engaged, active in our farm, as farm members, farm stand customers, farm volunteers or farm advocates? Looking back over these years, I can say that the level of interest has grown," said Earle.
Geof and Gina Hancock supply the alliance with vegetables from their MOFGA-certified organic Hancock Family Farm in Casco, Maine. Earle served as Geof's mentor in 2008 through MOFGA's Journeyperson Program, and the two have been friends ever since. In fact every farmer involved is connected to one another through Earle, as his farm has served as a place of mentorship for them all.
"We are not five farms pooling resources for money, we are one greater whole, with a vested interest in the health of the group," says Geof.
This collaborative spirit is manifest in the planning meeting of the winter CSA, which usually occurs in early spring before seeds are ordered, the farmers huddling together over hot coffee and Ruth Earle's homemade muffins, to plan the growing season. Instead of each farm jockeying for financial superiority and the right to grow all the potatoes or all the onions, the group asks, What can your farm grow well this year? What would you like to try to grow?
Last year the newest farmers to join the alliance ventured that they could grow great big leeks and potatoes for the CSA; and that they did. Natalie Beittel and Kyle Peckham run Hosac Farm in Cornish, Maine, at the foot of Hosac Mountain, the highest point in York County. They employ unique cover cropping methods on their small farm, using clover for paths and keeping something – whether lettuce, oats or other crops – growing on their soil all the time. Their farm is small but growing, carved out on the edge of a quiet pond. It provides an opportunity for farm apprentices to see a farm still in its early stages.
Down the road from Hosac, in Limington, is MOFGA-certified organic Old Wells Farm, where Dylan Watters and his family (including me) run a small operation. We raise pigs and goats and grow vegetables using a seaweed sheet-mulch. We do not till soil regularly, and we shape our beds to the contour of the slightly sloping land.
"Everybody farms their own way; I think that's the coolest part about the [Foothill Farm Alliance]… there is no one way to do it, and for the apprentices and the customers to see that, I think is special," says Dylan.
Storage is one of the biggest challenges for the winter CSA growers. For two years in a row, the Hosac Farm has stored all of the beets and daikon radish for Old Wells Farm, and the Hancocks have become masterful in their ability to store winter squash, which is notorious for looking perfect right until the time it needs to be shipped out.
But not every crop makes it. The cold of winter presents innumerable challenges to keeping vegetables healthy and fresh. Last winter Dylan and I woke up at 5 a.m. on delivery day to a frozen Volvo and chanced the hour-long drive from Limington to Conway in a pickup truck instead. The perfect green cabbages were packed, double bagged, and then boxed in the back of the truck, but the wind-chill was just too much.
"Yeah, those cabbages," Dylan says, "turned to a bunch of mush." Luckily the other farms were able to pitch in with emergency produce at the last minute to save the day.
Storing vegetables is one thing, but keeping them growing when the snow is 4 feet deep is a whole different beast. Luckily the Foothill Farm Alliance has two other members who are experts at winter growing. Paul Swegel and Katie Doyle Smith grow pristine salad greens, kale, pac choi, chard and spinach in every season at their Ossipee, N.H., Pork Hill Farm, which is certified organic by the New Hampshire Department of Agriculture, Markets & Food. All five of the farms grow something through the winter, but Pork Hill Farm specializes in greens in high tunnels, tucked under layers of row cover.
Smith was also mentored on Earle's farm, long before she was at Pork Hill. When asked how the winter CSA was started, she said it was pretty simple: "Tom's army of farmers linked up to extend their growing season and get into the winter." Pretty straightforward.
Purchasing and consuming locally grown food is a healthy and rebellious act. Healthy because as the seasons change so do the offerings from our land and larder. Spring salads wake us out of hibernation, summer fruit keeps us hydrated in the heat, and fall storage crops and hardy greens help us keep full and warm through winter.
Eating locally is rebellious because it flies in the face of the central narrative of the fantasy world that is our modern grocery store, which is "everything all of the time" – access to cheap tomatoes shipped with cheap fossil fuels from California, apples and grapes from China, and raspberries from Russia. The cost of this fantasy is not passed on to consumers but is laid at the feet of poorly paid and housed workers and our rapidly deteriorating environment and climate.
Taking part in a CSA is also healthy and rebellious, whether it's a summer share at your local farm or part of a collaboration like the Foothill Farm Alliance winter CSA, because it connects food to people and place. The alliance has established not just a unique way to buy and consume food but an open invitation to an older world: a world in which the act of growing, cooking and eating food is not marginalized or chore-like, but where meals represent vital and rare chances to connect as friends, as family and as people sharing a tumultuous planet; a world where farmers are not hidden but stand in the sunlight.
About the author: Stowell Watters is a former MOFGA journeyperson. He has written several articles for The Maine Organic Farmer & Gardener.