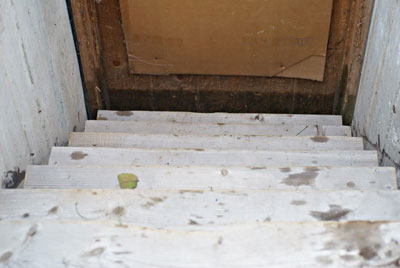 A bulkhead offers great conditions for storing produce over winter – once stairs are removed to make space, and insulation is added. Adam Tomash photo.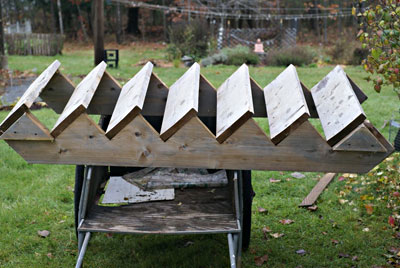 The stair module, removed for storage outdoors over winter. Adam Tomash photo.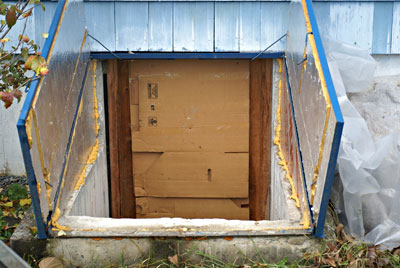 The bulkhead with stairs removed and the first layer of insulation applied. Adam Tomash photos.
By Adam Tomash
When I built my first house in northern Maine, I placed a small, stone-faced root cellar under the house with access through a trap door in the floor. A stepladder provided access and worked well. We kept root crops and canned goods there to keep them from freezing in our absence.
When we moved to a more modern house in central Maine, we had no good way to store root crops in the full-size heated cellar with its poured concrete foundation. The cellar did, however, have a standard bulkhead, and I decided to explore the possibility of using this bulkhead for limited storage of root crops and cabbage.
Our first attempts proved to be less than ideal. The bulkhead area got too cold, and the piled wooden boxes in which we stored crops were difficult to access in the crowded space that was just 40 inches wide, 60 inches long, 80 inches tall at one end and 60 inches at the other. I began to modify the space to address the need for compact, efficient, easily accessed produce storage; for temperature control and air infiltration; and for special storage requirements, especially high humidity.
Replace the Stairs
Because the bulkhead space is small, steps should be removed and stored for winter to make room for vegetables. We store our staircase outside. If your bulkhead has permanently installed steps, replace them with removable steps. You can make a set of removable steps easily with few carpentry skills by purchasing pre-made stair stringers from a lumberyard and some 2-inch-thick planking for the treads. The stair assembly should be light enough that two people can place and remove it from the bulkhead proper.
Temperature Control
We used several approaches to control temperature and air infiltration. First, to insulate the metal framework of the bulkhead, we glued a layer of 1-inch-thick closed-cell foil-faced polyurethane foam directly to the metal bulkhead cover with construction adhesive. We could not cover every square inch because of latches and other irregularities in the surface of the interior doors, but we covered most of it. We also collected a few dozen garbage bags of dry leaves to bank the outside of the whole bulkhead in case we didn't get sufficient snow to help keep out the cold.
In addition, after the outside temperature began to fall to seasonable levels, we put a removable sheet of 2-inch-thick foam immediately under the folding bulkhead doors. This is the same type of foam as above but with beveled top and bottom edges creating a tight enough fit that friction holds it in place. Thus 3 inches of foam insulated the biggest exposed area of the steel bulkhead cover. When the weather finally got really cold, we plugged any holes where air infiltration was excessive with cloth scraps. Just holding a hand up enabled us to discover those problem areas.
We store potatoes, carrots, beets, celeriac, Daikon radish, winter radish, rutabaga and cabbage. Except for cabbage, almost any variety of these crops stores well. Variety is of paramount importance for storage cabbage. The best storage green cabbage we have found is 'Storage #4' from Johnny's Selected Seeds. It has large 6- to 9-pound heads that stay green and firm until April, and it is resistant to most diseases. 'Ruby Perfection' is a good red storage cabbage from Fedco.
To maintain quality, these crops need fairly high levels of moisture and a temperature as close as practical to 34 to 37 F. We use a thermometer with an easily readable dial to track the temperature in the storage area.
---
| | | | |
| --- | --- | --- | --- |
| | | | |
| Spacers set on the floor will hold a storage rack up from the moist surface. Adam Tomash photos. | The wooden rack without bulb boxes or trays in place. | Carrots stored in leaves in a bulb box. | The wooden rack is loaded with bulb boxes. |
---
Stackable, Interlocking Storage Trays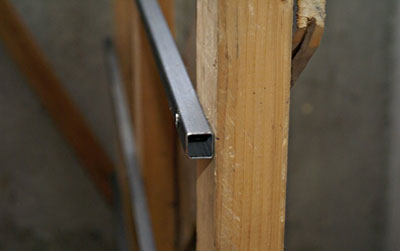 A close-up of the square-tube-type side rails or tracks on the wooden rack. Adam Tomash photo.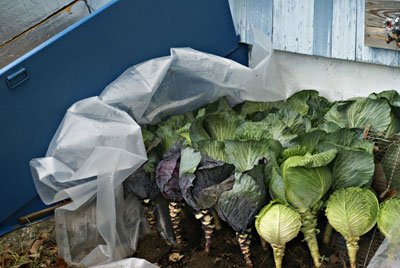 We pull cabbage with roots attached when temperatures begin to fall below 30 but before the heads freeze solid. They're stored temporarily near the basement foundation wall next to the bulkhead with their roots on a plastic tarp. We water and cover them with another tarp to keep them from freezing solid. Adam Tomash photo.
We store all crops except cabbage in plastic bulb trays that flower bulbs come in. FEDCO sells them occasionally, as does Reny's in the spring. I see them everywhere, so they are common. They measure roughly 16 by 24 by 10 inches high; the shallower ones are only 7 inches high. They are easily stacked and interlock with one another, or they can be set individually on a wooden rack, described later in this article.
If you can't find these handy boxes, you can make trays from wood frames with hardware cloth or chicken wire stapled to the bottom.
We harvest cabbage when temperatures begin to fall below 30 but before the heads freeze solid, pulling them with the roots attached and minimally trimming their outer leaves. We then stage them temporarily near our basement foundation wall next to the bulkhead with their roots on a plastic tarp, and we water and cover them with another tarp to keep them from freezing solid. Mousetraps are a good idea at this stage. Mice can eat a prodigious amount of cabbage in a short time if they have free rein.
Compactness and Access
Our basic approach is to use about half the floor space for a wooden rack that is as wide as a bulb box, about twice as long, and as high as space permits. We mix shallow and deep bulb boxes to use all the available height. The rack doesn't have to be neat or pretty, just strong. I am no carpenter, and building a rack was well within my capabilities.
The rack has metal "rails" or "tracks" made from square tubing, round pipe, or angle iron so that the bulb boxes slide in, one behind the other. I cut the metal with an abrasive wheel mounted in a chop saw and drilled holes for screws with a regular drill. The pre-punched angle iron available at hardware stores would also work well but is expensive. I found the square metal tube that I used at my local transfer station. The bulb boxes have a lip on the bottom that will hold them in place nicely. The surface of the track must be smooth with no rough spots and nothing on the wooden rack part for the bulb box to get hung up on. Make the wooden rack narrow enough that the bulb boxes can't move sideways far enough to drop off the track.
Accessing the rear box is as easy as opening a dresser drawer. Label the sides of the rack for each tier so that you remember what is in the back and what is in the front. This has worked very well for us; we use almost all our stored crops, neither losing nor forgetting anything because it was too hard to access.
The other half of the floor space is used for cabbage. We cover the floor with 2 to 3 inches of compost and place the cabbage roots directly into the compost. If you have more cabbage than will fit into that floor space, build a little shelf high enough for cabbages to fit under and then put an additional layer of compost and cabbage on top of the shelf. We use a plastic snow sled to hold compost on this second layer.
---
Cabbage goes into the bulkhead after the temperature inside of the storage area starts to approach 34 to 37. Adam Tomash photos.
Two layers of cabbage are stored, wrapped in paper, and with their roots in damp compost. Adam Tomash photos.
---
Special Storage Needs: Humidity
After experimenting with root cellar storage for more than 40 years, I have concluded that the best and most easily obtained material for packing roots that require a moist environment is dry leaves from common deciduous trees. Simply rake leaves – but only those that are free from contaminants. Stay away from areas of human habitation and obvious animal contaminants. Leaves do not have to be shredded. We put down a thin layer of leaves, moisten it, and then place a single layer of roots on the leaves. Then we add more leaves, moisten, etc., until the bulb box is full.
Potatoes, which do not need the moist leaf layers, go on the top racks and are covered with a blanket or old rug to keep drafts off.
Roots that need high moisture go under the potatoes. During the winter I pull out the two bulb boxes that reside under the potatoes, sprinkle them with a watering can and then quickly push them back in. The water that drips from the uppermost boxes moistens the lower boxes as well.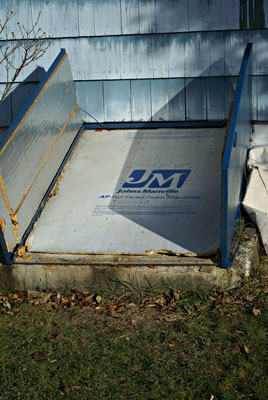 The second layer of insulation – 2-inch foam – is set in place before the doors are closed. Adam Tomash photo.
We keep apples in a refrigerator in the basement, because the ethylene they give off may cause potatoes to sprout, according to most storage experts.
Vegetables that have a shorter storage life, such as Savoy cabbage, storage Chinese (Napa) cabbage and root culls (in buckets of leaves), can be stored on top of the rack if you put a solid top on it.
We load the cabbage section of the bulkhead after the temperature inside of the storage area starts to approach 34 to 37. The timing is a balancing act but needn't be precise. Water the compost thoroughly and then go up to the cabbage holding area and carefully wrap the cabbage heads with plain white packing paper or newspaper and hold the paper in place with string tied around the stem at the base of the head. This seems to help the heads stay fresh and keeps dirt off the wrapper leaves when we load them into the root cellar. The roots should still have some dirt on them. Loading them into the cellar goes quicker with a helper.
Carefully place the cabbage in the section of the cellar that has compost, and use your foot to push a little compost up over the root ball. Water as you go. If wrapped, the heads can touch each other and lean against the rack and cement walls. During the winter, water the compost whenever you water the bulb boxes, and drizzle some water down the cement walls of the cellar to keep humidity high.
About the author: Adam Tomash and June Zellers have a suburban garden that they wishfully classify as a "research station" for small agriculture.