By Ivonne Vazquez
There are many methods for making compost and just as many types of compost bins. I'm going to focus on building a cold compost bin using wooden pallets.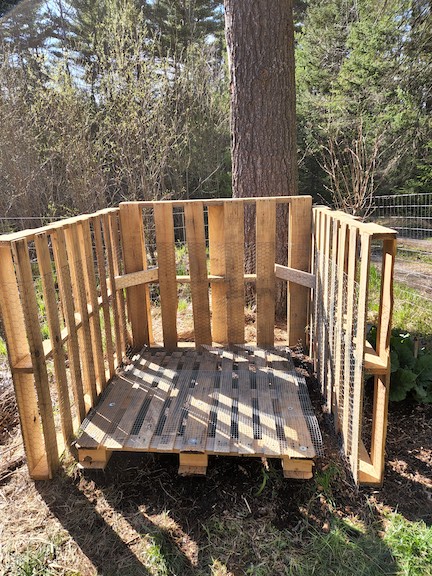 Why Cold Compost?
Cold composting is a method of composting in which you do not regularly turn your compost pile. It is easy to start, inexpensive, does not require much compostable material at the beginning of the process, and may be completely passive (requiring little or no turning). Conversely, cold compost takes a full season to breakdown, will not become hot enough to kill off weed seeds and may need additional sifting when finished. However, if you don't mind waiting a little while for your finished compost, this method may be right for you.
Obtaining Pallets
Know thy pallet! According to the Animal and Plant Health Inspection Service of the U.S. Department of Agriculture, manufacturers are required by the International Plant Protection Convention (IPPC) to provide information regarding the treatment of raw wood for shipping pallets. To ensure that you have pallets adherent to these standards, look for the following: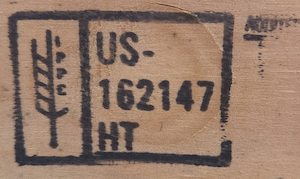 The IPPC mark with logo.
Two letter country code (e.g., U.S.).
Six-digit identifier of manufacturer (authorized by the national plant protection organizations for each country).
Manner of treatment.Common treatment codes on pallets include: HT (Heat Treated), MB (Methyl Bromide), DT(Dielectric Heating) and KD (Kiln Dried). Avoid using pallets with the code MB; methyl bromide is used as a fumigant and pesticide and is highly toxic according to the Environmental Protection Agency. Additionally, check that there are no chemical spills or oily residues on the wood. For more information on pallets, visit 1001pallets.com/pallet-safety.
Tools and Materials Needed
Four pallets of equal size: three for the bin's upright sides and one for the floor.
Two 12-inch pieces of two-by-four (corner braces).
Work gloves and eye protection.
Electric screwdriver/drill with screw bit.
Construction or wood screws (20 pieces).
Washers (12 pieces).
Staple gun and staples, orhammer and fencing staples.
Chicken wire (approximately 12 feet long by 3 feet high).
Hardware cloth with ½-inch opening (to cover a 4-foot-by-4-foot pallet; overlapping pieces are ok).
Constructing the Bin
The average pallet measures approximately 4 feet wide by 4 feet deep (4 inches high). The finished interior dimension of the floor area will be wider.
Step one: Place two of the pallets on edge to make an "L" (one side, one back). Secure with one of the 12-inch corner braces by screwing one pallet (center board) to the other pallet (center board).Repeat for the third pallet and corner brace placement.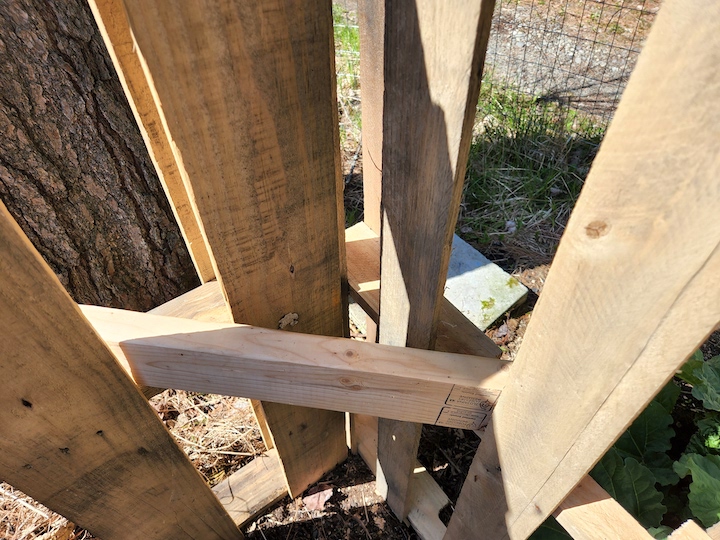 Step two: With the three pieces secured and standing, screw in the bottom and top inside corners for added strength on each side.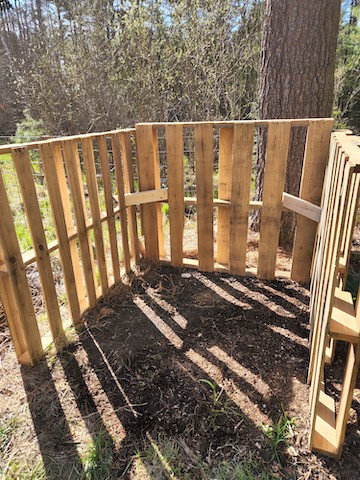 Step three: Staple the chicken wire to the inside of the bin.
Step four: Place the hardware cloth on top of the fourth pallet, securing with washers and screws. Avoid gaps if overlapping; this will make shoveling compost easier next season.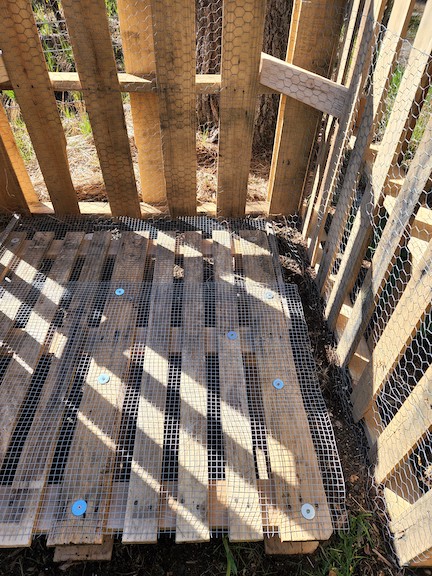 The front of the compost bin may be left open, or a removable door may be constructed to keep pests out.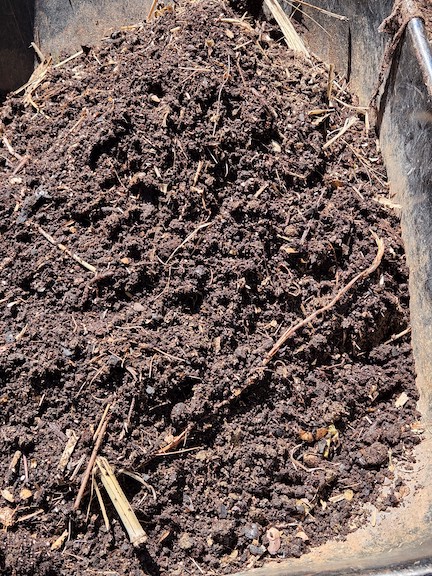 For another resource about at-home composting, click here.
Ivonne Vazquez is passionate about native plants, herbs, pollinators, DIY, sustainability, the environment and the outdoors. She is currently working on a permaculture design certificate and is a Master Gardener, a Registered Maine Guide and a basic gardening instructor at Bangor Adult Education. Vazquez co-owns Bas Rouge Farm & Forge in Orono, Maine.
This article was originally published in the fall 2022 issue of The Maine Organic Farmer & Gardener.