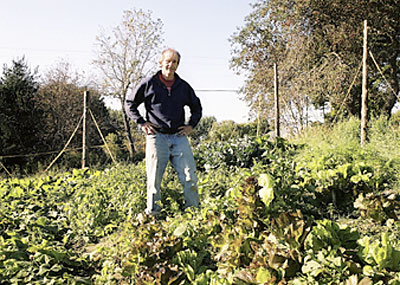 Lloyd Ferriss, a longtime gardener from Richmond, takes a break from picking in the organic garden he and his wife, Jane Frost, grew for their local food pantry. Jim Ferriss photo.

by Lloyd Ferriss

We've all heard the old saw, "Grow a row for the hungry." Last spring my wife, Jane Frost, and I turned the saying upside down: We planted our entire 1,000-square-foot garden for our local food pantry, adding a couple of rows for ourselves.

Two things prompted this project. One was Naomi Schalit's superb newspaper series in the Kennebec Journal and Morning Sentinel documenting hunger in Maine. The other was meeting clients and volunteers at Shepherd of Faith Food Pantry, which distributes food in our town of Richmond. Like other pantries and soup kitchens across Maine, Shepherd of Faith gets most of the food it distributes from Good Shepherd Food Bank in Auburn. This singularly important facility is the conduit that accepts donated foods from Maine supermarkets and stores, then channels it to 610 outlets that include pantries, soup kitchens, Meals on Wheels, after school feeding programs, and others.

Food from Auburn, however, is mostly canned and dehydrated, along with pastas and bread. Good Shepherd does distribute apples in fall; it has potatoes most of the year; and, in late summer and fall, volunteer gleaners working with the food bank pick produce that reaches pantries. But in the big, yearlong picture, clearly many Maine families experiencing hunger or food scarcity do not get fresh green produce from pantries or anywhere else.

Like other more advantaged children, our kids grew up with an abundance of organically grown vegetables and salads of every description. Out of season, we had the produce section of Hannaford to choose from. Thinking about this inequity in midwinter 2008, the idea came to us: Why not grow an organic garden more or less exclusively for clients of our local food pantry? From the outset, the concept seemed amazingly simple and workable: Grow the produce; clean and pack it in individual family portions; bring it to the pantry on distribution day. We couldn't end malnutrition and hunger on our own, but we could do something.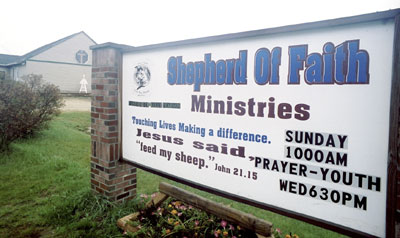 Thirty or more families depend upon Shepherd of Faith Food Pantry in Richmond. In 2008 they had garden-fresh organic produce, in addition to other foods. Lloyd Ferriss photo.

We bought seed and spoke with volunteers at Shepherd of Faith Food Pantry. They liked the idea, and despite a cold spring and damp weather, the garden grew. Week after week, from early July to mid-October, we brought to our local pantry an abundance of salad ingredients and other summer vegetables. We specialized in summer produce because (arguably) a 1,000-square-foot garden isn't large enough to grow squash and winter root vegetables, in addition to summer produce for distribution.

Five Hundred More Growers?

The message I'd most like to convey here is that Maine gardeners and farmers can easily fill this crying need for fresh produce by growing food for the nearest pantry. The project is more than a little satisfying, and plenty of Maine people – retired folks, people with home-based employment, unemployed and underemployed workers, recent high school or college graduates – are in a position to grow pantry-bound food.

Jason Hall, director of agency relations for Good Shepherd, calls it "a great idea."

Growing for a local food pantry is better, he said, than bringing your produce to the Good Shepherd Food Bank in Auburn. "There are a lot of people doing what you and your wife did this year," said Hall. "But we don't have enough. We could use 500 more folks."

At the Shepherd of Faith Food Pantry, food distribution volunteers agreed. "People can't buy fresh vegetables when they're on a fixed income," said Cindy Leslie, who, with her father, Donald MacKenzie, helps run Richmond's local pantry 12 months of the year.

Fresh vegetables arrive occasionally from the distribution warehouse in Auburn, Leslie said. "But lots of times, by the time they get here they've gone by. We get potatoes, but not often."

According to MacKenzie, fresh vegetables are a magnet to food pantry clients attracted by "most anything" that's fresh.

Jane and I are certainly not alone as food pantry providers. The Veggies4All Garden Project in Waldo Country grew nearly an acre of produce last summer for pantries. An important effort is Maine Feeds Maine, spearheaded by Jane Livingston of Veazie. Community garden plots organized by towns and the University of Maine Cooperative Extension frequently make garden space available to those who need it most.

Clean Your Veggies

One hugely important caveat to would-be growers has to do with the condition of produce delivered to pantries. It must be free of soil, blemishes and imperfections such as exterior wilted leaves. Jane and I spent more time cleaning and sorting than picking. Lettuce we brought to the pantry was sparkling clean, displayed in reusable quart and gallon bags. We delivered tomatoes, cucumbers and other vegetables, all washed and dried, in boxes.

Week after week, what we carried to the pantry resembled – deliberately on our part – the eye-catching produce found at Maine's best organic farms and roadside stands. We went to these efforts because volunteers at soup kitchens and pantries are under pressure. They serve hundreds of clients in a day, and they don't have time to sort and clean boxes of produce.

Sue Pastore, a cook and food preparation supervisor at soup kitchens in Portland, found some farm donations a mixed blessing, and she has advice.

"All vegetables offered to food banks or soup kitchens should be washed and in some cases trimmed," she said. "My experience in soup kitchens is that fresh, dirty vegetables are labor intensive. I was fortunate to have a few dedicated volunteers who would come in very early to help me prepare. But the dirty vegetables were often overlooked because of time constraints."

Hall, director of agency relations for Good Shepherd, adds this advice: Plant traditional New England vegetables. "In my experience, the end user isn't always educated in preparing certain foods. If you grow Swiss chard, okra or collard greens, they may not know how to use them."

Jane and I stuck to the tried and true – except for basil, which we delivered fresh in string-tied bunches. Each bunch included a recipe for pesto, specifying that you can use less expensive oil in place of olive oil – an ingredient off the budgetary chart for most food pantry clients.

Like every other food we donated to the Shepherd of Faith Food Pantry in 2008, the basil disappeared–often before we were out the door. On Wednesdays we were invariably thanked and often blessed by clients. Their appreciation was welcome, though almost embarrassing when you consider how easy it is to grow vegetables for a pantry.

A New Garden

Our 1,000-square-foot garden was tractor-tilled out of sod two years ago. Trees had grown up and around our other much-beloved hillside garden that I'd tended for 35 years, making its abandonment necessary. The new garden, less than 60 feet from our deep water pond, has the huge advantage of irrigation. I installed a rebuilt sump pump (kindly donated by a friend) in a submerged five-gallon drywall container staked to the pond bottom. With $50 worth of hose and an assortment of heavy-duty extension cords, we were in business. And it does pump water!

Because the new garden is in the middle of a deer path, I surrounded it with an 8-foot-high fiber net fence, securing the material to cedar posts I put in the ground by the no-power post hole digger method. Our fence keeps out the deer.

To our pleasant surprise, soil in the new garden is a nice clay loam, practically rock free. A soil test by the Maine Soil Testing Service revealed pleasing results. We made the few necessary amendments with recommended amounts of rock phosphate, soybean meal, low magnesium lime and composted poultry manure.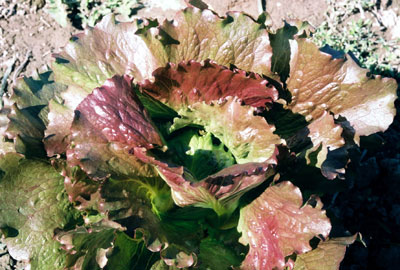 Ferriss and Frost found that Batavian lettuce was just right for the food pantry garden. The reddish-green, fast growing head lettuce is sweet, tender and a great keeper. Lloyd Ferriss photo.
Sweet, Long-Lasting Lettuce
From the moment we first decided upon a food pantry garden, it was clear that any produce we grew had to be long keeping. Picked up at the local pantry Wednesday mornings, it would likely spend several days or more in refrigerators. To me, that meant head lettuce rather than loose leaf. I bought what I thought we needed. Then Jane found an article in Organic Gardening titled "Long Lived Lettuce," so we discovered heat-resisting 'Batavian' lettuce, 'Jericho' and some other great head lettuce varieties. A last minute order to FEDCO filled our needs.
With our new irrigation system and repeat plantings as often as twice weekly, our organically grown lettuce grew bigger and better than any we'd grown in all our years of gardening. It was our king-of-the-garden crop. Sweet and never bitter, boxes of it and other veggies went to the panty. I think about that lettuce ending up in salads around town, and some little kid crunching down into it and discovering how good it tastes – and learning to like good, healthy food that is a small but important ingredient leading to a better life.
Lloyd Ferriss is a writer and photographer who lives in Richmond.