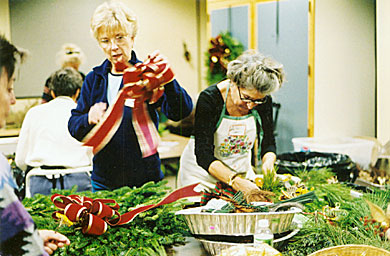 Members of the Back Bay Garden Club of Boston decorate Christmas wreaths as a fundraiser. Profits are used to make grants and to help care for and replant trees in the Back Bay.
By Norma Jane Langford
Photos by the author
If you live near an urban or suburban population, decorating and selling Christmas wreaths might be a way for your farm or club to earn some money in December. Here's how one club has refined its "business" over a decade.
It is 4:45 a.m., a dark and bleak Wednesday in December. Snow is falling again. The sidewalks have turned to ice. A truck from the flower market pulls up to the First Lutheran Church on Berkeley and Marlborough in Boston's Back Bay. A woman unlocks the gate to the inner courtyard. By the time sunlight finally reaches the courtyard, lights and heat have been turned on in First Lutheran's basement, coffee's perking, and there's a bustle of purposeful activity. Women in sensible shoes wander around the room, armed with trays, wire cutters, scissors, needle-nosed pliers. From bins and boxes they collect dried fruit and flowers, seed pods, pine cones, holly and feathers, mentally matching what they've chosen to notes on their customer preference cards. Decisions made, they return to stacks of fresh balsam Christmas wreaths, purchased from Riccardi Wholesale Florist at the Boston flower market.
The project started small, 10 years ago, in Margaret Pokorny's basement with 73 wreaths, says Francine Crawford, president of the Back Bay Garden Club. In 2004, the club decorated approximately 425 wreaths. About 80 of its 130 members will participate, coming and going to First Lutheran at different times, so the work crew varies. They will spend about $4,000: half to purchase the wreaths, the rest for ribbons, wires, picks and materials they can't collect on their own. In 2003, they made $9750; in 2004, they netted approximately $12,000, which, when added to revenues from their Garden Tour, enabled them to give out $25,000 in grants (www.gardenclubbackbay.org). In the spring of 2005, they used their profits for another favorite project: replacing and pruning Back Bay's street trees.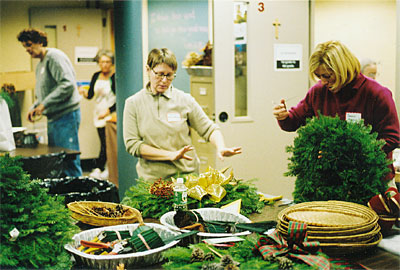 Back Bay Garden Club of Boston members decorate Christmas wreaths.
"It's a community builder," says Laurie Carter Noble as she drives another pick deep into her wreath. "We do a lot of tree maintenance and tree planting, because the park department can't do everything. And sometimes the trees die and we replant the tree pits.
"Make sure you get the picks in all the way," she advises, "especially if the wreaths will be on a door, because the motion dislodges them." She works with a glove on her pick hand.
The picks look like miniature green tent stakes and come in 3- and 4-inch sizes, each with a strand of wire wrapped around its tiny head. They're useful for securing iris seedpods, wild rose hips and other decorative plant material (see sidebar). Laurie threads wire through a dried apple slice. "One year I did an old fashioned indoor wreath for a Victorian house, and like a fool decided to use little roses, and it took hours," she says. Larger items, such as Ponderosa pine cones, are too heavy for the picks, adds Francine, skewering a giant outdoor wreath. For them you need to wrap long wires around the last layers of the cones themselves, then twist the long ends directly around the wreath. Each of the big cones costs about $1 on eBay, but they, like the pheasant feathers, are a high impact item.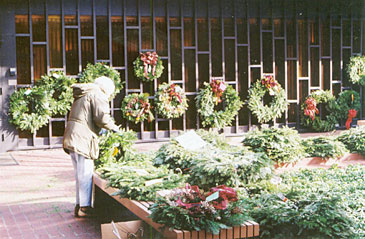 Once decorated, wreaths are stored outdoors, organized according to their future delivery area.
For best color, garden club members start collecting flowers in summer and fall when they're at their prime. "Cut them and hang them upside down in a barn," says Pokorny. "No direct sun. Let them dry a week or two. Then clean off the leaves and twigs."
Dried fruit is another customer favorite. Fruit needs to be sliced thin, laid on a rack or a pan, and left in a 100-degree oven or a dehydrator. Orange slices take two and a half days in a low oven. Artichokes take a week – little ones are easier. Pomegranates, apples, star fruits, limes (whole or with slices scored out) and whole chili peppers work well too.
"It's very creative," says Mary Ellen. "Everybody has their own decorating style. Some of us are more symmetrical, more traditional. Francine is big on matched sets for customers that want two alike. Florence is really good with flowers. Laurie is good with over-the-top stuff. Marie is creative, artistic."
"I like to do really unusual things," Marie agrees. "This is an indoor wreath, so I can use dried roses, baptisia seedpods, fragile stuff." Florence, working now with another delicate indoor wreath, has chosen yarrow, rose hips, teasel and blue cedar berries. Customers who want more pizzazz may get seedpods and grape leaves that have been spray painted or glittered with gold or copper. Items are placed in a turkey pan, then sprayed.
Suggestions for Wreath Decorations
Black-eyed Susan

Coneflower

Bee balm

Hydrangea

Lavender

Oregano

Dried apple, orange, lemon slices

Kumquat

Dried pomegranate, artichoke, red pepper

Nuts that can be drilled and wired

Liatris

Anything white

Pine cones of all sizes

Grasses

Sedum

Roses

Statice

Baby's breath

Delphinium

Yarrow

Tansy

Lotus blossom pods

Blueberry twigs

Queen Anne's lace

Protea

Astilbe

Daylily and iris pods

Wheat

Artemisia

Teasel

Echinops

Eucalyptus leaves and pods

Strawflower

Lunaria

Grape hyacinth

Nigella

Poppy pods

Scabiosa

Joe Pye weed

Magnolia buds and leaves

Bells of Ireland

Bayberry

Staghorn sumac

Calla lily

Cut greens — spruce, yew, arborvitae, white pine. Don't bring these in until December.

Rosemary

Curly willow

Milkweed pods

Rose hips

Lemon leaves

Sweet gum pods

Dusty Miller

Garlic

Holly
The bow department occupies a small cubbyhole off the main workroom. Most bows were made two weeks earlier, constructed from five pieces of ribbon stapled into loops and wired together. The 24-inch pieces become loops for the bow. A 6-inch piece becomes the small loop for the butt in front, and a 36-inch piece becomes the tail, folded lengthwise and cut with one diagonal stroke for the notch. Large wreaths require an extra back bow, made with longer loops, that goes on the wreath first, then a standard bow on top of that replaces its button; or large wreaths get two regular bows. The ribbons – reinforced along the edges with wire so that the bows remain perky – come from Jacobson's flower market in the Flower Exchange Building on Boston's Albany Street (www.jacobsonfloral.com). "We go there for their one-day sale," says Francine. "But you have to have a retail number."
The women take finished wreaths out to the cold, gated courtyard. Here Joan Murphy, scarved and mittened, layered for warmth, hangs them on a wall and supervises deliveries.
Each wreath has its own color-coded delivery card with the name of the person it's going to. Canary goes to Commonwealth Avenue, mauve or pink to Marlborough Street, blue to Beacon Street, green to every other address. A red star on the card indicates that poinsettias are to be delivered, too. Delivery teams work from 2 to 4 p.m., then again from 5 to 7, and continue on Thursday. "But we fudge a little if people have a doorman, or someone who can accept it," says Francine. "And some people who live outside our delivery area come and pick them up." One person drives the getaway van – don't even think of parking in the Back Bay – while the other takes the wreaths in and collects the money.
Wreaths are sized by their wire rings: 12 inches "that fluff to a full 23," according to the garden club's order form; 16 inches that fluff to 31, and 24-inches that fluff to 37, with larger sizes available by special order. Plain wreaths range from $20 to $40; those with bows, from $30 to $50; and fully decorated, from $50 to $150. They are sold almost entirely by mail, although there are some walk-ins. "We have a lot of repeat customers," says Francine. "We haven't really marketed because we're really at the maximum. But we do some advertising," mostly in neighborhood newspapers.
Ninety percent of the club's customers live in the Back Bay, many in condominiums. Office buildings and local colleges also routinely order wreaths, and one woman always buys one for her hairdresser.
At noon the women break for a catered lunch of rollup sandwiches, clementines, potato chips, tea and coffee. The room is populated with diverse garden club members, from the eldest (age 93) to a young mother nursing her baby. Outside the wreaths accumulate, and someone takes a cup of hot coffee to Joan Murphy.
About the author: Norma Jane Langford is writing a novel about a real slave girl who worked at the Golden Ball Tavern in Weston, Mass., during the American Revolution. She is a founding member of Wild Gardeners of Hough's Neck, which sponsored a wildflower festival – a.k.a. weedwalk – last July. She lectures on grasses and on shards she's found on beaches, some dating to 1815.