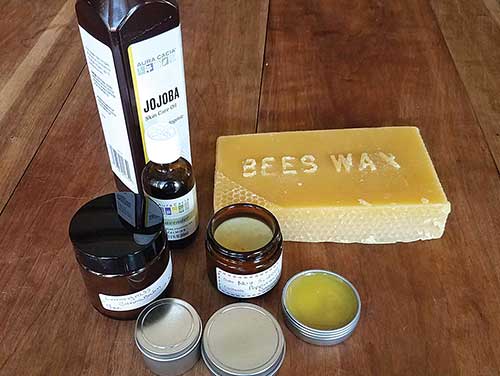 Making cannabis salves requires just a few ingredients.
By Roberta Bailey
Photos by the author
As cannabis has become legal and more readily available, people are embracing its uses. Slowly, we are coming back to a plant that was our ancient medicine. We're relearning its delicate secrets, its diverse strengths. Cannabis has so much to offer, from enhancing the soil beneath us to providing fiber and medicine. Peter Grinspoon, M.D., notes in a study from Harvard Health Publishing that patients "report many benefits of CBD, from relieving insomnia, anxiety, spasticity, and pain to treating potentially life-threatening conditions such as epilepsy."
There are many alternatives to smoking. Not all forms make you high. This article relates only to external uses of cannabis – as salves and lotions.
Benefits
Cannabis salves are topical applications made from cannabis-infused oils and beeswax. The carrier oils are infused with medicinal properties and then thickened with beeswax. Herbalists often recommend plantain, calendula and comfrey for skin conditions, Arnica chamissonis for muscle aches and Solomon's seal for ligament and muscle healing. Cannabis-infused oils and salves have been and continue to be studied for their potential to alleviate muscle pain, aches, spasms, arthritis, various skin conditions and for general relaxation, especially during massage.
Cannnabinoids vs. cannabis
Cannabinoids are the medicinal compounds in cannabis. When infused in an oil or salve, they can be absorbed through the skin. Because they work on a peripheral basis, they are not absorbed into the bloodstream and therefore are nonpsychoactive. The cannabinoids in topicals bind with CB2 (cannabinoid-2) receptors in the skin, where they interact with our body's endocannabinoid system and slow the pain signals from the brain. ("Cannabinoid Delivery Systems for Pain and Inflammation Treatment," by Natascia Bruni et al., Molecules, Sept. 27, 2018, U.S. National Library of Medicine, National Institutes of Health; https://www.ncbi.nlm.nih.gov/pmc/articles/PMC6222489/) Bruni et al. also note that cannabinoids possess remarkable antibacterial activity.
In a 2007 study, cannabinoids alleviated symptoms of psoriasis by inhibiting the buildup of dead skin cells, which is a direct cause of psoriasis. ("Cannabinoids inhibit human keratinocyte proliferation through a non-CB1/CB2 mechanism and have a potential therapeutic value in the treatment of psoriasis," by Jonathan D. Wilkinson and Elizabeth M. Williamson, J. Dermatol. Sci. 2007;45(2):87-92; https://pubmed.ncbi.nlm.nih.gov/17157480/)
Making Cannabis salves
Cannabis salves or canna-balms and lotions are commercially available – some with and some lacking quality. For economic and safety reasons, try making your own. It is quite easy and does not take much time. Here are two ways on how to make cannabis salves
Before starting, here's what you will need:
1 oz. cannabis bud and/or plant trimmings. Choose a calming strain of cannabis if possible.
16 oz. coconut oil, apricot kernel oil, sweet almond oil or even olive oil
2 Tbsp. shea butter (optional)
2 oz. beeswax
2 to 10 drops of essential oils (for optional scent)
To make cannabis salve, you need to infuse oil with cannabis. You can use buds and trim from plants. First, the cannabis needs to be decarboxylated. Heat converts the CBD to a more easily absorbed, active form. To decarboxylate cannabis, first heat an oven to 240 F. Then, break up the plant matter and spread it on a baking sheet. Finally, cover it with foil and bake for 45 minutes. Remove and cool.
Also, grind the cannabis in a food processor until it is in small pieces or powder. Place the plant matter in a clean jar. Cover with oil.
There are a few ways to infuse the oil with the cannabinoids. First, place the covered jar in a crock pot filled with warm water and steep it for eight hours on the low setting or place the oil and cannabis in a double boiler and simmer for two hours. Then, strain the infused oil through a fine mesh sieve lined with cheesecloth. Make sure to wring out the plant matter to release every drop of oil.
Using the oils
The oil is your medicine. You can use it in its simple oil form or thicken it with beeswax to make a salve, for example. To thicken infused oil, carefully warm it in a double boiler, adding the beeswax and stirring until melted.
To test consistency, cool a small bit of the oil-wax mixture on a plate. If you prefer a thicker salve, add another half ounce of beeswax. (This recipe is based on an 8:1 oil:wax ratio. You can increase it up to 6:1. Lip balm is a 4:1 ratio.)
Add essential oil if using. Stir. After that, pour the warm salve into clean tins or jars. It will thicken as it cools.
Other options include adding other herbs or oils. If you are interested in skin salve, consider adding tea tree oil or calendula oil.
A simple way to make herbal oils, for instance, is to gather your herb and dry it or at least wilt it to half moisture content. Place it in a jar and cover it with oil, such as apricot kernel, coconut, sweet almond or jojoba oil. Then, cover the jar and set it in the sun for two to four weeks. Shake it daily or as often as you remember. Strain the oil through cheesecloth and a sieve.
Body Butter/Lotion
(This recipe makes a lighter, slightly less oily product.)
4 oz. shea butter (You can substitute up to half with kokum or mango butter. Refined and unrefined shea butter can be used interchangeably. Unrefined has a stronger scent.)
2.5 oz. apricot kernel, almond or other oil (These can be infused with cannabis as per the above instructions.)
2 tsp. arrowroot powder
2 to 6 drops essential oils as desired
Warm the infused butter and oil in a double boiler and whisk in the arrowroot powder. Then, cool the mixture in the fridge. If you're using essential oils, add them now. Whip with an egg beater or immersion blender into a creamy light lotion. Finally, pour into containers.
You can tailor the salve to your needs. Add specific herbal oils for specific skin or pain relief needs, for example. I add Arnica chamissonis, Solomon's seal and sometimes St. John's wort to my pain salve. I add calendula, plantain and comfrey to my skin salve. For arthritis, I add 1 tsp. ground cayenne powder, but keep this salve away from your eyes.
For a lighter lotion, experiment by adding a small amount of aloe vera gel and whipping it into the base.
Thousands of years ago, cannabis played an important role in personal care. The Egyptians used it as a salve. Now we have the option of coming back to relying on ourselves for simple medicine, for personal empowerment.
Other resources
In addition to cannabis salve recipes, we have loads of other recipes on our site to utilize your organic plants and vegetables.
About the author: Roberta Bailey of Seven Tree Farm in Vassalboro has been writing for The MOF&G for more than 36 years.
This article is for informational purposes only and relates only to external use of cannabis salves. It is not intended to substitute for professional medical advice, diagnosis or treatment.
This article was originally published in the fall 2020 issue of The Maine Organic Farmer & Gardener.