Hemp Resources: Magazine and Web Site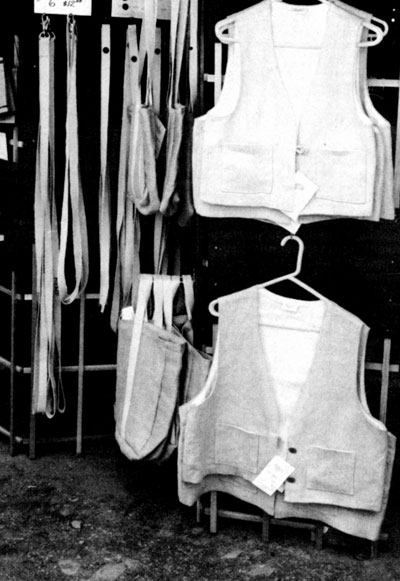 Wendy Kochenthal's hemp vests, belts, bags and leashes were displayed at the Common Ground Country Fair. English photo.
By Jean English
Last winter, Wendy Kochenthal of Jackson, Maine, took a two-month trip to the West Coast, traveling from Seattle to Baja and back again. Along the way she found herself visiting hemp stores and learning about this versatile, valuable fiber.
"My interest started in California," she says. "There are huge hemp stores out there that sell nothing but hemp products."
Back in Seattle she met a hemp products distributor who was fascinated with the "Better Budget Purse" that Wendy, a seamstress, had been making from cotton. He said that he would distribute her purses, since she had decided to make them from hemp. She came home, carrying a bolt of fabric on the plane, and started sewing.
Her line of products now includes vests made with 100% herringbone hemp and lined with a 60% hemp-40% silk fabric; different styles of purses and wallets; tote bags; belts; dog coats and leashes; and a drawstring pouch with gems in it. The drawstring is, of course, hemp twine.
Wendy's company name is Creations for Change, with the "Change" written upside down under "Creations." "An art teacher once suggested that when I was painting and was stuck, I should turn the painting upside down. I did that and I found that I knew what to do. In life these days, things have to be turned upside down for people to heal this earth. People need to look at things completely differently. Maybe they need to not cut trees to make paper. Maybe they need to do something drastic, like grow hemp. That's what I mean by turning things upside down."
By healing the planet, Wendy is referring to the cultivation of industrial hemp, which produces more fiber per acre than trees and does not require the intensive applications of toxic herbicides that are typical in Maine's (and other) industrial forests. Industrial hemp plants are grown very close together in order to produce a maximum number of long, straight, fibrous stalks. Because of its close growth, it outcompetes weeds and does not require herbicides. This insect- and disease-resistant crop requires no other pesticides, either. Wendy uses Hungarian and Rumanian hemp almost exclusively; Chinese hemp, of which many of the cheaper products on the market are made under "sweatshop-like conditions," is processed with caustic chemicals that weaken the fiber – and the environment.
Wendy is clear about distinguishing industrial from recreational hemp ("marijuana"). These are two different kinds of plants, and the former has no psychoactive qualities. "It is incapable of producing the euphoric or medicinal effects of marijuana," says Wendy. Unfortunately, the U.S. government has forbidden the cultivation of hemp due to the government's "reefer madness."
Wendy has been able to turn some people's thinking upside down. This summer she was selling her products at the Camden Farmers' Market when two older women came up to her booth. One really liked the belt that Wendy had made but said, "I couldn't wear anything that said 'hemp' on it," even though the printing was on the inside of the belt. "Possibly after you read this paper," Wendy told the woman, "you might feel okay about it." The woman read Wendy's short explanation about the non­psycho­active properties of hemp and its ability to be grown without pesticides – and bought the belt.
Some of Wendy's products are sold at the Green Store in Belfast and at the Bar Harbor Hemporium; and she continues to expand her markets. (You can reach her at 722-3387 for direct orders.)
Wendy is very excited that she is among the people who are working with hemp not just to earn an income, but to help the earth. "Hemp used to be so respected!" she exclaims. "It's very obvious that money keeps hemp from being an industry." Money seems to be having the opposite effect simultaneously, however: "When I call importers [to buy fabrics]," says Wendy, "they are so busy! They have orders for thousands of yards of hemp fabric! I ordered some herringbone fabric, and the distributor was sold out. They had a big shipment coming in the following week – but that was all sold, too!"
Hemp Resources: Magazine and Web Site
HempWorld, a quarterly magazine put out by Hemperial Productions (8080 Mirabel Ave., Forestville, CA 95436; $15/yr.), is worth the subscription price for the ads alone, if you're shopping for a Rio Rocker (a folding chair with a hemp seat and back), hemp clothing or paper, hemp body care products, hemp oil, books about hemp, and more. In addition it has editorials, letters, news and features.
In the Summer 1997 issue, for instance, I learned that the Canadian government will have regulations permitting the commercial cultivation of hemp in place by January, 1998, and the United States is expected to become a huge importer of Canadian hemp quickly. (The United States is the largest importer of hemp in the world.) "Canada's rational approach to industrial hemp makes the United States seem hysterical by comparison," writes Mari Kane, who covered The First Annual Commercial and Industrial Hemp Symposium in Vancouver – sponsored by Bank of Montreal, EcoSource Paper, Inc., and the Canadian Pulp & Paper Association.
I learned that organically grown hemp seed from Austria has been popular and has been selling "at a premium price;" that in the United States, the Dakota Nation wants to be recognized as a sovereign nation and accorded the same status as foreign trade partners under GATT and NAFTA, which exempt member nations from the hemp prohibition; that Maine has only one store specializing in hemp products: the Bar Harbor Hemporium on Cottage Street. North America as a whole has 49 hemp stores, with the largest concentrations in California and Washington.
HempWorld has a web site (www.hempworld.com) where you can look at back issues of the magazine; shop or advertise at Hemp World Mall; or link to feature articles, technical information and more. From the web site, I learned that England grew 2800 acres of hemp in 1995, Holland grew 2,236.5 acres, and, in 1996, Germany grew 3,500 acres. In Germany, 571 farmers grew about 6 acres each (an area that would fit in well with many of Maine's small farms), and the "major initial market for the fiber is the automotive industry, which has shown an increasing interest in the fiber for interior applications…" Hurds were sold for animal bedding and to manufacturers of construction materials. I also learned that hemp seed oil is "one of the lowest in saturated fats while being the highest in total Essential Fatty Acids, or EFAs," which help build healthy immune systems.
Chris Conrad and John Lupien had an apt quote in "Hempy Anniversary! Six Decades of Hemp Prohibition (HempWorld, Summer 1997): "This move to embrace hemp, in spite of unconstitutional Federal restrictions, is a signal that, at long last, we are on the dawn of a new era for this ancient crop. When the people lead, how long until the leaders follow?"