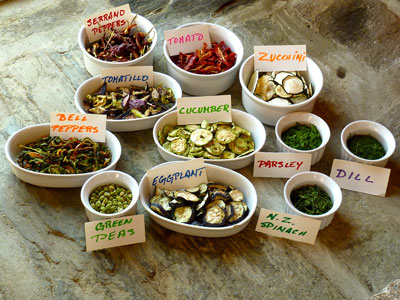 Assorted dehydrated foods. Ana Antaki photo.
By Hannah Kreitzer
Roy and Ana Antaki of Weeping Duck Farm in Montville believe that when it comes to food preservation, basic is best. The Antakis employ four main food preservation methods: dehydration, lacto-fermentation, steam canning, and freezing, with an emphasis on the first two. At their 2012 Common Ground Country Fair talk, "Preserving the Harvest with Dehydration," they explained how this practice is a low-impact, waste-reductive approach to keeping food.
Why dehydrate? As Ana says, it's "probably the simplest way to preserve food." Dehydrated foods undergo minimal nutrient loss and even maintain their vibrant colors and appealing aromas, making them a nourishing part of a sustainable lifestyle with the added bonus of a colorful, fragrant pantry. The fact that produce tends to shrink during dehydration can also be an asset for compact long-term storage that requires no energy consumption.
Multiple ways to dehydrate are available, including air drying, using an electric dehydrator, the oven pilot light, solar dehydrators, a warm, dry, dark attic, or exposure to a wood stove. In the past the Antakis used screens over open rafters, placing beans, peas and herbs between layers of unbleached muslin on the screens. They found these methods to be adequate but not ideal, and eventually transitioned to using an electric Nesco/American Harvest Gardenmaster dehydrator, which allows precise temperature control in a contained environment, yielding what Ana calls consistently "excellent" results.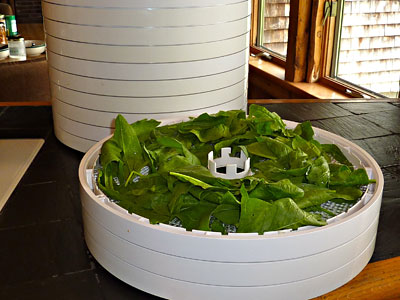 The Antakis use an electric Nesco/American Harvest Gardenmaster dehydrator to dry many foods, including spinach, shown here. Ana Antaki photo.
Using the Electric Dehydrator
To maintain best nutritional value, dehydrate at the lowest possible temperature – generally no higher than 125 F, the Antakis assert. Higher temperatures accelerate the process, but speed is a poor swap for food quality. Ana says her primary rule for dehydration or any other means of food preservation is that the method "should not come at the expense of lost nutrition and vitality."
Dehydrating temperatures vary depending on the type of food being preserved, but a general outline goes as follows: Herbs and leafy greens do best at 95 F; most vegetables at 105 to 115 (tomatoes 115 to 125); juicy fruits at 125; potatoes at 110 to 115; and melons at 125 to 135.
All dehydrators vary beyond the temperature to which the dial points; rising temperatures trigger the machine's corrective thermostat, but that adjustment may take time, so the temperature can temporarily diverge from the dial setting by as much as 20 degrees. Know the standards and quirks of your dehydrator, Ana says, and she recommends using an indoor-outdoor probe thermometer, which can be attached to a cable for easy retrieval and placed on a tray in the dehydrator.
When in doubt, the Antakis say to lean toward the cooler side of a suggested benchmark.
They also recommend dehydrating in interrupted intervals so that residual moisture has ample time to come to the surface and be removed in subsequent sessions. When pausing dehydration in an electric unit, turn off the machine, but don't open it.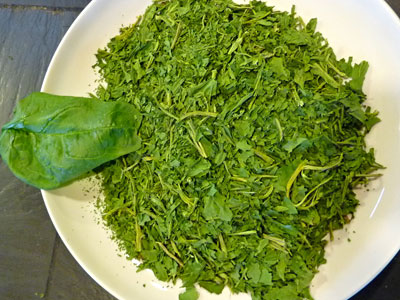 Dehydrated spinach next to a fresh spinach leaf. Ana Antaki photo.
Again, properly dehydrated vegetables should keep their color and aroma; they will be crisp and produce an audible snap when broken. Only a very few products will lose their color during dehydration – a notable example being pears, which require sulfuring to maintain a fresh appearance. Skipping the sulfur does not impact taste or scent, however, so the Antakis avoid sulfuring as a personal dietary choice.
Most produce requires no preparation beyond cleaning and cutting. Dense vegetables should be sliced to approximately 1/4- to 3/8-inch thick. Apples, pears and potatoes require a bit more work: The first two fruits should be peeled, sliced and soaked in ascorbic acid to lessen color change. Unlike herbs and greens, fruits should not overlap on electrical dehydrator trays.
Potatoes must be immersed in water and blanched to neutralize enzymes and starches that make them darken during processing. They may be sliced or shredded; for the former, peel and slice into 1/4-inch pieces. No matter the style of preparation, potatoes must be submerged in cold water as soon as the peel is removed. Blanch the prepped potatoes by placing them in a pasta strainer in boiling water for about 3 minutes and then re-immersing in very cold water. Drain and dehydrate at 125 to begin with, lowering the temperature to 115 or lower as they become drier, and store them in glass jars.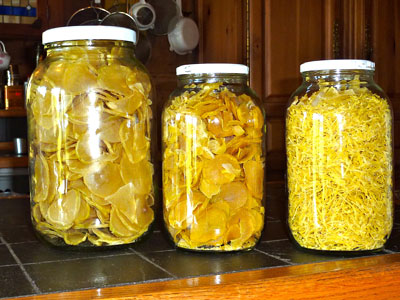 The half-gallon jar of potatoes at the far right is filled with shredded dehydrated potatoes equal to just under 9 pounds of fresh potatoes. Jars in the middle and on the left hold sliced dehydrated potatoes; because these potatoes are cut larger, these jars hold less than the jar of shredded tubers. Ana Antaki photo.
Storing Dehydrated Foods
The Antakis advocate glass jars for storing all dehydrated vegetables, in fact. A nonporous container is key; plastic will breathe and deplete the vitality of any produce stored therein. Ana recommends seeking glass containers at your town transfer station. If you sterilize jars with a bleach solution, be sure to wash them again thoroughly in warm, soapy water to remove any bleach residue. Jars of dehydrated produce should be kept in a cool, dry place.
Rehydrating and Eating
Creating a meal from dehydrated food is a simple matter of assembly and rehydration. At the most basic level, preparing dehydrated foods means putting whatever goods you're using into a pot, adding a liquid such as broth, water, sauce or milk, stirring, covering and simmering for an hour or more. Rehydration occurs during cooking.
Remember that vegetables will more than double in weight when rehydrating. The Antakis say that 4 ounces of dehydrated veggies will satiate two people (although that may depend on the appetite of the diners). Use more liquid than the dish would usually call for with fresh ingredients, and allow ample cooking time for full absorption. Simmering at a low, slow heat provides an ideal atmosphere for rehydration.
At their talk, the Antakis offered a sample menu of a delicious, well-balanced, dehydrated-food-based meal: scalloped potatoes, potato leek soup, and a crème caramel flan made with winter squash in place of eggs.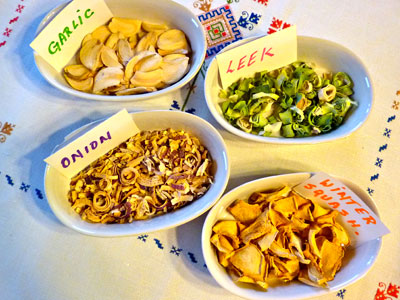 Dried garlic, leeks, onions and winter squash. Ana Antaki photo.
The last dish in that lineup is just one example of the sweet rewards dehydrating can yield. Fruit leathers and such treats are easily achieved by making a fruit mash, sweetening if desired, pouring the mash into an oiled plastic dehydrator insert, and processing at 125 F. Melon slices are also dehydrated at this temperature (firm-fleshed melons, that is – watermelon won't work), and both Antakis wax enthusiastic about the results.
"It's candy!" claims Ana.
Roy adds, "The only problem with melons is that you cannot stop."
Energy-Free, Long-Term Storage
For the Antakis, dehydrating their food is a mindful practice of making best use of time and resources, and a commonsense approach to sustainable living. Throughout their presentation at the Fair, they emphasized the lack of waste entailed in this method of food preservation. Although it requires a certain amount of energy to run the electric dehydrator, subsequent storage is absolutely energy-free and very compact, given the amount of dehydrated goods that can be compressed into a single container.
In terms of longevity, some claim that food preserved this way can be kept for up to 30 years. The Antakis can't personally verify that claim yet, but Roy promises, "I'll be here in 30 years if you have any complaints."
About the author: Hannah Kreitzer is a 2012 graduate of the Unity College Environmental Writing program. She works at the Belfast Co-op Store, volunteers for Maine Farmland Trust, is an intern with the Montana nonprofit The Tributary Fund and sells embroidered jewelry at the Rock and Art Shop in Bangor.