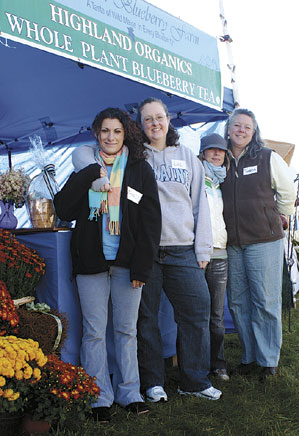 Tina DiSpirito, Liz Porter, Bekah Pressley and Theresa Gaffney (left to right) tend the Highland Blueberry Farm booth. Gaffney's blend of blueberry fruits and leaves (which are even higher than fruits in antioxidants) has been a successful value-added product for the farm. Photo courtesy of Highland Blueberry Farm. English photo.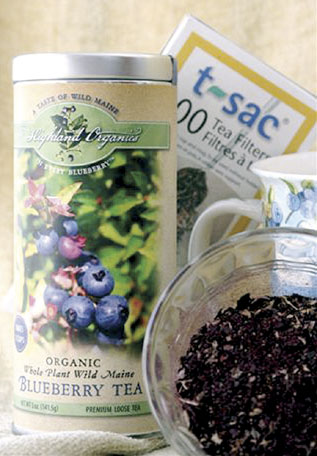 Attractive packaging is one key to Highland's success. Gift packs are another. Photo courtesy of Highland Blueberry Farm. English photo.
Value-Added Products
by Jo Anne Bander
When Maine's blueberry season is over, Theresa Gaffney of Highland Blueberry Farm in Stockton Springs is still working – drying ingredients and packaging her organic wild Maine blueberry tea. A growing demand for artisan foods is providing Maine farmers like Gaffney with incentive to move past traditional blueberry jams and dilly beans to innovative value-added foods and is spurring new businesses grounded in Maine's agricultural roots.
Beyond Fresh Wild Blueberries
Gaffney grew up raking blueberries, so she was well prepared in 1999 to manage husband Tom's 25 acres of blueberry fields, converting quickly to organic. Her first crops went to G. M. Allen & Son in Orland for freezing, but the higher price for direct fresh – 50 cents frozen versus $1.80 a pound fresh – pushed her to market directly from the farm.
A surprise call in 2004 from friend Kristi Crowe, working on her Ph.D. and seeking a science project for her Hampden Academy chemistry class, gave Gaffney the idea of testing blueberry leaves for nutritive value. After confirming through UMaine professor of food science Alfred Bushway that no similar research had been done, the project was designed; students harvested the leaves that fall; and testing for antioxidants began.
The finding: Leaves had more than double the antioxidants as fruit. When additional lab tests confirmed the results, Gaffney started developing a wild blueberry tea made with fruit and leaves.
A 2006 Maine Technology Institute (MTI) seed grant – one of three totaling $21,500 – focused on how to harvest and process the leaves. Gaffney sold some $20,000 in tea in 2008, and potential for significant growth exists, but her goal is to grow her handcrafted, premium tea in a controlled manner.
Dogs Like Blueberries Too
The VanWart's of Peaked Mountain Farm in Dedham, Maine, followed their border collie Preshus' lead in developing their organic, wild blueberry-based dog treat, because "dogs have the same DNA as wolves, who eat native blueberries, and so did she," says Gail VanWart. She and Dan assumed operations in 2002 of the farm established by Gail's family in 1868.
A Farms for the Future program grant helped them create a farm plan. Then a small grant to invest in a walk-behind blueberry harvester and a fresh pack line (which cleans and grades the berries) facilitated farm-direct sales. They started experimenting with value-added products to "allow us to freeze the harvest and turn the blueberries into a year-round job with more potential profit per pound." Their best farm stand seller: the dog treat.
A Phase II USDA Rural Development Value-Added Producer grant in 2007 helped them market Wild Blueberry Dog Treat under their Bite O'Blue(r) registered trademark. It is now in shops throughout New England and elsewhere, and they have extensive Internet and phone sales.
Working from an expanded, licensed home kitchen with commercial equipment, powered with farm-generated wind, they have launched a grain-free treat and are developing products that use more of their own blueberries and fewer purchased ingredients.
Riding the Antioxidant Train
A growing market for antioxidants and a lifelong interest in plant-based medicines are driving Edie Johnston's product development. The Johnstons' ElderTide Farm in Dresden is home to their elderberry orchard and ElderTide Pharm, their product development arm.
When they purchased the farm in 2002, they found elderberries and aronia (chokeberries) growing wild. Johnston quickly delved into studying the varieties of elderberries and their properties and developing their 2 1/2-acre orchard. In addition to growing organic elderberries for her nutraceutical company, Maine Medicinals, Johnston supplies Avena Botanicals and others with elderberries and elderflowers. (Nutraceuticals are foods with health or medicinal benefits and/or additives.)
Johnston's research-based work has linked her with Maine-based food scientists and institutions as she investigates the antioxidant properties of fruits and products developed from them and of nutraceuticals for diabetics, Alzheimer's and heart disease. The farm's first commercial product, AnthoImmune Blue, an elderberry-based syrup for colds, flu and overall immune system support, will be launched at the Common Ground Fair this year.
Of high potential impact is her work with Coastal Enterprises Inc. (CEI) on "Maine's High Five" – blueberries, black raspberries, cranberries, aronia and elderberries – antioxidant rich crops that can be grown on underutilized farmland for high profit margins. Johnston hopes to move quickly to alliances that grow 20 to 40 acres of elderberries and to a 5,000-square-foot manufacturing facility, up from her current MOFGA-certified 1,000-square-foot farmhouse-based facility.
ElderTide Farm will be featured in the next issue of The MOF&G.
Moving from Idea to Production
Central to value-added food producers is "Al" Bushway. Whether a home-kitchen processed jam or a pickle produced in a commercial kitchen, Bushway's Food Product Process Review Laboratory is the place that tests Maine and New Hampshire products.
His team, which includes Beth Calder, Extension food science specialist, and Connie Johnson, the Matthew E. Highlands Pilot Plant manager, supports individuals developing new products. Bushway helps design a process that meets food safety requirements without interfering with taste and appearance, and he shares advice, support and contacts. Bushway has seen requests for product testing escalate, "some 150 to 200 in three months this spring, a 50 percent increase."
Calder spends most of her time as a liaison, working with other agricultural organizations and the food industry and helping food processors meet FDA regulations. Johnson helps those working with the Plant, which is equipped to research and develop products ranging from fruit juice to pasta to extruded foods.
Besides providing individualized consulting, and coordinating processing courses for pickle makers and another course on home-kitchen licensing, Calder organizes Recipe to Market, a workshop series delivered around the state for farmers and entrepreneurs with products they want to bring to market. To help them increase production, "Maine needs more licensed commercial shared-use kitchens," says Calder.

The Pie Cone
Bushway still considers the Pie Cone(tm), a crisp, baked shell developed by Frances Walker of Freedom, one of the unique products to surface. Walker, a puppeteer "used to solving unique problems," developed the Pie Cone(tm) for the 1992 Common Ground Fair as a way "to sell a portable pie." Post-Common Ground, where she filled pre-baked individual cones with strawberry, blueberry or apple, she opened a take-out on Route 1 in East Belfast and expanded to several dozen flavors.
While Walker has slowed the business down, she sees it as adaptable to a mall, a pushcart or farmers' markets. Now she works year-round from her licensed, dedicated food-processing kitchen getting ready for Common Ground – preparing and freezing her own homegrown pumpkins, rhubarb and apples for fillings, including strawberry-rhubarb and pumpkin cheesecake.
Packaging Maine's Taste
Belfast-based Fiddler's Green Farm, an organic mill and packaging operation, has been in the hands of the Ginsberg and Alexander families since 1993, with the sale of fresh milled grains its backbone since inception. Fiddler's uses all organic grains, including exclusively Maine corn, some 5 tons a year, in products that include cereals and baking and pancake mixes. The taste of Maine is also added with Maine blueberries, maple syrup and honey.
Sales at this point are 40 percent mail order and the rest wholesale, with flour – over 10 tons of bread flour alone annually – making up half its wholesale market. Fiddler's sells at coops and health food stores throughout New England and is the largest organic pancake mix seller in Japan, with six pallets annually. Closer to home, it sells its products at the Common Ground Fair.
Camden-based food writer Nancy Harmon Jenkins acclaimed Fiddler's Green's Penobscot Porridge in The New York Times as "one of the finest local versions – nutty, grainy, robust and rib-sticking."
Allen Ginsberg sees "organic local food as still a small niche market, but growing" and Fiddler's Green "growing each year with it at a comfortable pace."
Charles Waite Maclin, an Episcopal priest and retired psychotherapist, "Pastor Chuck" since he put his bearded face and moniker on his apple products, is growing his brand through routes such as New York's Fancy Food Show. The positive response to products he created from his modest Cushing apple orchard in the mid-'80s germinated the idea of commercial production and the November 2004 launch of his Pastor Chuck line.
His certified gluten-free and kosher product lines include his original organic applesauce and apple butter as well as a new applesauce made without processed sugar and an all-natural apple salsa. He sources his apples from MOFGA-certified Ricker Orchards in Turner.
Processing was the challenge, until he found Kime's Cider Mill in Bendersville, Pennsylvania. Ricker's apples go there for processing and return to Maine for marketing and distribution – some 1,500 to 2,000 bushels to date. Maclin's products are now available at Whole Foods throughout the North Atlantic and at Hannaford stores in the Northeast, but he seeks additional distributors and retail businesses.
While still working to make a profit, a goal he expects to accomplish within the next couple of years, Maclin is helping "grow the movement and infrastructure and connect quality food products with Maine" – with the hope of processing his apples here.

Growing the Movement
James McConnon, Extension specialist and professor of economics at the University of Maine, finds that "what differentiates a successful product is typically the business skill set of the producer. Those in the specialty food industry still need additional relationships and infrastructure to develop optimally."
While hard to quantify the value-added portion, McConnon notes over 6,000 licensed specialty food producers in Maine – and the number is growing, including producers "with exciting new possibilities in sectors like the emerging nutraceuticals." He provides hands-on help through teaching in Recipe to Market.
The Down East Business Alliance of Hancock and Washington counties has been working with small businesses since 1985. Its Incubator Without Walls program focuses on one-on-one technical assistance, financing (with both loans and grants) and business-to-business networking.
Because of the number and importance of the value-added producers who participate, "we have been studying the possibility of a shared use commercial kitchen as well as food storage, value-added storage and distribution," says director Keith Small. According to Jeffrey Ackerman, small business coordinator, Down East's newest effort is helping to develop buying clubs and online ordering systems.
Leadership from the Maine Manufacturing Extension Partnership led to a grant this spring from the Maine Technology Cluster Initiative Program to a partnership between the Maine Grocers Association (MGA) and the new Maine Food Producers Alliance (MFPA), which seeks to strengthen relationships between Maine grocers and wholesalers and Maine's value-added producers. "Maine grocers stock their shelves with what consumers want, and today that includes Maine food products," says MGA executive director Shelley Doak.
"Plans for the Alliance include working with MGA and Maine Chef's Pantry to develop marketing and distribution options and provide access to national media outlets for Maine's food producers," says executive director Valerie Geredien.
Farms for the Future, a program administered by Coastal Enterprises Inc. and the Maine Department of Agriculture, accessed by the VanWarts, "provides the opportunity to test the feasibility of an enterprise idea through business planning and also access funds to implement the business plan," says program administrator Gray Harris.
Available on a competitive basis to qualified farmers, a Phase 1 grant is for technical assistance to develop a business plan, a basic tool useful in applying for commercial financing. Also available is Farms for the Future Phase 2 funding.
Because the science of food and agriculture is real science and commerce, Maine Technology Institute – a private nonprofit that encourages and supports research and development efforts that lead to economic benefit to Maine – can provide support for innovation to small business in the value-added food sector. "Some investments are small grants (such as the ones Gaffney received) while others may be $500,000 or larger," says Joseph Migliaccio, manager of the business innovation programs.
Challenges for Maine-Based Producers
Two friends began GrandyOats in 1979 when they started baking granola for local health food stores around Farmington. Nat Peirce bought GrandyOats from them in the mid-1990s when he owned a bakery in Bridgton; his college friend Aaron Anker became co-owner in 2000; and they purchased competitor Uncle Roy's in 2001 to become a granola cluster.
Located since 2002 in a historic dairy barn in Brownfield, transitioned to all-organic, the company grew from $100,000 in sales in 2000 to over $1 million in 2008. It now has 11 employees. Focused on granola, organic trail mix and roasted seeds and nuts, the company has reached a balance between packaged sales and bulk, selling bulk to 350 natural food stores around the country and in Hannaford and Whole Foods stores.
Sourcing ingredients from Maine to meet its need for large quantities of quality organic ingredients has been challenging. "Our customers love Maine-grown oats for oatmeal, but we can't get enough," says Anker. One Maine farmer is growing 60 acres of oats for GrandyOats this year. The company also uses Maine maple syrup exclusively – some 220 gallons a month.
The company wants to be "profitable in a sustainable way. We didn't grow too fast, and [we] continue to grow at a comfortable 15% annual rate." Always innovating, in this 30th anniversary year the company introduced a reusable container for retail customers to use for GrandyOats bulk granola.
Craig and Rosemary Gladstone were inspired by their Acadia National Park location and its miles of hiking, biking and kayaking opportunities to create their trademarked Maine Munchies" line of healthy snacks "With the Call of Maine." They started developing the snack mixes in response to people coming by their farm and garden market in Otter Creek.
After 9/11, the Gladstones put their energy into building their Maine Munchies(r) line and launching The Caviar of Maine" (dried wild Maine blueberries). Unable to convince conventional dried blueberry processors to remove High Fructose Corn Syrup (HFCS), they started developing a healthy drying process.
With the help of two MTI seed grants, they developed a proprietary drying process that uses all natural products, lowers the sugar content and extends shelf life. They then received an MTI Development Award (loan funds) to develop a new, 15,000-square-foot facility for their plant. The Gladstones process year round from frozen fruit and employ nine people.
"Building a food business in Maine presents challenges and opportunities," says Craig. "We are at the end of the shipping line; utilities are expensive and power critical; and …. it can be hard to obtain the working capital investments necessary to get to profitable volume."
Because "Maine grows the finest blueberries in the world, and worldwide demand for wild blueberries is high, there are tremendous opportunities for farmers," he adds. The Gladstones want to work with more organic growers to secure a consistent supply for themselves while guaranteeing their own sales and expansion potential.
Looking Forward
Bushway recognizes that growth in the value-added sector is driven not just by farmers but also by entrepreneurs – and not just by goods for human consumption. Even though his lab does not test animal products, he hears from people interested in organic pet foods – including healthier dog bones.
Harmon Jenkins has been promoting Maine food in national publications for over 25 years as well as through Maine Fare, a celebration of Maine's local food and producers (September 11 to 13, 2009, in Camden). She sees the challenge to be changing Maine's image from blueberries and lobster to such emerging products as Maine potato vodka and quality cheeses.
Gaffney, representative of producers who want to grow slowly and maybe never be huge, still wants "people clamoring for the product – like a limited edition champagne," a realistic approach to going forward with quality.
Gladstone recognizes that "organic farmers need help in marketing the organic wild Maine blueberry." He is working with them to create outlets that can absorb an increased supply of organic fruit through the new Maine Food Producers Alliance.
Johnston believes that "Maine's image of health, strength and integrity is being boosted by the value-added products that are coming on line." As Maine producers respond to the organic, antioxidant, buy-local movement, a possible tag line coined by her Maine Medicinals might also describe Maine's value-added sector: "Get Well, Get Maine."
About the author: Jo Anne Bander is a writer and consultant who lives in Coral Gables, Florida, and Spruce Head, Maine, and is involved in the sustainable agriculture movement.