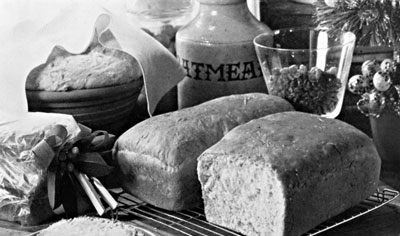 With the abundance of genetically engineered canola, corn and soy ingredients in processed foods sold at supermarkets, baking your own is often the only way to enjoy GE-free breads. Pam Bell photo.
By Roberta Bailey
Bread is elemental. It takes earth, water, air and fire to make it. Bread is basic, a one syllable word in most languages, a substance honored and sacred. At the center of every culture is some form of bread: tortillas, chapatis, pita, challah, dumplings, oat cakes, scones. For many, bread is closely linked with spirituality and human bonds, from giving thanks for a bountiful grain harvest to breaking bread. The Latin word companion means, literally, "a person with whom we share bread." It is on hand at every meal, the comfort food that fills the voids of table and heart. It has brought forth many sighs of satisfaction.
For me, making bread is meditation and sensual art. Mixing together flour and grain, water, maybe nuts, or potato, egg, or squash, and spices, stirring them into a warm soft dough, the hand learns the perfect texture. A mindfulness occurs in shaping loaves or rolling out a chapati. Art exists in braiding challah or in a perfectly risen loaf. The smell of baking bread is sensual bliss.
The increased availability of good hearty breads has caused many a bread pan to gather dust. Concerns about food that is free of genetically modified organisms have caused some cooks to dust them off again. Most bread products in stores (even in co-ops) contain genetically engineered ingredients, such as corn, canola or soy. Organic flours and grains are readily available. By making your own bread with organic ingredients, you can be more assured of their safety.
Below are recipes for bread in all shapes and sizes. Making bread does not have to be an all day process. It doesn't have to overheat the house. It can be quick, easy, elemental.

Pita Pocket Bread
(about 10 pockets)
1 Tbsp. dry baking yeast
2 c. lukewarm water
1 Tbsp. honey or sweetener
2 tsp. salt
5 to 6 c. flour, half unbleached white, half whole wheat
In a large bowl, dissolve the yeast in water and honey. Add salt and enough flour to make a stiff dough. Knead until smooth. Place the dough in a lightly oiled bowl, cover, and let it rise for two hours. You can also let it rise as long as eight hours if making the dough ahead is convenient.
Punch down the dough and shape it into a long, 3-inch diameter roll. Cut the roll into 1-1/2-inch thick slices, about 2/3 cup each. Preheat the oven to 500 degrees F. (A hot oven creates the pocket.) Roll into small balls, then roll each ball into a quarter-inch-thick round no greater than 5 or 6 inches in diameter. For exact thickness, place a 1/4-inch thick board on either side of the dough as a thickness guide.
Place the rounds on oven-warmed, oiled cookie sheets and bake at 500 F. on the lowest oven rack for eight minutes or until browned. Pita will puff some. Pockets should form naturally. To keep the bread soft, place it in a towel. For longer storage, cool and place the bread in plastic and refrigerate or freeze it.

Tortillas, Chapatis, or Flat Breads
One cup of flour makes
3 to 4 bread pieces.
3 c. flour, wheat or white (for tortillas use half masa harina, a corn flour. (Be sure to look for organic corn flour, since most non-organic is either genetically engineered or mixed with genetically engineered corn.)
1 c. water (or enough liquid to make a non-sticky dough)
1 tsp. salt
Place flour / masa harina in a bowl. Add water and salt and stir. Place egg-sized piece of dough on a well floured surface. Roll out to tortilla thickness with a floured rolling pin. Cook in a hot cast iron pan. I usually oil it lightly for the first bread, but not for the rest. Medium even heat is best. Too much heat will burn the tortillas. Flip and cook the other side.

Pizza Dough (also Italian Bread)
2. c. water
5 to 6. c. unbleached white flour (Can use 1 c. whole wheat)
2 tsp. salt
1 tsp. yeast
1 tsp. sweetener
Mix all ingredients into a soft dough, adjusting the amount of flour as needed. Let the dough rise for one to 12 hours as is convenient. At least two hours is optimal. Punch the dough down and stretch or roll it out to cover greased pans. This recipe makes two cookie sheet size crusts or four small crusts. Dough can be frozen by oiling a plastic 1-quart container, placing the dough in it and covering the container. It takes three hours to thaw at room temperature, eight hours in a refrigerator.

English Muffins
These can be made using any bread dough recipe, from basic to raisin or pumpernickel. Anything goes. Once the dough has risen until doubled in bulk, punch it down. Tear or cut off 1/2-cup size pieces of dough. Shape these into flattish English muffins and place them on a cornmealed surface to rise. Cook muffins over medium low heat on a lightly oiled griddle or cast iron pan. Turn them once they're browned. Muffins usually split in the center, but some may need to be cut.

Sesame Crackers
Yield: about 6 dozen crackers
2 c. whole wheat flour
1 c. unbleached white flour
1 c. corn meal (organic)
1 to 2 tsp. salt
3/4 c. unrefined oil
water
sesame seeds
Mix flour, meal and salt. Stir in the oil. Add water gradually until the dough holds together but is soft enough to roll. Do not knead. Roll out thin on a well floured surface, sprinkle with seeds, and lightly roll them into the dough. Cut the dough into desired shapes. Bake at 375 degrees F. for 20 to 30 minutes or until lightly browned.
To make breadlike sticks, use 1/3 c. oil. Roll into long, thin sticks and then roll in seeds.
Bake until crisp.
About the author: Roberta lives in Vassalboro and works for Fedco. She is very active in seed saving efforts.