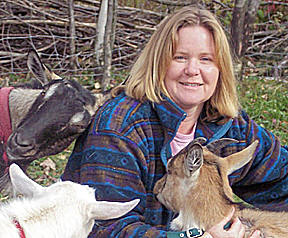 Grace Keown of Dixmont, Maine, has won MOFGA's 2008 Common Ground Country Fair poster contest with her "Hay Barn" design. The clean, striking, colorful image depicts the traditional red barn (like the one at MOFGA's Common Ground Education Center) and a hillside of round bales of hay. "Hay Barn" posters, T-shirts, cloth bags and other goods will be available at the Common Ground Fair on Sept. 19, 20 and 21, 2008, and at www.mofga.org.
Keown grew up in New Jersey and has lived in Arizona; Long Island, New York; and parts of New England. "I've lived in Maine since 2004," says Keown, "when my husband and I decided to move ourselves and kids up here to start homesteading and living more sustainably and simply." She and her family have a farmstead in the Dixmont hills, where they're revitalizing the soil, bringing back a 90-year-old apple orchard (mostly Wolf River and cider apples), raising dairy goats, pigs and chickens, growing some of their own vegetables and berries organically, and supporting local agriculture and sustainability.
Keown graduated from the State University of New York at Stony Brook with a B.A. in Studio Art and Art History. A member and co-founder of Dirigo Road Gallery and president of the Valley Arts Alliance, her work was selected for a May 2008 group show entitled "Something Fishy" at the Maine Art Gallery in Wiscasset. She has also shown her work in the MOJAS/Waterville Art Society Annual Show and in the annual juried Belfast Arts in the Park. Keown has taught workshops in drawing and wire-jewelry making.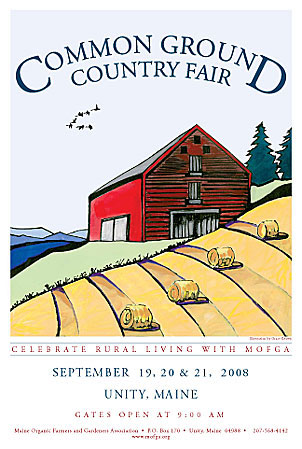 Keown has created art in some form or media for most of her life. Her personal journey and exploration of various techniques have taken her into relationships with watercolor, pastel, scratchboard, acrylic, oil, pen and ink, printmaking, photography, jewelry-making, stenciling and primitive rug-hooking. Her work draws intensely from nature, color, seasonal light and the expressive potentials of the powerful Maine landscape.
"Art is a bridge between nature and the viewer," says Keown, "distilled by the artist's vision. The human eye evolved immersed in nature, deciphering its profuse tangle – interpreting, exploring, mapping and learning its every detail. We have gotten so far removed from this that it is my sincere intent to be a link between my audience and that ancient lost world. I am extremely fortunate to live in the great state of Maine, where nature and inspiration dwell in practically ever corner and turn.
"I would like to say I am an artist by profession," continues Keown, "although if I had to live by selling my work alone, I couldn't at this point! But I keep trying by entering competitions and selling my work at local venues. I've worked in various professions, the most recent of which, before moving to Maine, was tech support."
Regarding her winning Fair design, "I came up with the idea for a red barn the first year I entered the poster contest, in 2005. After looking at all the wonderful designs over the years, I noticed that a barn was not among them, which I feel is an important symbol of Maine agriculture. I used a combination of tempera and acrylic paints and India ink for my design."
When she isn't working on her art, Keown volunteers in the MOFGA office during the year when help is needed, and she and her family are enthusiastic about the organization. "MOFGA is one of the most important organizations we can support; I can't stress that enough. The work they've been doing over the years has positioned them to be at the forefront of the local food and sustainability revolution. Maine is an ideal state for local agriculture to flourish, but it needs to flourish in all 50 states and the rest of the world as well. It is an honor for me to have my work be a part of MOFGA's mission."