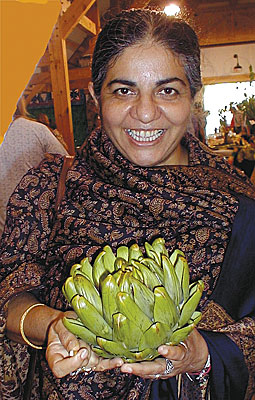 Vandana Shiva was enthralled with the diversity of crops, especially of beans, in the Exhibition Hall when she attended Common Ground in 2001. Martha Gottlieb took this wonderful photo of Shiva with an artichoke.
By CR Lawn
Martha Gottlieb, for 25 years the inspiration of the Common Ground Country Fair's Exhibition Hall, calls Fair days "the absolute high point of my year" and conversations among the young growers around the variety displays and seed swaps as "its most glorious moments." Gottlieb championed such varieties as 'Hogheart' and 'Pineapple' tomatoes, French heirloom pumpkin 'Musque de Provence', Australian cucumber 'Richmond Green Apple', and overwintering European peasant root vegetable skirret when all were virtually unknown.
In 2001 when Vandana Shiva came to the Fair, Gottlieb enticed her into the Hall by promising to show her something different. That something was skirret, and it was the first time Shiva had ever seen or eaten it. Gottlieb missed Shiva's riveting keynote speech ("God Bless the Earth," https://www.mofga.org/Publications/MaineOrganicFarmerGardener/Winter0102/VandanaShiva/tabid/1650/Default.aspx) because Shiva became so enthralled with the wealth of bean varieties on display that she asked for seeds for about a dozen, including 'Kala Chana', a black garbanzo that was being exhibited for the first time. Gottlieb spent the keynote hour getting permission from bean exhibitors to share their bounty with Shiva.
The Exhibition Hall has been a showplace of diversity. Who could forget the hundreds of heirloom beans exhibited by Herbert "Sam" Birch? Or Will Bonsall's 2011 presentation of hull-less pumpkin varieties from Europe, including 'Styrian', 'Gribunskaja' and 'Gleisdorfer'? Or Zephyr Hill's amazing dried corns in 2010, including 'Floriani', which created a sensation in the Fedco and Southern Exposure catalogs? Or Roy and Ana Antaki's spectacular plate of eggplants in 2007? Or Heron Breen's year-saving array of heirloom squashes from Fedco's trials in 2009, despite enduring the worst growing season in 40 years? Or, more recently, Amy LeBlanc's electric display of oriental peppers, most from Kitazawa Seed Co.?
These displays literally bring food from the world to Maine. From the Estonian 'Ounakollane' rutabaga (2003 by Adam Tomash and June Zellers, from Will Bonsall) to red pointy Bulgarian roasting pepper 'Churvena Chushka' (also by Zellers and Tomash, 2008) to 3-foot-long Japanese cucumber 'Nippon Sanjaku Kiuri' (Ryan Parker, 2013). From the purple-striped, white-fleshed Italian heirloom 'Antigua' eggplant (2006 by Clayton Carter) to deep orange ribbed and warted traditional early 1800s Kyoto region squash 'Shishigatani' (2006, exhibitor unknown). From Australian keeper squash 'Triamble' to Italian cherry-bomb pepper 'Bacio di Satana' (Amy LeBlanc, 2013). And beans: 'Mrociumere' (Birch, 2005 from Kenya), 'Bjelovar Beauty' (Birch, 2010, Croatia) and 'Maragwe Ogando' (Birch 2002 and 2010, origin unknown). And not forgetting Martynia, aka Devil's Claw, from the Caribbean, the small green fruits eaten when young, like okra (LeBlanc, 2000), or 'Fig Leaf' gourd, aka 'Ficifolia Angel's Hair' squash, said to originate in Peru and proven by LeBlanc to have a three-year storage life (LeBlanc, 2011, '12 and '13).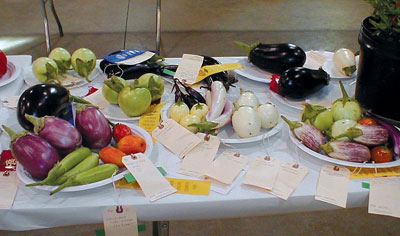 Ana and Roy Antaki entered this display of eggplant diversity in 2003. Photo by Martha Gottlieb.
I have compiled these from 19 years of notebooks from walking the Hall since 1987. Admittedly, most entries are less exotic. Viewing the preponderance of Fedco varieties, I have mixed feelings: pride for what we've accomplished, particular appreciation for those exemplary specimens that express full varietal potential, but some frustration that I don't see even more diversity. My role here has always been as one of Fedco's bird-dogs. Like the baseball scouts of yore who scoured the sandlots for young prospects, I've searched the Hall for likely Fedco prospects with some success. At least 38 varieties that we first saw here later made it into our catalogs, half or more as a direct result of evaluating them, chatting with their exhibitors, and cajoling a taste or a fruit or some seeds. At least two more possibly wait in the wings: the deliciously complex 'Montreal Market' melon (2006, exhibitor unknown) and the silky-textured early green tomato 'Emerald Evergreen' (2012 by Claudette Nadeau), plus several others still to be trialed. A particularly vintage year, 1988 contributed the 'Hog Heart' tomato, 'Long Pie' pumpkin (John Navazio), 'Sweet Mama' hybrid squash, 'Cream of Saskatchewan' melon (Mark Fulford), and two onions and a cherry tomato, since dropped.
The number of Hall entrants has been remarkably consistent, ranging recently from 154 to 162. The number of entries, unsurprisingly, has fluctuated more, in direct relation to the quality of the growing seasons. The two best recent seasons, 2010 and 2012, garnered the most, 30 percent more in 2010 (1,444) than in sub-par 2013 (1,094).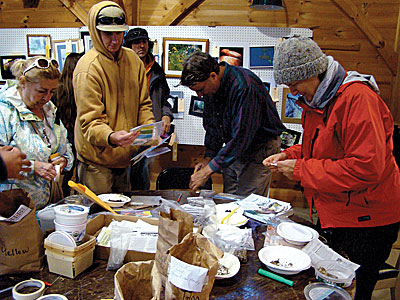 The seed swap table in the Exhibition Hall holds more each year. Here it is in 2013. Photo by Martha Gottlieb.
How to lure more participants? How many times have I heard someone point to an exhibit and remark, "Mine were better than that. I should have brought them." Indeed. Besides, exhibiting in the Hall unlocks the Fair's best secret: Those who bring entries are among the few who get to "attend" the Fair before it officially opens. No crowds, little traffic, no tickets, vehicles allowed on the grounds, plus unrivaled opportunities to schmooze unhurriedly with fellow growers coming into the Hall strutting their stuff. This is where the real learning takes place.
If you get brave and enter, what are your chances for a blue ribbon? Over the past six years, the 7,147 entries have won 3,519 blue ribbons. I have worked both sides of the aisle, at first solely as an exhibitor, after 2009 only as a judge, for the few years just prior to '09, both. I confess that those years I exhibited the most, I rarely achieved the 49 percent blue ribbon average and was occasionally baffled by the judging. It took me years to figure out why my gorgeous leeks won only red ribbons at best. The judges wanted me to blanch them and I never did. More recently, Exhibition Hall co-coordinators Amy LeBlanc and Matthew Dubois have successfully encouraged judges to share their criteria by writing notes on entry slips, be they effusive praise, bad jokes about variety names (from me!), or hints for transforming that red ribbon into a blue next time.
Even with entrants remaining constant, has diversity increased? Janet Winslow, another co-coordinator, thinks "yes, inch by inch," and Dubois agrees. Winslow calls unusual displays, such as the husk cherries and 'Mexican Sour Gherkin' cucumbers, "gateway crops" that command interest. She suggests offering more casual tasting opportunities, perhaps on a designated table, or encouraging people to "grow a few interesting things in containers." Dubois thinks the Hall team should publish where some of the more fascinating varieties come from.
Whither the Hall? Gottlieb and LeBlanc both point to the seed swap, former co-coordinator Adam Tomash's inspiration around five years ago, which has "gradually taken on a life of its own" to become a self-sustaining success, "the genesis of a seed library" where growers bring their own seeds to share.
The extremely rich, technically accurate seed-saving display/tutorial that LeBlanc created this year after consulting with Bonsall and Fedco seed grower Roberta Bailey exemplifies one such direction that could be augmented by live demonstrations, such as fermenting and decanting tomato seed. Tom Levesque has offered to bring and perhaps demonstrate seed cleaning equipment from Fedco. Under Amy LeBlanc's visionary leadership this past decade, creative opportunities have abounded. "The smartest thing I ever did was give her the job," says Gottlieb.
Here is the list of the star exhibitors:
Herbert "Sam" Birch,  Coopers Mills
Heron Breen, St. Albans
Roberta Bailey, Vassalboro
Adam Tomash and June Zellers, W. Gardiner
Rosey Guest, Jefferson
Martha Gottlieb, N. Whitefield
Steve Barr and Martha Leggat, N. Yarmouth
Will Bonsall, Industry
Amy LeBlanc, E. Wilton
Matt Dubois, Portland
Val Jackson, Washington (also a Hall co-coordinator)
Sharon Turner, Washington
Claudette Nadeau, Montville (also a Hall co-coordinator)
Peter Curra, Knox
Anne Warner, Dixmont
Holli Cederholm, Washington
Tom Vigue, Sidney
Mary Yurlina, Hampden
Maine has two of the best school garden seed programs in the country, and both have been frequent exhibitors. Neil Lash of Medomak Valley High School in Waldoboro and Jon Thurston of Troy Howard Middle School in Belfast coordinate these programs.
About the author: CR Lawn is president of Fedco Seeds. He gives a "Tour of the Tables" in the Exhibition Hall each year at the Common Ground Country Fair.