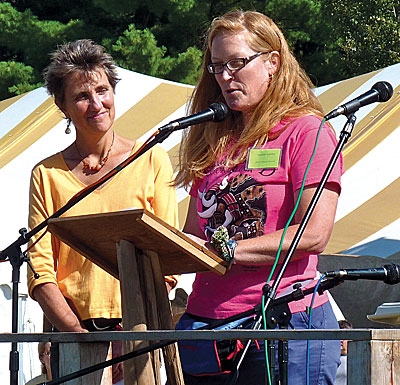 Heather Spalding, MOFGA's deputy directory, introduced Deb Soule at the 2013 Fair. Soule talked about the contributions women have made to organic agriculture. English photo.
Deb Soule is an herbalist, biodynamic gardener, teacher and author of the newly released book How To Move Like a Gardener: Planting and Preparing Medicines from Plants. In 1985 she founded the herbal apothecary Avena Botanicals. Avena has been certified as an organic farm by MOFGA for 29 years. Soule gave this keynote speech at the Common Ground Country Fair on Sept. 21, 2013.
Let's begin celebrating women by offering a great round of applause for Heather [Spalding], a magnificent woman who works so hard on behalf of farmers and gardeners here in Maine and beyond. Thank you Heather for the spirit and dedication you bring to your work.
As a woman farmer, I am inspired by many women farmers and gardeners, both locally and globally, and I am grateful to have been born and raised here in Maine, a state where organic farming is supported.
I want to acknowledge all of MOFGA's staff for their work – more than half are women. Read about the staff on MOFGA's website. I want to honor our Fair coordinator, April Boucher, who works closely with our Fair director, Jim Ahearne; Marilyn Wentworth, one of the first people to conceive of MOFGA; Abbie McMillen, who is said to be the "birth mother" of MOFGA; Jean English, long-time editor of MOFGA's paper; Pam Bell and Roberta Bailey, long-time writers for MOFGA's paper; Toki Oshima, wonderful artist for the paper; Janice Clark, MOFGA's bookkeeper for over 20 years; Pam Prodan, designer of MOFGA's apple tree logo; Rosey Guest, long-time [volunteer] apprenticeship coordinator; Nancy Rosalie, an amazing, devoted MOFGA volunteer; and Sharon Tisher, who served as president for MOFGA's board, has done lots of public policy work on behalf of farmers in Maine, and of late was instrumental in helping the passage of the GMO labeling bill in Maine.
Roberta Horn with her partner Ken had the first MOFGA certified organic farm. Jill Agnew started the first CSA in Maine. Karen Volckhausen and her partner, Paul, started the MOFGA-El Salvador Sistering Committee, a project connecting with farmers in El Salvador. This committee brought Juvelina Palma from El Salvador in 2003. She gave the first ever Common Ground Fair keynote in Spanish.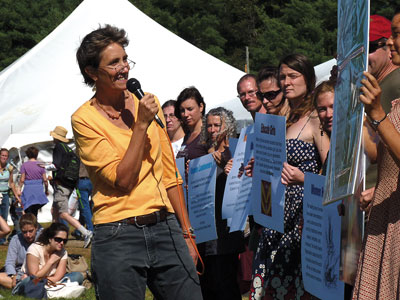 Staff from Avena Botanicals held posters depicting women's work with agriculture during Soule's keynote speech. English photo.
Much appreciation to all the Fair volunteers who help make this Fair happen, and to all of you who are farming and gardening.
I want to begin this keynote tenderly, by acknowledging that this is the first Common Ground Fair that we are here without Russell Libby in person. On Thursday Heather took me to Russell's poetry grove and tears filled my eyes. The grove is truly a special place in honor of a special person.
I have felt Russell's absence for months, an ache in my own heart for a man I knew and admired for over 25 years, a person who dedicated his adult life to ensuring that organic and sustainable farming in Maine and nationwide would be able to flourish.
Russell deeply cared for his wife, Mary Anne, and their daughters, Rosa, Maisie and Anna. I dedicate this talk to these four women and to women around the world who love and tend the earth.
In Russell's honor I want to read a three-line poem he wrote titled Spring:
My shelf is bulging with seed catalogs
and all I can see ahead is
abundance.
Abundance … I like the way this word rolls off my tongue and feels in my bones.
Poet Marge Piercy, in her poem titled The Sabbath of Mutual Respect, calls the goddess of abundance Habondia.
Native American Herbalist Karyn Sanders from the Choctaw Nation says, "When you eat, eat deeply and joyfully, so you can sustain those who do not have food right now."
Growing Food and Herbs and Eating are Sacred Acts.
In doing some research, I found that the first recorded agriculture in Maine occurred between 1400 – 1500 and was the growing of corn, beans and squash by Native Americans from the Saco River region up to the Kennebec River.
I have asked my friend Jennifer Neptune, a gifted basket maker from the Penobscot Nation, to come up and join me as I acknowledge and honor First Nation people and their basket makers.
In the spirit of healing I asked Jennifer to make a basket for this celebration of women. I invite everyone to write the name of a woman you want to honor on a piece of paper and place it in this basket. This basket will be at Avena Botanicals' booth all weekend. Jennifer and I will then create a special bundle with all the pieces of paper that have been placed in this basket.
Jennifer wrote in an essay entitled Spirit of the Basket Tree: "…baskets have played an important role in the lives of the Wabanaki. The baskets reveal not only the spirit of the basket tree but also the spirit of the people – our resistance to assimilation, our creativity, our hopes, our sovereignty and strength."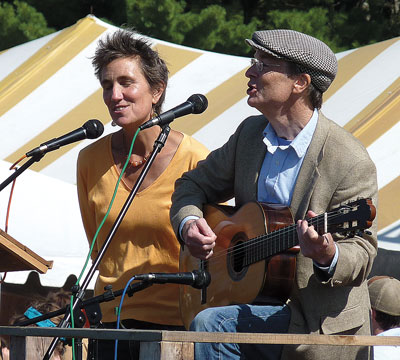 To honor writer Terry Tempest Williams and women around the world who sing while working, Soule and Malcolm Brooks sang Soule's song, "Mourning Doves Don't Sing."
Thank you Jennifer. Please visit the Native American tent to purchase baskets and learn more.
There is no way I can know or name the thousands of women in Maine and New England, and the millions of women globally who are changing the face of agriculture.
We do not have to look far to find women who are dedicated to feeding, serving and healing their communities, tending soil, plants, pollinators and animals in earth-friendly ways and offering information, inspiration and leadership.
First, I want to remember Rachel Carson, author of Silent Spring, who spent her summers in Maine. In 1962 Rachel wrote: "Honeybees and wild bees depend heavily on such weeds as goldenrod, mustard and dandelions for pollen that serves as the food of their young … Such plants are weeds only to those who make a business of selling and applying chemicals."
I want to name some of the women from Maine who have inspired me and other people I know.
Helen Nearing, Mary Bok, Beedy Parker, Chellie Pingree (started MOFGA's apprenticeship program), Liz Lauer, Sue Szwed, Donna Kausen, Geri Valentine, Roberta Bailey, Jean English, Bambi Jones, Jo Barrett, Cynthia Thayer, Cathy Webb, Sandy Chipman, Barbara Eggert, Joan Lipfert, Bonnie Rukin, Nancy Ross, Susan Pierce, Paula Roberts, Rebecca Stanley, Sue Sergeant, Missy Hatch, Selkie O'Mira, Polly Shyka, Mary Ann Shyka, Miriam Devlin, Nancy Earls, Katey Branch, Molly Birdsall and all the Wednesday Spinners, Caitlin Hunter, Lauren Pignotello, Beth Schiller, Lucretia Woodruff, Paula Fulford, Janet Edwards, Gail Faith Edwards, Kathi Langelier, Andrea Smith, Susan Watson, Mary Perry, Tracey Wilkerson, Natalie Bragg, Amy LeBlanc, Mary Betts, Kim Roos, Aimee Good, Adrienne Lee, Lauren Cormier, Emily Lowe, Lauren Errickson, Jen Glick, Nel Finnigan, Stacy Leafsong, and Julia Yelton (and her partner, Charles), who brought permaculture to Maine.
Every day I am inspired by the staff whom I farm and work with: Ellie Sherman, Lindsey Bagley, Jen Morton, Pettina Harden, Bob Harden, Jillian Kelsey-Rose, Leslie MacDonald, Sean Chung, Tanya Rudy, Amanda Downer, Catherine Holmberg and Jennifer Leavitt.
And beyond Maine, women who inspire me include Sister Miriam MacGillis, director of Genesis Farm in New Jersey, a biodynamic farm, CSA and educational center; Eli Rogosa, working with ancient Einkorn grain in Massachusetts; Elizabeth Henderson of Peacework Organic Farm in New York and the late Robyn Van En, who helped initiate the CSA movement in the United States.
I want to thank Frances Moore Lappé, author of the classic book Diet for a Small Planet, and her daughter, Anna Lappé, author of Diet for a Hot Planet; Wendy Johnson, author of Gardening at the Dragon's Gate; Janisse Ray, author of The Seed Underground: A Growing Revolution to Save Food; French Canadian biodynamic gardener and herbalist Daniele Laberge and herbalist and author Juliette de Bairacli Levy.
As a woman, I want to understand the challenges women face around the world. One of the authors I often refer to is Vandana Shiva. Many of you may remember Vandana Shiva gave the keynote address here at the Fair in September 2001. In her writing and lectures, Vandana describes the connections between globalization, ecological crises, colonialism and the oppression of women in stunningly honest ways. In her book Staying Alive: Women, Ecology and Development, first published in 1988, Vandana writes:
Women farmers in the Third World are predominantly small farmers. They provide the basis of food security, and they provide food security in partnership with other species. This partnership between women and biodiversity has kept the world fed throughout history, is doing so in the current moment, and will continue to feed the world in the future. It is this partnership that needs to be preserved and promoted to ensure food security.
Agriculture based on diversity, decentralization, and improving small farm productivity through ecological methods is a women-centered, nature-friendly agriculture. In this agriculture, knowledge is shared – other species and plants are kin, not "property" – and sustainability is based on the renewal of the earth's fertility and the renewal and regeneration of biodiversity and species richness on farms.
There is no place for monocultures of genetically engineered crops … When this technology was introduced into the Third World farming systems it led to an increased use of agrochemicals, thus increasing environmental problems. It also destroyed the biodiversity that is the sustenance and livelihood base of rural women: what are weeds for Monsanto are food, fodder, and medicine for Third World women.
I want to mention two organizations located in Maine doing good work on behalf of supporting small farmers: Cultivating Community and Sustainable Harvest International.
Cultivating Community is based in Portland, and one of their programs is called the New American Sustainable Agricultural Project (NASAP), working with several of the Somalian Bantu farmers, many of them women, who are now living in Maine.
In 2011, filmmaker Amy Brown released a documentary titled "There Is My Home" about two Somali Bantu farmers, Hawa Ibrahim and Batula Ismail, now living in Lewiston and working with Cultivating Community.
Another great organization, Sustainable Harvest International (SHI), whose main office is located in Ellsworth, was founded in 1997 by returned Peace Corps volunteer Florence Reed. The mission of SHI is to provide farming families in Central America with the training and tools to preserve our planet's tropical forests while overcoming poverty. I recently spoke with Florence Reed over the phone. She emailed me some letters written by women that SHI is working with. I wish I could read them all but here is one:
My name is Elida Ariel Choc. I am 16 years old and I live with my family in Dolores, Belize. For and on behalf of my family I would like to take this opportunity to thank Sustainable Harvest International for the assistance they are providing me. My family and I have a successful organic garden, as well as a mobile chicken tractor. In my garden are onions, sweet potato, tomato, banana, cassava, carrots, chili pepper, corn and cilantro.

I recently attended an organic certification and marketing training in Dolores. There they motivated me to plant more vegetables because they have a secure market. Garden tools that I have received are rake, hoe, spade and mattock. I will continue to work hard because my parents didn't have money to send me to high school, but with the money from the garden, my little brothers and sister can go to high school.
Another group I am inspired by is the Women's Earth Alliance who partners with community-based organizations globally on issues of water, food, land and climate change by providing women with trainings, resources and advocacy support.
A friend living in suburbia recently said: "I am farming my front yard." Let's celebrate the urban folks who are turning empty lots and lawns into food forests and beautiful gardens.
Anjali Appadurai, a recent graduate from College of the Atlantic in Bar Harbor, spoke on behalf of the young people at the Climate Change conference in Durban, South Africa, 2011. Her monumental speech ended with the chant, "GET IT DONE." In her address Anjali said, "What is radical is to write off the fact that change is within our reach."
I asked the staff I work with at Avena Botanicals to come forward with different posters that illustrate information about women here in the United States and in other parts of the world. My intention with these posters is to broaden our understanding of some of the successes and challenges women face, especially in other parts of the world.
As I near the end of this talk, I want to say something that is true for me as a medicinal herb grower. I consider weeding to be a sacred act. I know other gardeners who say the same.
Weeding brings us to our knees, close to the earth,
soil under our nails,
seeds in our hair …
What more sacred is there but to be present, fully present in heart, body, mind and spirit with the Earth.
Earth   Air  Fire  Water
These four elements are foundational for life on Earth to flourish.
Healers around the world know this. Women who work the land carry this knowing in our bones, hearts and hands.
My favorite writer, Terry Tempest Willliams, writes in her book When Women Were Birds, "Once upon a time, when women were birds, there was the simple understanding that to sing at dawn and to sing at dusk was to heal the world through joy. The birds still remember what we have forgotten, that the world is meant to be celebrated."
In honor of Terry's words and the songs women around the world sing while working in the fields, I will end with a song about a bird in my garden. This song is a true story.
I recently wrote it with my friend Malcolm Brooks, who will join me in singing. It is called "Mourning Doves Don't Sing," and the chorus goes …
Mourning Doves don't sing … they coo
Cooing and reminding me
That the veil between
Birds and women is thin.