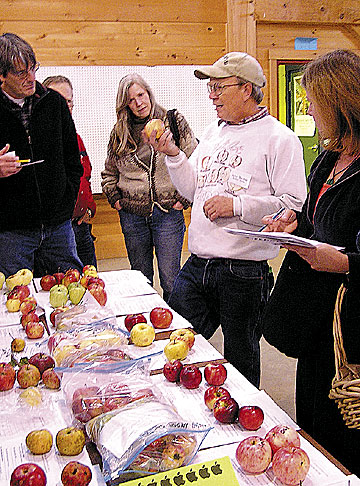 For many years, John Bunker has identified and described the wealth of Maine's apple varieties at the Great Maine Apple Day (Saturday, Oct. 24, this year, at MOFGA's Common Ground Education Center). Recently, demonstrations of the best ways to cook with different apple varieties have added even more flavor to the event. English photo.
By Cheryl Wixson
The Great Maine Apple Day – to be held on Saturday, Oct. 24, this year – is one of my favorite events at MOFGA's Common Ground Education Center in Unity. I love the sweet aromas of apples that envelop me early in the morning when I first enter the kitchen. The Exhibition Hall is bustling as tables are set, lined with hundreds of brightly decked out apples. Blue Pearman, Russets, Gravenstein, Baldwin, Winter Banana, Pound Sweet, Translucent … My taste buds quiver, eagerly anticipating learning the ins and outs of a new apple.
Apples were an important component of our New England ancestors' diversified farms and were a constant theme in early Maine cooking. Stored in barrels in the cellar, apples were dried, fried, roasted, baked, eaten out of hand, cooked – into preserves, chutneys, almost any way you could imagine. Apples were boiled down for a molasses-type sweetener, fed to livestock, put into vinegar, and most importantly, made into cider. The frugal and practical homesteading family would manage its orchard and root cellar to provide apples from July until June of the next year.
With the assistance of John Bunker, cooking with some of these older varieties of apples is now part of the Great Maine Apple Day. This is a wonderful opportunity to cultivate one's taste buds, while learning what types of apples are best suited for certain culinary purposes.
Starting with Pie
Our first year, workshop participants made several versions of apple pie, using such varieties as Wolf River, Belle de Boskeep, Wagner and Twenty Ounce.
Specific recipes for a Maine apple pie were often passed down from each generation, and few were recorded and published. My mother, Rowena Palmer, is our family's reigning premier pie-maker. Since our tribe has practiced some sort of farming on a land grant from the King in the Norway lake area for 11 generations, I asked her to share her thoughts on apple pie.
"I use Grammie Young's recipe," she said. "It probably dates back to the turn of the century [early 1900s]. She always used lard, rendered from our own pigs. The lard was stored in the cupboard, right next to the flour barrel… cooler than room temperature, but warmer than the ice-box.
"The ratio is 1/3 cup of lard for each cup of flour. Pastry for a two-crust pie is 3 cups of flour, a cup of lard, dash of salt and cold water."
Using your fingers, a pastry blender or two knives, work the fat lightly and quickly into the salted flour until it resembles a coarse meal. Do not overwork it. Sprinkle water over the flour by tablespoons, stirring with a fork until just enough has been added so that you can pat the dough lightly into a ball. Handle the dough as little as possible and do not knead it. You may chill the dough at this point while prepping the apples.
Make apple pie filling by paring, peeling (if you like) and slicing apples to fill your pie plate heaping full. Turn the slices into a bowl to sweeten and season. In my great grandmother's day, a combination of white and brown sugar, cinnamon and nutmeg would flavor the pie. In our workshop, pie varieties were also sweetened with maple syrup, honey and molasses.
To assemble the pie, press one piece of dough into a circle and roll it out to fit your pie plate with about 1/2-inch overhang. Fill the shell with the sweetened and seasoned apples, and dot the top with butter. Roll out the second piece of dough and lay it over the fruit. Bring the edges of the lower crust up and flute the crust around the edge of the pie. Make a slit in the top for the steam to escape. Brush the top of the pie with milk. Bake the pie at 425 F for about 40 minutes. Reduce the heat to 325 and bake about 20 minutes longer. You will know when the pie is done as it usually runs all over the oven!
We learned that good pie apples tend to be tart and should gain flavor and hold their shape while cooking. Classic early fall pie apples also include Duchess, Wealthy and Gravenstein.
Pies are not just for dessert. In her book Cooking Down East, Marjorie Standish writes that "come fall, there were barrels of apples in the cellar, a mound of pumpkins, jars of mincemeat … In the wintertime, pies were baked in quantity on Saturday and placed in the back pantry. What if they did freeze, they were warmed up on the back of the old black cookstove. The surplus is probably the reason we had pie for breakfast!"
Beyond Pie
At last year's workshop, old-time apple recipes were paired with heirloom apples. Our workshop chefs turned out batches of Apple Brown Betty, Apple Carrot Muffins, Apple Fritters, Dutch Apple Cake and Fried Apples while tasting apples such as Black Oxfords, Snow, Tolman Sweet, Belle de Boskeep, Liberty and Honey Gold. We learned that "sweet" apples, such as Tolman Sweet, Pound Sweet, Summer Sweeting and Washington Sweet, are not eating apples but cooking apples. According to Bunker in his book Not Far From the Tree, "… sweet apples lack the acidity that we usually equate with a good, fresh-eating apple … Cooking changes the flavor quite radically." We agreed with Bunker that "sweet" apples became more delicious when cooked.
Trying new recipes with the different varieties of apples is like sampling your way through a candy store, but more fun. The many apple recipes reflect the importance of the apple in our early cuisine, not just as a dessert or snack, but often as a large part of the meal.
This year, our Apple Day cooking workshop will again feature several varieties of heirloom Maine apples and "pies" from around the world. Tarte Tartin, Bavarian Apple Torte, Indian Apple Pudding, Apple Pizza, Apple Crumb Pie and Apple Danish – join us in the Common Kitchen to sharpen your taste buds, hone your culinary skills, and enjoy the fruits of our farmers' labor. Until then, here's a recipe:
Fried Apples
Fried apples were a supper dish on the farm. This was different from applesauce, as the apples were not pared. Fried apples were often served with pork chops or roast pork. They are equally delicious with duck or goose, baked beans or venison. The variety of apple makes a difference here; choose one that will hold its shape when cooked.
2 small slices salt pork or 3 Tbsp. butter
6 large tart apples, unpared
3 Tbsp. sugar or maple syrup
sprinkling of sea salt
"Try-out" the salt pork. Cook the pork in a heavy frying pan until the fat has been rendered. Remove the pork scraps. Wash and core the apples. Slice each apple crosswise into pieces or rings about 1/4-inch thick. Add the apple slices to the hot fat, turning with a wide spatula. When the apples are slightly soft, cover the pan and cook for five minutes. Add the sugar or maple syrup and turn again. If the apples become too dry, add some water. The apples should hold their shape and be cooked.
Transfer to a serving platter and sprinkle with salt to taste. Serve at room temperature.
About the author: Cheryl Wixson is MOFGA's resident chef and organic marketing consultant. She and her husband forage for apples on the their home island of Deer Isle. She welcomes your comments and questions at 207-367-5003 or [email protected].