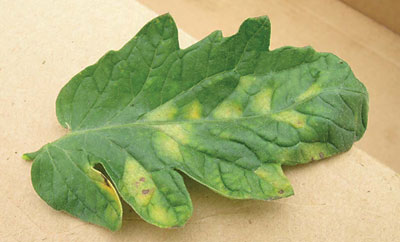 Leaf mold (Fulvia fulva) is a common problem in high tunnels due to high humidity and warm temperatures. Eric Sideman photos.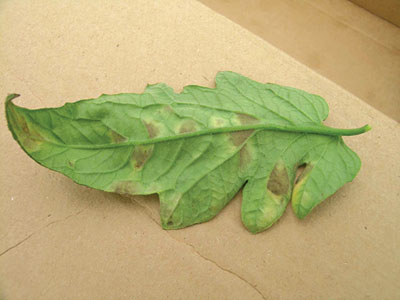 By Eric Sideman, Ph.D.
Now and then MOFGA organizes "Growers' Meetings," and this year we had a meeting about growing tomatoes in high tunnels. These meetings differ from most other educational events that MOFGA hosts as they are specific to a certain crop and are by invitation only. The aim is to offer a time when experienced growers of particular crops can raise issues for discussion and exchange solutions with each other. Past meetings have addressed wild blueberries, strawberries, winter greens and tomatoes. We often hold these meetings during the growing season of the crop so that we can meet at a farm and see the production system there.
This year we teamed up with and met at the research farm of Johnny's Selected Seeds. The company researches and trials tomatoes, so we were able to see what was happening there and what was new.
We chose this crop because more and more tomatoes are being moved inside as the word of success and profitability spreads. In fact, many of the growers at the meeting said they do not grow field tomatoes at all anymore. The success in tunnels relates to the susceptibility of outdoor-grown tomatoes to many specific diseases, which tomatoes in high tunnels avoid.
However, as experienced growers of high tunnel tomatoes will tell you, tomato diseases are not absent there. Rather, the names of the characters simply change.
For example, early blight and Septoria leaf spot – the two most common problems with field tomatoes – are rare in tunnel production. Leaf mold, on the other hand, is a problem, because, while leaf wetness due to rain is eliminated in a tunnel, humidity and condensation are more problematic. Generally, growing in a tunnel minimizes leaf wetness, but periodically it sure is damp, and leaf mold loves that. The best way to manage leaf mold is to grow resistant varieties, such as 'Geronimo'. In addition, many growers graft these varieties to vigorous rootstock, which vastly increases production.
The success of high tunnel tomatoes also results from the increased ability to manage the environment, including temperature, water, fertility and air movement. In discussing fertility strategies, farmers at the meeting this year concluded that growing tomatoes in soil in a high tunnel differs from growing hydroponic greenhouse tomatoes. Hydroponic systems bathe crops in a nutrient solution continuously, so getting the right concentrations of nutrients at the right time is easy. Getting it right in soil in a tunnel is much more challenging – even more so than working with field soil. Tomatoes growing in tunnels produce vastly more than in a field (with a total of 10 to 20 pounds of fruit per plant in tunnels) so the demand for minerals from the soil is vast too. Most growers are front loading the system with natural sources of minerals (e.g., soybean meal, alfalfa meal, bone char, etc.). Still they find that production eventually wanes. Some growers sidedress midseason; others harvest from additional tunnels planted later.
Maintaining fertility is another reason many high tunnel tomato growers graft onto rootstocks. These vigorous rootstocks take up nutrients from the soil so well that growers often prune plants to two leaders rather than one to achieve an appropriate root-to-shoot balance. Some growers find that with one leader, the plant becomes too vegetative and has less reproductive growth.
The growers repeatedly brought the conversation back to grafting tomatoes. All agreed on the benefits – increased vigor, added disease resistance, etc. – which leads to improved crop health and an extended harvest season. On the other hand, grafting is very risky because rootstock seeds are expensive and success takes a great deal of skill. Some growers simply buy grafted plants; others plug along with ungrafted plants.
The other topic of concern was irrigation. Growers described a great deal of variation in watering schedules. Some have a set schedule, such as twice a week for two to three hours, or one to two hours every third day. Others feel the soil and have a flexible schedule based on their determination. Some owned tensiometers, but none of the growers at the meeting actually used them. They concluded that everyone has different soils and has to figure out his or her own system based on his or her conditions.
Actually, that was the conclusion everyone went home with for all the growers' meetings topics, but we all were richer and had more knowledge upon which to base decisions. We all thanked the folks at Johnny's and headed back to the farm.