By David McDaniel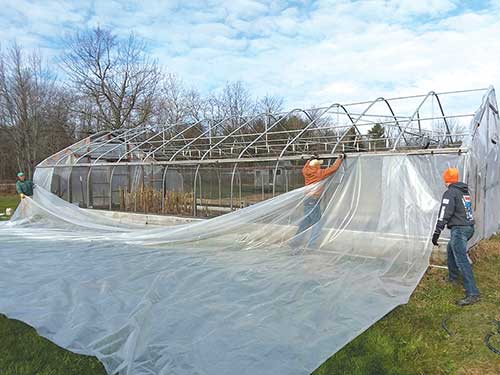 Rick Kersbergen, Paul Gallione and Sam MacDonald remove plastic from a greenhouse at Moosehead Trail Farm in Waldo. Thanks to a new program, they'll be able to recycle the plastic. Photo by David McDaniel.
Beginning in the spring of 2020, farmers and gardeners will be able to recycle their waste greenhouse and high tunnel plastic at MOFGA's Common Ground Education Center in Unity, Maine.
The planned drop-off location for greenhouse plastic is the red barn below the iconic wind turbine in MOFGA's south parking lot on Crosby Brook Road.
You do not have to pay a fee to participate in this new program, but you must preregister online and label your plastic bundles.
MOFGA's initiative is part of a larger statewide pilot greenhouse plastic recycling program developed by the University of Maine Cooperative Extension and funded by a Maine Department of Environmental Protection Waste Diversion Grant. MOFGA is a partner in the grant, with Caleb Goossen, MOFGA's organic crop and conservation specialist, serving as one of the primary investigators on the grant.
Goossen observed, "I know that dealing with plastic waste is one of the aspects of modern farming that a lot of farmers dislike the most. Very few, if any, agricultural plastics are accepted for recycling because of costs associated with cleaning them. Greenhouse plastic is one of the best places to start because it's usually clean, being so far from the ground. Hopefully this recycling project is just the first step forward in reducing agricultural plastic waste!"
Don Pendleton, MOFGA's building and grounds assistant, is equally excited about the new grant. Pendleton was one of the original members of the University Extension's Ag Plastic Recycling Committee and a cheerleader of the project. He has been working with Jason Tessier, MOFGA's buildings and grounds director, to incorporate the greenhouse plastic recycling project into MOFGA's educational outreach efforts. Pendleton's passion is evident: "We want to be the grant's first drop-off site to open in the spring and the last to close in the fall. I would like it to be open 24/7 to serve not only MOFGA members but as a showcase for the greater farming and gardening community."
All owners and operators of Maine greenhouses, high tunnels and other plastic-covered ag structures are eligible to participate. The material collected must be low-density polyethylene #4 (LDPE#4) greenhouse agricultural plastic and must be relatively clean and dry at the time it is dropped off.
In addition to MOFGA's Unity location, the project will have convenient drop-off sites throughout Maine, including FEDCO Organic Growers Supply in Clinton, many University Extension offices, UMaine experiment farms and a number of private nurseries. Locations, hours and dates of operation will be posted online. Collection at most locations will run from April or May through November or December.
For more information about the greenhouse plastic recycling program, please contact program manager David McDaniel at [email protected] or 207-342-5971 (UMaine Extension Waldo County Office) or visit https://extension.umaine.edu/agriculture/greenhouse-plastic-recycling/.