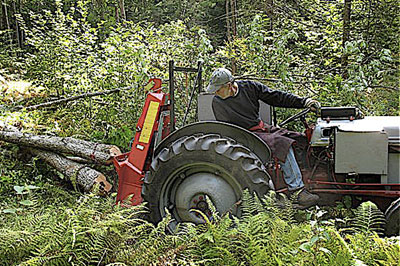 John Howe's firewood cutting operation is entirely solar powered, from the sun that grows the trees to the tractors that move the trees and firewood, to the solar panels on the golf cart that power the chainsaw. Debbie Howe photos.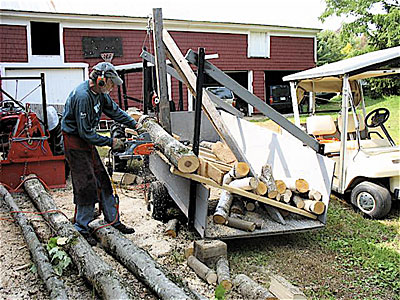 by Joyce White

John Howe's solar-powered firewood operation is unique in using the sun directly for the energy required to convert trees into firewood. As far as he knows, it's one-of-a-kind.

So on a sunny, late-September morning, he explained and demonstrated how and why it works. The world's energy supply is rapidly being depleted, and he expects 90% of the existing, finite supply to be exhausted "in one more lifetime."

So, Howe says, we need to go back to the primary source of energy, the sun. "The sun created natural gas, coal and oil over millions of years, and we're using it up in two lifetimes." The best way he sees for us to make use of that primary source is photovoltaic panels.

Since keeping warm is one of the major issues we'll always need to address, Howe believes it makes sense to have a system in place now that does not depend on fossil energy, especially liquid fossil fuels.

Key to his solar-powered firewood operation is his golf cart, powered by two standard 24-volt, 175-watt panels connected in series to provide 6-Amp input in sunlight. The on-board, 2500-watt 120 VAC inverter makes this vehicle a mobile power source. When parked in direct sunlight, almost enough energy is created directly from the sun to continuously operate – fell, cut to length, split – a quiet, non-polluting firewood operation.

Of course, the sun-powered golf cart has many other uses around the farm. With a top speed of 15 mph, it can move a farmer from home to field to woodlot as well as power conventional tools and lights. With a small trailer, it can move bales of hay or garden produce, for example. It can power the house in case of a power outage.

A good, used, 48-volt golf cart, he says, will cost between $1000 and $2000, plus $1500 for two 150- to 175-watt solar panels. A cart usually comes with batteries and a plug-in battery charger for use with a standard utility grid.

Howe drove the golf cart to the woodlot, where a 60-year-old converted electric Ford 8N tractor was waiting to winch felled trees to the working area beside the woodshed. He says the 1948 tractor is "the fourth in a series of test vehicles built to explore the viability of using self-produced electrical energy for agriculture and transportation in a post-fossil-fuel, sustainable future."

The 8N is a powerful tractor weighing 3700 pounds with its battery pack of 10 DEKA 9c 12-volt industrial batteries weighing 128 pounds each and rated for two hours at 75 Amps – equivalent to 12 horsepower. Four batteries are mounted over the offset left rear wheel, with the rest on the front.

This tractor will power any standard CAT.I three-point hitch implement, even a PTO-driven baler. The used tractor cost $2000 plus another $2000 for batteries. The drive system and labor cost $3000, a total cost of $7000, exclusive of PV panels, which can be used either on house or tractor. (See www.solarcarandtractor.com for details.)

After getting into his protective gear, Howe connected the electric chainsaw to the solar-powered golf cart inverter with the 14-gauge, 100-foot cord and felled and limbed three tall maples. The 3 1/2-horsepower chainsaw is quiet and lightweight. The power source is kept in the sunlight and can be moved as necessary. This is the only way to cut trees in the woods without a gasoline or muscle-powered saw.

The next step, Howe says, is to get the trees where you want them – in his case, beside the woodshed attached to their Waterford farmhouse. He figures that it takes about eight of the 6- to 12-inch-diameter trees to make one cord of firewood. With the 8N tractor and 6000-pound winch, he skids the cut trees (full-length stems in woodsman parlance) into place between the woodshed and the 1/2-ton wood-processing trailer. The 8N can then be plugged into the solar-powered 1954 Farmall Cub tractor. That tractor has nine 12-volt batteries and a solar array on board that gives 6 Amps at 125 volts. (This tractor was featured in Mother Earth News, Aug./Sept. 2006.)

He drove the solar-powered golf cart to the fitting operation at the woodshed, where he used the smaller, 1000-pound winch to lift the logs onto the wooden rack attached to the trailer. Once in place at about Howe's waist height – easier on his back and chainsaw blades than bending to saw on the ground – he used the electric chainsaw to cut the logs to stove-length pieces.

Next, he turned from the sawing operation to the hydraulic wood-splitter, also powered from the golf cart's 120-volt inverter. There's no need for carrying the split wood – it's right beside the nearly full woodshed – a satisfying sight!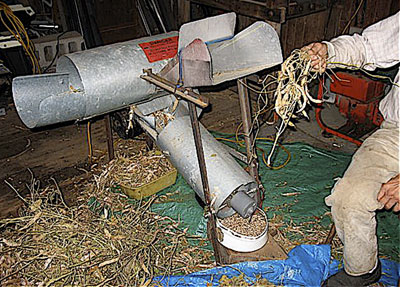 Howe processes beans in his homemade thresher. Debbie Howe photo.

Howe, a retired engineer, and his wife, Debbie, an artist and potter, moved to the western Maine town of Waterford in the early 1980s, intending to become more self-sufficient. Using his background in mechanical engineering – he had worked for General Electric for many years – he began exploring ways of using alternative energy sources.

Believing Maine could lead the country in sustainable food production and with Debbie an involved partner and helpmate, they set an example by growing their own grains, dried beans and other vegetables. John built a thresher/winnower powered by bicycle or photovoltaic electricity. Debbie used a hand grinder for the grain. That thresher/winnower is still in use, powered from the golf cart. John says it is very useful for winnowing all the dried beans they grow and store.

In the 1980s, he built hundreds of bicycle-powered generators, which were sold to Real Goods, a catalog source for alternative lifestyle goods. That enterprise, John said, "woke me up to how feeble people really are for performing serious work using energy from food." Figuring the price of gas at $3 a gallon – an inconceivable price at that time – he estimates that human effort is worth only about 2 cents an hour compared with fossil fuel.

All this work led him to his present belief that solar power from photovoltaic panels is the best sustainable method for providing the basics of the lifestyle to which most of us have become accustomed when fossil fuel is depleted. Indeed, he says it's the only scaleable system, one that can be expanded to provide a higher percentage of our energy needs.

He states on his Web site, www.solarcarandtractor.com, "Just as with transportation, dilute solar energy cannot possibly directly supplant fossil energy for agriculture. However, it is far better than nothing and can work synergistically with other home power requirements. The purpose of this work is not to sell solar power, but instead to show how few and feeble are our options in the fast-approaching fossil-fuel depleted future."

For more information, see his book The End of Fossil Energy and the Last Chance for Sustainability, available by mail for $10 at Howe Engineering Company, 298 McIntire Rd., Waterford, ME 04088.