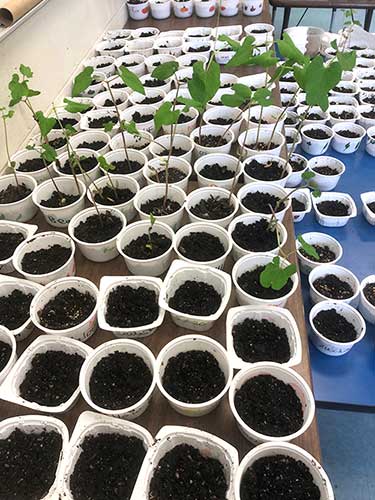 Students grow seedlings in the classroom at Harmony Elementary School.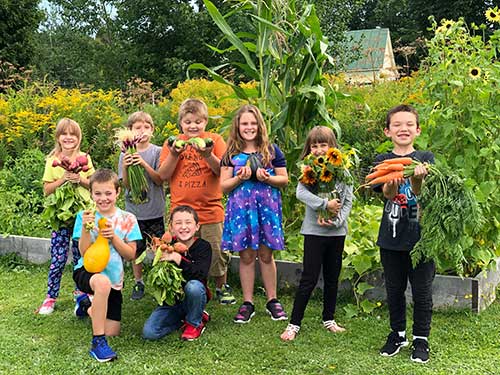 Enjoying the harvest from three raised beds.
By Benjamin Cookson
Photos by the author
Many schools throughout Maine share the initiative of bringing agriculture into the classroom. School gardens, garden clubs, 4-H programs and after school programs bring quality education to students across the state, all with similar goals.
At Harmony Elementary School in Harmony, Maine (Somerset County), teachers and administrators have taken a different approach to implementing a hands-on agriculture curriculum. Teachers have rearranged units from the school's math and science schedule and moved them to allow use of our own version of a sustainable agriculture curriculum in the second and third grade classrooms during normal classroom instruction.
During harvest season, students learn addition, subtraction, multiplication and division, as well as weight, capacity and units of measure during math. Science integration includes life cycles, parts of a plant, regeneration, nutrients and seed saving, all while students harvest the school garden. The garden is within the playground and consists of three large raised beds in which students have grown a wide variety of produce. Some of the favorites are carrots, beets, spinach, tomatoes and popcorn amid a variety of squash, cucumber, peas and even seed-grown onions.
Because the school lacks a greenhouse, the second and third grade classroom is transformed every spring with hundreds of student-planted seedlings. Throughout the year students save the plastic cereal bowls from morning breakfast to reuse as plant pots for starting seeds. They sell extra seedlings not used in the school garden in order to self-fund the program, using the money raised to purchase new seeds, garden supplies, soil mix and watering equipment. This year the school was able to buy a 1-inch water pipe system to run between raised beds, which will eliminate the need to carry water.
Integrating an agricultural curriculum in the classroom during regular instruction brings a real-world, hands-on component to traditional class time. It ensures 100 percent participation in the program rather than serving a small percentage of students with after-school programs. Students are excited to learn and apply what they know to this real-world challenge. They take pride in their work and develop remarkable independence as the year progresses.
For more information or to see Harmony's agricultural curriculum in action, please contact Benjamin Cookson at Harmony Elementary School, 207-683-2211. We are working on a user's manual based on our curriculum and should have it ready by spring.
About the author: Benjamin Cookson lives with his wife, Ashley, and their children, Owen and Scarlet. In addition to teaching, they work full time at Shaw Road Farm, their family's grass-fed Angus cattle farm. "By integrating an agricultural curriculum in the classroom," says Benjamin, "I am able to combine my passion for educating children with my love of farming. It is truly a dream come true!"