Welcome to the Agrihood
Housing, Shopping, and Gardening for a Farm-to-Table Lifestyle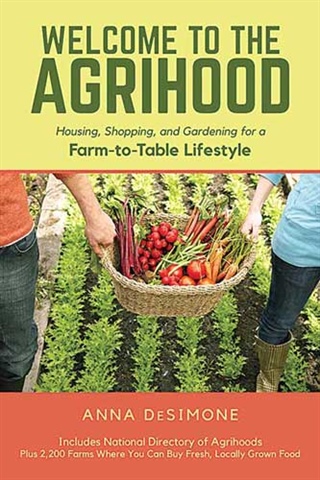 September 1, 2020
By Anna DeSimone
Housing 2020 Publishing, 2020
215 pages paperback ($15.95) or ebook ($5.99)
https://annadesimone.net/books/welcome-to-the-agrihood/
Anna DeSimone says agrihoods are defined as "healthy lifestyle communities centered around a professionally managed farm." In an agrihood, "The daily routine for residents often begins with a walk to the farm store to buy food freshly harvested from the farm, or to enjoy a cup of coffee at one of the gathering spaces at the community center." Her book covers dozens of farm-centric communities. Agrihoods can help with land conservation, and may offer amenities, in addition to a working farm, such as sustainably built and energy-efficient homes, gathering spaces, restaurants, fitness centers, trails, playgrounds, schools, gardening spaces, etc. DeSimone gives many examples and provides photos of agrihoods and planned communities. She says that many home builders and housing developers now try to connect their projects more closely with food, although no Maine-based builders are mentioned.
Much of the other information in the book is very basic and brief and will be familiar to most MOFGA members – i.e., reasons for the increasing popularity of local food; definitions of organic, sustainable agriculture, non-GMO and various ecolabels; the importance of biodiversity; the importance of knowing your farmer or of growing your own food; how to grow food in urban areas (rooftop gardens, vertical growing, hydroponics) or in your backyard (and regulations for that); the many variations of community supported agriculture structures and the benefits of joining a CSA; and descriptions of on-farm markets and of food hubs.
The rest of the book is a state-by-state directory of agrihoods, CSA programs, on-farm markets and food hubs. This will be of limited value to Maine readers, as it lists only 12 CSA programs in our state (MOFGA Certification Services alone lists 34), 21 on-farm markets (MOFGA lists 31) and two food hubs (both now defunct).
This book will be most valuable for those who want to learn the basic terminology of local, nonindustrial food production and those seeking information on planned communities.
– Jean English