Gardening with Emma
Grow and Have Fun: A Kid-to-Kid Guide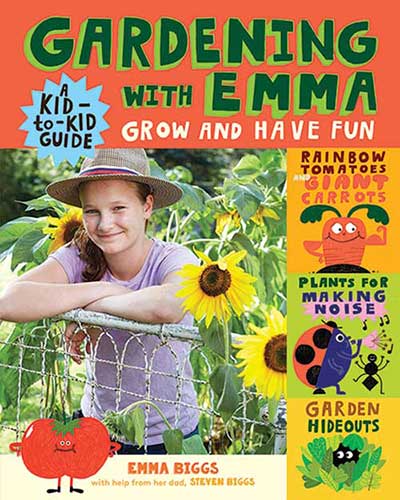 June 1, 2020
By Emma Biggs and Steven Biggs
Storey Publishing, 2019
144 pages, paperback, $18.95
The first thing you notice about this book is that it is bright! It's filled with colorful photos and kid-friendly illustrations that invite you to explore the pages. The table of contents is laid out like square-foot beds, instead of list-style, each chapter's block labeled with what's inside. At a glance you can see that there's practical garden advice, fall and winter gardening tips, and a huge section with garden ideas for kids.
Author Emma Biggs started writing this book when she was 12 because, she says, "kids have different ideas about gardening than grown-ups." Adults like straight rows and no weeds, but kids' gardens tend to look a lot messier. So Emma is an advocate for all kids to have their own plot where they can grow what they want – purple carrots, for example. A kid's garden is more than a place to grow plants, she says; it's also where they can explore insects, soil and wildlife.
In the first chapter, Emma introduces annuals and perennials, intentional plantings versus those that come up on their own (also known as "weeds"), and why soil is more than dirt. She talks about sun requirements, watering, tools, and focuses on two important issues: weeds and insects. Emma's approach to weeds is organic: pull them, mulch them or eat them – and she lists a few you can eat, including dandelions, Japanese knotweed, purslane and garlic mustard. She also highlights her favorite garden bugs, ideas for keeping pests in control, and how to plant for pollinators.
Chapter two is where the fun happens. Emma shares more than a dozen ideas to help kids of all ages get growing. There's an A-to-Z garden … asparagus and zucchini are the easy ones, but what do you plant for X? What about a rainbow garden? Or just the opposite: a garden of plants all in a single color? She includes a pizza garden – this is a book for kids, after all – and a garden for giants, filled with big beets, colossal cantaloupes and more. She involves all senses, with garden ideas for sound and touch. And for kids who love flowers, she adds advice on how to create a flower stand business alongside gardening how-to.
Emma ends her book with a couple of chapters containing practical advice, from constructing raised beds to fall planting and building cold frames. What I really like, though, is the last page: My Top 10 130 Tomatoes. It's Emma's list of tomatoes that she grew one summer.
Although Emma wrote this book for kids, I think parents – and beginning gardeners of all ages – will appreciate her no-nonsense "how to garden" approach.
– Sue Smith-Heavenrich, Candor, N.Y.