The Planter of Modern Life
Louis Bromfield and the Seeds of a Food Revolution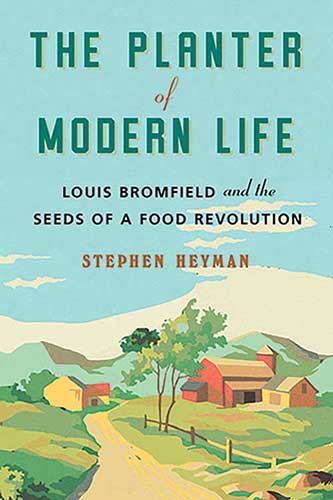 June 1, 2020
By Stephen Heyman
W.W. Norton & Company, 2020
https://www.theplanterofmodernlife.com/
How is it that a bestselling, Pulitzer Prize-winning American writer living and working outside of Paris after World War I whose success – literary and social – was envied by his friends Fitzgerald and Hemingway is the same man who inspired Wendell Berry, Wes Jackson and Joel Salatin to proselytize on sustainable agriculture? This writer publicly fought the Franklin administration on behalf of America's farmers during World War II and then hosted Humphrey Bogart's second marriage to Lauren Bacall at his Ohio farm; the wedding was covered by newspapers and magazines around the world. He testified in Congress against the use of DDT and similar new pesticides in agriculture 17 years before the publication of "Silent Spring." How is it that such a man seems forgotten today while those he worked and socialized with, along with those he inspired, live on in our memories as giants of their times?
Louis Bromfield grew up in rural Ohio, then left for Europe in 1917 and become an icon of American culture over the next 40 years. He developed such a passion for sustainable agriculture that he gave up writing bestselling novels to plow his money and his time into restoring 600 neglected acres in the hills of central Ohio that he named Malabar Farm. From that point on Bromfield wrote and widely lectured on his conviction that only a diversified farm that did not depend on chemical fertilizers was a better system for farmers and the food they grew. He died just before Rodale and others codified these ideas into the "organic movement" that continues to grow in influence and popularity.
Stephen Heyman's new biography of Louis Bromfield reads like an engaging novel whose fictional hero has been inserted into America's (and Europe's) literary and agricultural history. Yet Louis Bromfield lived (and lived really well!). I hope this book will go a long way to restore his story as foundational and significant.
– Eric Rector, Monroe, Maine