Plants for the People
A Modern Guide to Plant Medicine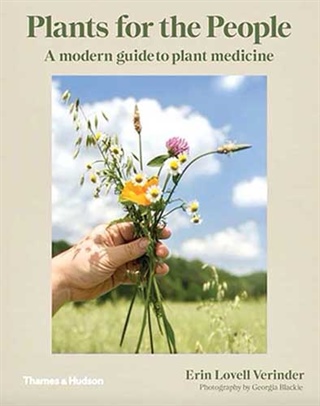 September 1, 2020
By Erin Lovell Verinder
Thames & Hudson, 2020
208 pages, hardcover, $29.95
Erin Lovell Verinder, an herbalist for almost 20 years, has studied in Australia (where she lives) and the United States. "Plants for the People" is a beautifully designed, readable book that deserves a place on the shelf alongside books by our wonderful Maine herbalists.
Part 1, The Plant Path, offers a general introduction to herbal medicine, tells how to listen to your body and addresses wild gathering. Part 2, The Wild Healers, tells how to make teas, infusions (water and oil), tinctures, syrups, oxymels (blends of herbs, vinegar and honey), creams, pastilles, poultices and more. The recipes and directions are clear. Part 3 describes 40 herbs, one herb per two-page spread (with the opposite page showing a photo of the herb), lists parts used, energetics for and actions on the body, and cautions.
The beautiful, soft, full-page photos throughout just make you want to spend time with "Plants for People." It would make a wonderful gift. The book has no index, but it's clear and concise enough that you won't have trouble finding several options to address digestive issues, inflammation, skin problems and other common ailments.
– Jean English