Fighting Pollution and Climate Change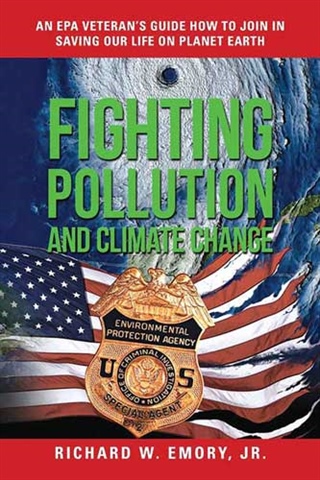 September 1, 2020
By Richard W. Emory, Jr.
BookLocker, 2020
302 pages, $18.95 paperback, $4.99 Ebook from BookLocker.com
Baltimore native Richard Emory grew up summering in Brooklin, Maine, before heading to college (Yale), and then Harvard Law School and the Coast Guard. He ended up working for more than 30 years for the U.S. Environmental Protection Agency, where he was the nationwide legal advisor for all of its pollution-crime investigations. He also worked internationally for the EPA.
"Fighting Pollution and Climate Change" is a surprisingly readable book about his background and his years with the EPA. Emory comes across as down-to-earth, with his love Maine and his value for the work of the Coast Guard and for the writings of Rachel Carson. He hopes, through his stories in this book, to inspire young people to follow a similar path to environmentalism.
Emory discusses DDT and other persistent organic pollutants, toxic waste, country of origin labeling rules for food (struck down by the World Trade Organization in the interest of free trade) and other health and environmental threats. He notes, for example, the failure of the Bush administration to declare the World Trade Center a Superfund site after 9/11, despite EPA scientists' warning about the toxicity of the area for first responders and cleanup workers. As a result, those people entered the site without appropriate protective equipment. Within a few years from now, says Emory, the number of those workers killed by cancer and respiratory problems resulting from that exposure will exceed those killed in the attack.
Much of this book focuses on climate change. Emory says that since 1979 EPA scientists clearly saw climate change as a potentially horrific problem but one that some administrations failed to address – something he hopes the 2020 Presidential election will reverse. He discusses wind, solar, cap and trade, and "sin taxes" or "social insurance" on polluting products and carbon emissions, noting that rebates to households can ensure that policies don't harm the general public economically. He also believes that advanced nuclear reactors, produced and located with appropriate infrastructure, are "key to human survival on this planet."
Throughout the book Emory describes his adventures in public service, from the military to courtroom trials to foreign missions and living abroad. The reader benefits from his first-hand experiences of living and working in France, Germany, Central America and elsewhere. And those experiences benefited Emory by providing a lens through which to compare U.S. efforts at fighting pollution and climate change.
While this book addresses serious environmental topics and can be discouraging for insights into the frequent lack of political will to confront those topics, it is, overall, optimistic. Emory concludes that "right now humanity has all the tools, both of technology and social policy or law, to very quickly stop more climate pollution." The footnotes and addenda bring depth to the book, making it useful for a college course or other study forum.
– Jean English