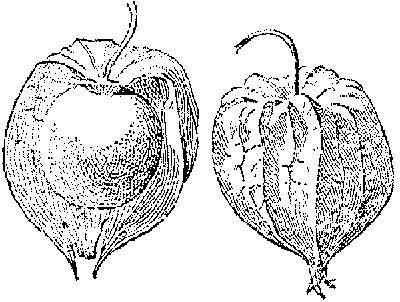 Tomatillos are prized for their sharp, clean taste and, once cooked, for their thick sauciness. They are used in salads, desserts, soups, sauces, and stews. Illustration from The Principles of Vegetable Gardening, by L.H. Bailey, MacMillan, London, 1901.
By Roberta Bailey
Each year I seem to get excited about a different fruit or vegetable. Last year it was soybeans and black currants, the year before favas. Not that I lose interest in the old ones: I made some lively black currant juice this summer, and the soybeans were prolific. It's more like my curiosity moves on to something new. This year, I grew a lot of tomatillos.
Tired of my basic tomato salsas, I've been experimenting with tomatillo salsa, salsa verde, a delicious combination of tomatillos, chilies, cilantro and lime juice.
Native to Mexico, tomatillos (Physalis pruinosa) are prized for their sharp, clean taste and, once cooked, for their thick sauciness. They are used in salads, desserts, soups, sauces and stews.
The firm green fruits are covered in a papery husk. Once ripe, the fruits become somewhat sticky and turn pale yellow, although some varieties are purple. The husk dries, sometimes thinning to a gossamer appearance. In their husks, tomatillos store up to two weeks at room temperature. They should be refrigerated for longer storage.
Here are a few of my favorite recipes of the summer. Flat leaf parsley is a good substitute for cilantro.
Fresh Green Chili Sauce
Green chili is picked when young or green and retains its fresh flavor when canned or frozen.
10 fresh green chilies or 3 to 4 green bell peppers, plus one Jalapeno pepper
1/4 cup minced onion or green onion
2 to 3 cloves garlic, minced
8 large tomatillos, husked
1/2 tsp. salt
Black pepper to taste
4 to 5 sprigs cilantro, minced (optional)
Roast the chilies over a wood or gas flame or under a broiler. Place chilies in a paper bag or pot with a tight lid to steam in their own heat. Peel them and remove stems. Discard the seeds and veins if you want a mild chili. If you're using bell peppers, discard the seeds. Chop chilies coarsely.
Parboil the tomatillos for 3 minutes, then puree until smooth. Add chilies, garlic, salt, onion and pepper to puree. Taste and adjust the seasonings. Makes about 3 cups.
Seven Tree Farm's Tomatillo Mint Sauce
Delicious with Indian, Mexican or Maine dishes

2-1/2 lbs. ripe tomatillos, husked
6 hot peppers
3 medium onions, chopped
3 large cloves garlic, chopped
1/4 cup mint leaves
juice of 3 lemons
2 tsp. salt
2 to 3 Tbsp. honey, if needed
Choose peppers according to the amount of heat desired. A Jalapeno will give you much less heat than a fiery little chili. I recommend something hot, but not so hot that the flavors in the sauce are imperceptible to your burning tongue. Start slowly; more steamed peppers can be pureed into the batch at the end. Steam the tomatillos and the hot peppers until tender, for 6 to 10 minutes.
Drain the juices into a container. Puree all ingredients except honey together. Add the reserved liquid as needed to adjust thickness. Taste and add honey if a bit of sweetness is needed.
Pour into hot sterile jars, seal, and can in a boiling water bath for 15 minutes.
Roasted Tomatillo Salsa
1 lb. ripe tomatillos, husked and rinsed
olive oil
2 to 3 green or red chili peppers, seeded and chopped coarsely
2 cloves garlic, chopped
juice of 1 lime and enough water added to make 1/4 cup
1 green onion, finely chopped
1/4 c. cilantro, finely chopped
1 tsp. salt
1/2 tsp. honey or sugar
To roast tomatillos, place them on a baking sheet and brush very lightly with olive oil, then place them under the broiler for 3 to 5 minutes. Flip them and repeat, shortening the time if needed. Cool before using. In a food processor or blender, puree tomatillos, chilies and garlic. Pour the mixture into a bowl and stir in remaining ingredients. If the salsa is too thick, add a few tablespoons of water until the desired consistency is reached. Makes 2 cups.
Tomatillo Soup with Corn and Cilantro
As a variation on this soup, roast the tomatillos instead of blanching them.
1-1/4 lb. whole tomatillos, husked
2 large ears fresh corn
1-1/2 c. chopped onions
1/3 c. dry white wine
3 cloves garlic, minced
1 c. finely diced red bell pepper
1 c. chicken or vegetable broth
1 small chili, chopped
1/2 tsp. black pepper
1 Tbsp. chopped cilantro
salt to taste
sprigs of cilantro, green onions and tortilla chips
Rinse tomatillos and blanch them in boiling water until they turn olive green (3 minutes). Drain, then puree them in a blender or food processor. Cut the corn kernels off of the cobs and scrape the cob to get the milk. You should get about 2 cups. Braise onions in wine until they're translucent, then add the garlic, corn, chili and red pepper, cooking until tender. Add broth, pureed tomatillos and black pepper, and simmer for 15 minutes. Stir in cilantro and salt to taste. Garnish with cilantro, green onion ringlets and tortilla chips. Makes 4 cups.
Green Summer Salad
6 tomatillos
1 clove garlic, minced
3 young pickling cukes, coarsely chopped
2 green bell peppers, seeded and diced
4 green onions, diced
1 green Anaheim or poblano chili, roasted, seeded and chopped
1/4 c. minced parsley or cilantro
2 Tbsp. lime juice
2 Tbsp. olive oil
1/2 tsp. ground cumin
1/2 tsp. salt
1/4 tsp. black pepper
4 ripe tomatoes, thickly sliced
sour cream (optional)
Blanch tomatillos in boiling water for 3 minutes and coarsely chop them. Toss all ingredients except the tomato slices and sour cream together and chill for 2 to 8 hours to blend the flavors. Taste and adjust the seasonings. To serve, lay tomato slices on individual plates and spoon salad over the tomatoes. Garnish with sour cream, if desired. Makes 5 to 6 cups.

Want more seasonal recipe inspiration? Sign up for our monthly local and organic kitchen emails.Sign me up!