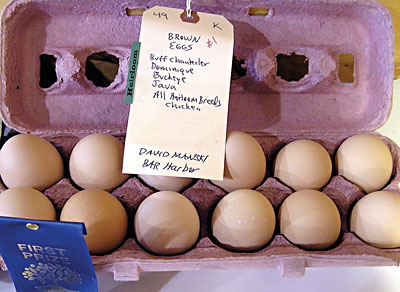 These prize-winning eggs shown in the Common Ground Country Fair Exhibition Hall by David Mansky of Bar Harbor came from four breeds of heirloom chickens. English photo
By Cheryl Wixson
Now that the longer days of spring are almost here, we are enjoying a surplus of local farm eggs. Considered one of the world's healthiest foods, eggs are eaten by every culture around the globe. Although eggs from chickens are the most commonly consumed, duck, turkey and goose eggs are all eaten in Maine. Gull eggs are a delicacy in England, and the ostrich egg is a special luxury food.
Humans have eaten eggs for thousands of years. Food historians theorize that a jungle fowl native to tropical and subtropical Southeast Asia and India was domesticated for its eggs. By 1500 BCE chickens were in Egypt and then were brought to Greece, where quail was the primary source of eggs.
The egg, no matter what fowl lays it, has two basic components: the white and the yolk. The white is approximately 87 percent water and 13 percent protein and contains both vitamins and minerals. The yolk is about 50 percent water, 33 percent fat and 17 percent protein; like the white, it also contains vitamins and minerals.
The color of the yolk depends upon the feed. Bright, orange yolks come from fowl that have plenty of access to pasture and eat more pigmented plants, insects and worms. Pale, yellow yolks indicate a feed high in white corn. Nutritionally eggs are a good source of omega-3 fatty acids and antioxidants.
Properly handling and storing edible eggs is important, as eggs, particularly from industrial egg farms, can contain the Salmonella bacteria that cause food poisoning. The USDA recommends refrigerating eggs to prevent the growth of Salmonella. Refrigeration also preserves the taste and texture.
In the United States eggs are graded for size and are washed. Washing cleans the shell but erodes the cuticle, which otherwise protects the egg from deterioration. An unwashed, uncracked egg may be left unrefrigerated for several weeks without spoiling. Eggs at room temperature are better for baking.
Before modern refrigeration systems, the primary methods for preserving eggs were pickling or salting. Pickled eggs are eggs that have been hard-boiled, had their shells removed, and then were pickled in vinegar brine. Often beets are used to tint the eggs a bright pink. Salted eggs are part of the Chinese cuisine. The salt draws out the water and prevents the growth of bacteria and mold.
The sturdy cardboard carton in which your eggs are stored was a 1911 invention to solve a dispute between a farmer and hotel owner over broken eggs. Before then no standard packaging existed for eggs, and one could easily lose all the eggs packed in a basket.
My go-to way to eat eggs is in an omelet. The preparation is simple – just one step beyond scrambling eggs. Cook the eggs, stirring, until they are almost done and still a bit runny. Add your fillings (cheese, veggies and/or meat), cover the pan and let the omelet cook until set. Fold it in half, slide it onto a platter and serve.
No matter how you cook them, nothing beats the incredible, edible egg.
Breakfast Tacos
Looking for a nutritional powerhouse? Breakfast tacos taste delicious and work for any meal!
3 eggs
2 Tbsp. milk
1 small bunch kale (about 5 or 6 leaves), leaves removed from stems
1/2 c. cooked black beans
1/2 c. onion, diced
1 Tbsp. cooking fat (bacon fat, butter, canola or olive oil)
Sea salt and fresh pepper to taste
4 small corn tortillas
4 Tbsp. grated cheddar cheese
1/2 c. salsa
In a medium bowl, whisk the eggs with the milk and season with sea salt and fresh pepper. Heat the oil in a fry pan. Add the diced onion and kale, and cook until they have started to soften and are slightly golden. Add the black beans and sauté for another minute. Add the eggs to the pan and scramble with the bean and vegetable mixture.
To assemble, warm the corn tortillas. Divide the bean and egg mixture between each of the four corn tortillas. Sprinkle with grated cheddar cheese and top with salsa. Makes four servings.
Nutritional analysis per serving: 254 cal., 12 g protein, 30 g carbohydrates, 10 g fat, 264 mg sodium, 4 g fiber
Apple Rhubarb Maple Custard
This gluten-free dessert is tart and silky on the palate. It offers a nutritional punch of vitamins C and K, and has no added sugar!
1 c. peeled, cored and sliced apples
1 c. chopped rhubarb
4 eggs
3/4 c. maple syrup
1 c. plain yogurt
1 tsp. vanilla
1/2 tsp. cinnamon
Preheat the oven to 375 degrees.
Grease a 10-inch deep-dish pie plate or soufflé dish. Prepare the apples and rhubarb and arrange in the bottom of the pan. Using a blender or a bowl and a whisk, combine the eggs, maple syrup, yogurt, vanilla and cinnamon. Pour the custard over the fruit. Bake for about 45 minutes, until the custard just sets. Let cool on a rack and enjoy at room temperature. Makes eight servings.
Nutritional analysis: 151 cal., 5 g protein, 26 g carbohydrates, 3 g fat, 60 mg sodium, 1 g fiber
About the author: Cheryl Wixson and her husband, Phillip McFarland, operate Rabbit Hill Farm and Cheryl Wixson's Kitchen in Stonington, Maine.